Southern Baptists oppose Scouting's policy on gays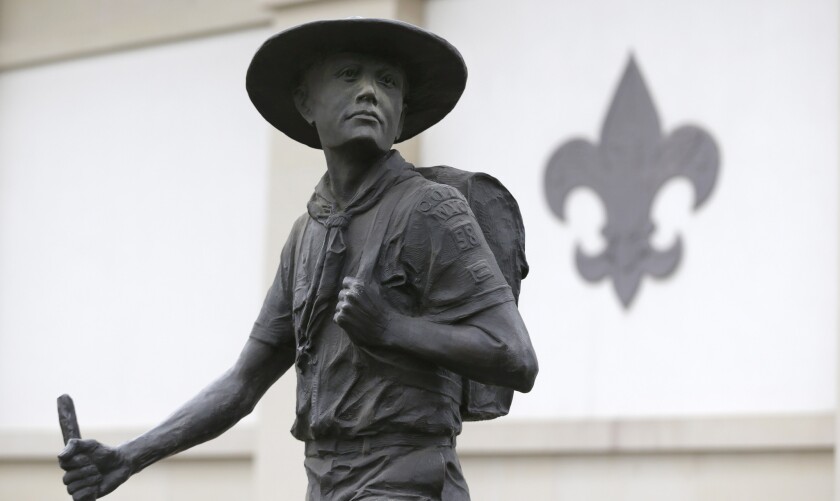 HOUSTON -- Members of the Southern Baptist Convention at their annual meeting Wednesday voted to support families who leave the Boy Scouts due to the group's plans to accept gay Scouts, urged the removal of Boy Scout leaders who championed accepting gays and encouraged former Boy Scouts to join a Southern Baptist youth group instead.
"Homosexuality is directly opposed to everything that Scouting stands for. I am disappointed in Scouting," said the Rev. Wes Taylor in speaking for the resolution endorsed by the convention. "They are moving away from the principles that it was founded upon. This is an attempt to open the door to broaden the acceptance of homosexuality in that organization. It is an environment that would prove just fertile for young boys to be exposed to something that is ungodly and unacceptable."
The proposal was submitted by the Southern Baptist Committee on Resolutions.
Before Wednesday's vote, some Baptist pastors spoke in favor of the Boy Scouts in proceedings that have been streaming live online.
"The Boy Scouts have said they are against sexual activity of any boy. I don't think they are condoning homosexuality," said the Rev. Charlie Dale of Indian Springs First Baptist Church in Indian Springs, Ala., adding that he didn't think the vote "will help the cause of Christ."
He noted that Baptist youth groups don't exclude gays.
"I don't think we should hold the Boy Scouts to a standard we would not put on our own churches. Such a boy needs our love so let's bring him in and show him what real biblical love is all about," Dale said.
Others wanted the convention to go even further, severing ties with the Boy Scouts and describing homosexuality as a "preference" rather than a "perceived sexual orientation."
"Say it now, say it clearly, and say it in love. The SBC in no way should ever shake or bend to our biblical convictions. We should always say as we always have that homosexuality is wrong or sinful," said the Rev. Mike Janz of First Baptist Church of Rosamond, in Rosamond, Calif.
His suggested changes to the proposal were rejected. But members voted to approve the resolution, which is a non-binding opinion expressed by the convention to member churches.
Members, or "messengers," voted by raising their ballots at Houston's convention center for the convention's newly reelected president, the Rev. Fred Luter, to count.
After counting, Luter — who has spoken out against gays in Scouting — smiled.
"Overwhelmingly in support of this resolution — thank you, thank you very much," he said.
Separately, a Maryland pastor proposed a motion Tuesday that the convention investigate the Boy Scouts' decision to lift the ban on gay youth and report back with options for families this fall. That proposal was still being considered Wednesday.
ALSO:
Ariel Castro pleads not guilty in kidnapping case
James Holmes' attorneys seek to attend mental exam
Casey Anthony deliberations cast shadow on George Zimmerman trial
---
Must-read stories from the L.A. Times
Get all the day's most vital news with our Today's Headlines newsletter, sent every weekday morning.
You may occasionally receive promotional content from the Los Angeles Times.