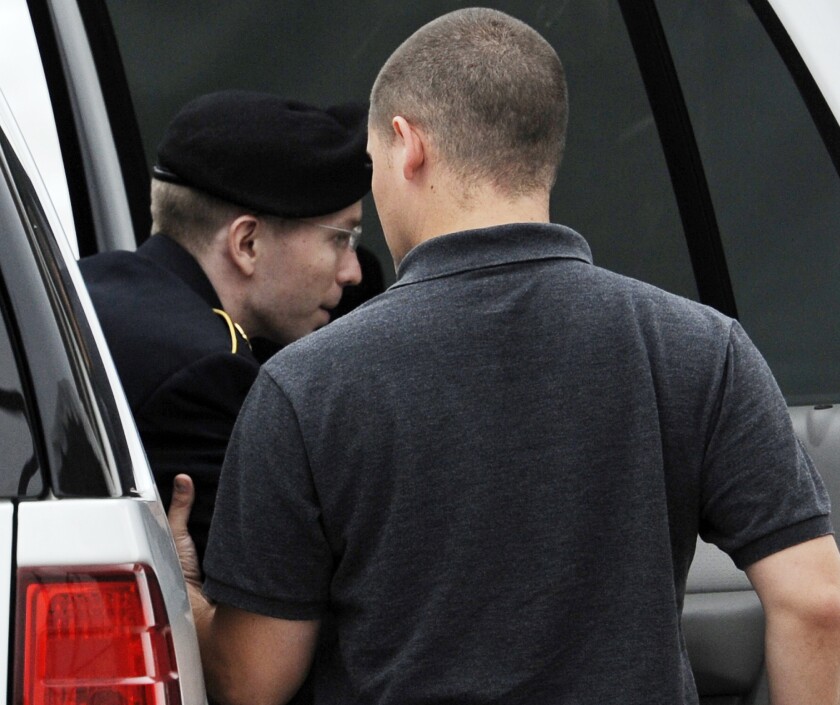 FT. MEADE, Md. -- Army Pfc. Bradley Manning's fate was in the hands of a military judge Friday after nearly two months of testimony in which he was portrayed by the defense as a well-intentioned soldier who wanted people to know the horrors of war and by the prosecution as a traitor who gave WikiLeaks classified secrets for worldwide attention.
Army Col. Denise Lind, the judge in the case, said she would immediately start deliberating but did not say when she would rule. She will give the public a day's notice before her announcement, however.
Lind must decide whether Manning is guilty of espionage and aiding the enemy in providing more than 700,000 confidential records, videos and other material to WikiLeaks. A conviction could send him to prison for life.
On Friday, defense attorney David Coombs, a lieutenant colonel in the Army Reserves, sharply countered comments from the chief military prosecutor, Maj. Ashden Fein, who said Thursday that Manning was a traitor who was star-struck with WikiLeaks.
No, Coombs asserted, "He's not seeking attention. He's saying he's willing to accept the price for what he's doing. But he's not seeking attention."
Coombs displayed copies of Manning's personal emails, some after his 2009 deployment to Iraq as a classified intelligence analyst, others around the time of his arrest in early 2010 for the largest breach of U.S. secrets in history.
"I'm more concerned about making sure that everyone, soldiers, Marines, contractors, even the local nationals, get home to their families," he emailed. "I place value on people first," he emailed later. "One of the bad parts of the job, [is] having to think about bad stuff," he emailed further.
"That is a whistle-blower. That is somebody who wants to inform the American public," Coombs told the judge.
When Coombs finished, some Manning supporters in the audience applauded. The judge responded angrily, "All right, that's enough. This is a court of law."
Earlier Friday the judge barred Clark Stoeckley, who had credentials as a courtroom artist, for posting "threatening messages regarding some of the court-martial participants." For weeks he had been on hand, driving a WikiLeaks truck, sporting a Mohawk haircut, and wearing Manning's picture on his T-shirt.
In a rebuttal to Coombs, Fein said Manning routinely checked the "most wanted" list of secret documents sought by WikiLeaks on their website, and then provided them with that material. He said Manning "had to know" foreign terror groups also wanted that data, and that giving it to WikiLeaks was the same as giving it to Al Qaeda.
ALSO:
Crews scrub Lincoln Memorial after vandalism
Ariel Castro pleads guilty, is spared death sentence
Fisherman, injured by bridge jumper, calls wheelchair an 'irony'
---