Hundreds rally in New York against deportation of immigration activist Ravi Ragbir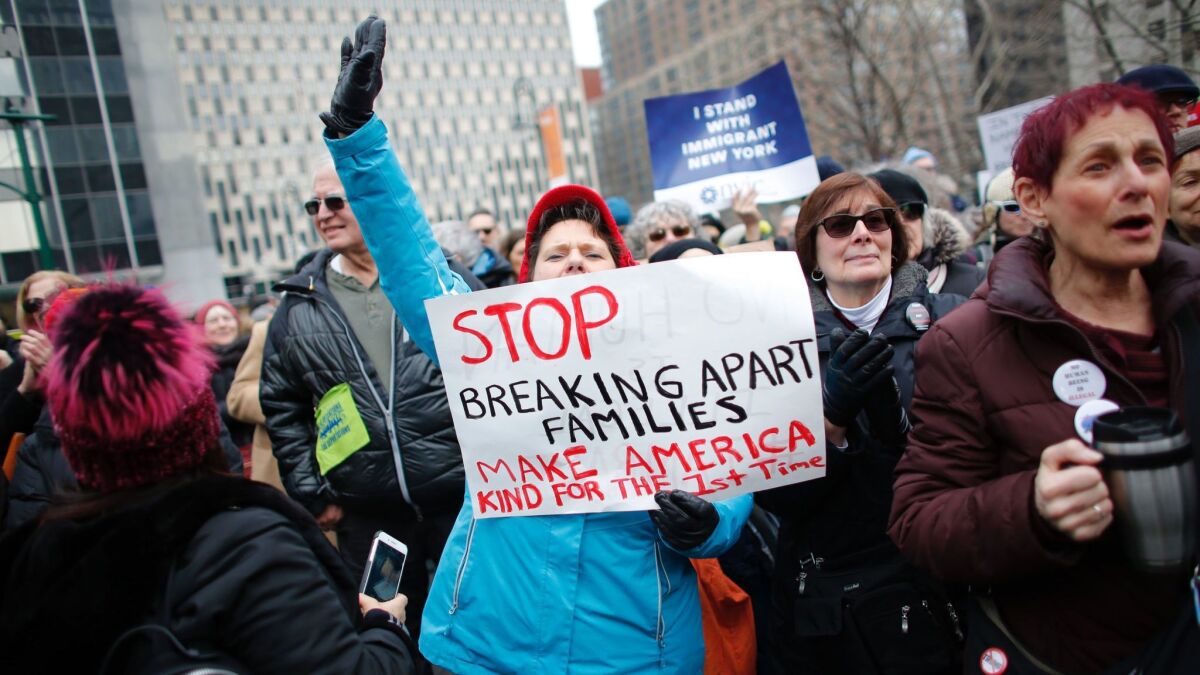 Reporting from NEW YORK —
Hundreds of people rallied Saturday in support of an immigration activist from Trinidad and Tobago who's fighting deportation, accusing authorities of targeting him for speaking out.
Ravi Ragbir had been facing removal from the United States on Saturday. But a judge in Newark, N.J., ruled Friday that he could stay in the country while a lawsuit filed on his behalf is argued.
Ragbir, 53, still had to check in Saturday with immigration officials at a federal office in Lower Manhattan. That is where the New Sanctuary Coalition of New York City, an organization of 150 faith-based, pro-immigrant groups, staged the rally.
Beforehand, Ragbir led demonstrators on a march and told them he believes the country's immigration policies are racist.
"Am I a national security problem?" Ragbir said. "Am I colluding with Russia? ... We know that there is a movement to remove people of color, to learn that there is an ethnic cleansing being created by this administration. And it's very hard words, but let's be real about what we are seeing."
Ragbir was detained last month during a check-in with U.S. Immigration and Customs Enforcement over a 2001 conviction for a mortgage fraud scheme. He was released last week by a federal judge who expressed "grave concerns" about his treatment.
The government had said he should be deported because of the conviction involving a New Jersey mortgage company where Ragbir worked that was caught up in the fraud. He's fighting to vacate the conviction in federal court in New Jersey, contending that he was just an employee doing his job, unaware of any fraudulent activity.
ICE officials have said repeatedly that Ragbir and the other activists were being deported because of their serious criminal records, not because of their politics.
At the rally, other speakers praised the decision to grant Ragbir a temporary stay and called on lawmakers to preserve the Deferred Action for Childhood Arrivals protections for undocumented immigrants brought to the U.S. as children. President Trump has moved to end the Obama-era DACA program.
Debbie Mullins, 64, who attended the rally in support of Ragbir, said she was "pleasantly surprised" to learn he was allowed to stay in the country for now.
"Traditionally America has been a country that welcomed people that were poor and oppressed," Mullins said. "You just have to read what's written on the Statue of Liberty."
Dozens of police officers surrounded the protest, while a small contingent of counter-protesters at the rear of the gathering could be heard heckling during speeches. One, Karen Braun, held a sign reading: "Thank you ICE."
"If you're not here legally, you should be deported," said the 50-year-old Braun.
---
Must-read stories from the L.A. Times
Get the day's top news with our Today's Headlines newsletter, sent every weekday morning.
You may occasionally receive promotional content from the Los Angeles Times.