A text, a flying house and a mile-wide trail of devastation in Alabama
Carol Dean, right, is embraced by her stepson David Theo Dean, near the debris of the home Carol shared with her husband, David Wayne Dean, who died when a tornado destroyed their house in Beauregard, Ala.
(David Goldman / Associated Press)
A family retrieves belongings from a relative's house that was damaged by the tornado in Beauregard, Ala.
(JOHN AMIS / Rex / Shutterstock)
Jeremy Renfroe, of Notasulga, Ala., salvages his friends' belongings at their home near Lee County Road 38 in Beauregard, Ala.
(Julie Bennett / Associated Press)
Dorothy Wilborn, seated, is comforted by her sisters Ruthie Davis, left, and Debbie Hunter, right, in Wilborn's home near Beauregard, Ala., on Monday.
(Mickey Welsh / Associated Press)
A cell tower lies across U.S. Route 280 in Lee County, Ala., after a tornado struck in the area Sunday.
(Mike Haskey / Ledger-Enquirer)
Damage to a saloon along U.S. Highway 280, east of Smiths Station, Ala., after a powerful storm system passed through the area.
(Sara Palczewski / Opelika-Auburn News)
A funnel seen from Interstate 10 near Marianna, Fla., Sunday, March 3, 2019. Numerous tornado warnings were posted across parts of Alabama, Georgia, Florida and South Carolina on Sunday afternoon as the powerful storm system raced across the region.
(James Lally)
People walk amid debris in Lee County, Ala., after a tornado struck in the area Sunday.
(Associated Press)
Debris litters the Buck Wild Saloon after it was heavily damaged by a tornado in Smiths Station, Ala.
(Mike Haskey / Ledger-Enquirer)
A vehicle is caught under downed trees along Lee Road 11 in Beauregard, Ala., after a tornado passed through the area.
(Kara Coleman Fields / Opelika-Auburn News)
Reporting from BEAUREGARD, Ala. —
Julie Morrison and her husband, Eric Sward, had just finished their Sunday lunch of steak, biscuits and gravy and were watching "Law & Order" when a friend texted urging them to take cover. Then an emergency alert blasted from Eric's phone.
Tornado.
The wind was already howling, so the couple dashed to the guest bathroom without stopping to put on shoes or gather any belongings.
Julie lay down in the bathtub. Eric squeezed in on top. Seconds later, they found themselves clinging to the tub as the tornado lifted their 2,100-square-foot home and tossed it into the woods.
The powerful tornado — a category EF4 — cut a path about a mile wide and at least 24 miles long in this pocket of rural southeast Alabama. With wind speeds of 170 mph, it snapped trees and shredded homes, filling yards and pastures with twisted metal, scraps of wood and pink insulation.
When it was done, at least 23 people were dead, including three children ages 6, 9 and 10.
"It looks like someone almost just took a giant knife and scraped the ground," Lee County Sheriff Jay Jones said during a news conference Monday.
"A monster tornado," said Chris Darden, meteorologist-in-charge at the National Weather Service's office in Birmingham, noting it was the nation's deadliest tornado since 2013, when an EF5 killed 24 people and injured more than 200 in Moore, Okla.
"It's been a long, long night," Lee County Coroner Bill Harris said Monday afternoon. "These families, some of them have lost just about the entire family."
"I'm not going to be surprised if we don't come up with some more deceased," he said. "Hopefully, we won't."
Search-and-rescue teams continued to scour the area with canine detection units and heat-detecting drones.
"We lost children, mothers, fathers and friends," Alabama Gov. Kay Ivey said at a news conference. "To know Alabama is to know that we are tight-knit community of people, and today each of us mourns the loss of life of our fellow Alabamians."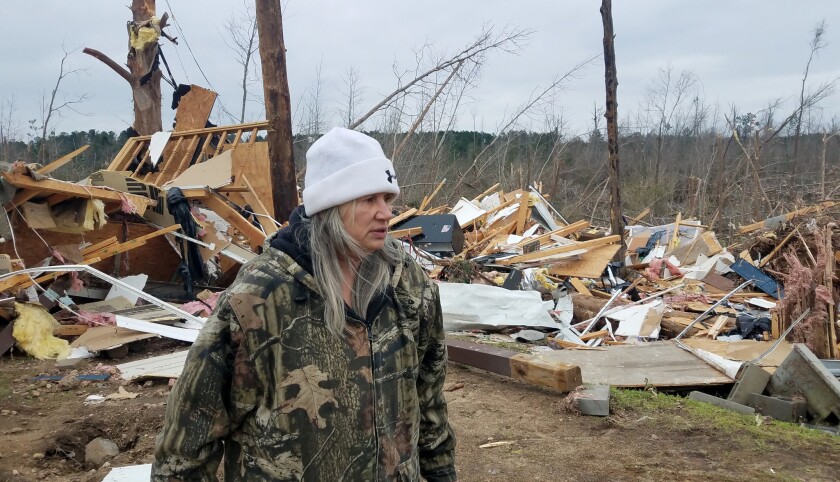 Beauregard, the rural, unincorporated community where Morrison and her husband lived, sits about 60 miles northeast of Montgomery. Named after a Confederate general, it has a population of less than 10,000.
On Monday, neighbors hugged and checked in on each other delivering generators and tools to those in need. Teens whizzed up and down county roads on four-wheelers handing out bottles of water.
As a team of firefighters and volunteers combed through the woods with rakes and backhoes, Justin Miller, a 29-year-old accountant, searched for his 59-year-old mother, Charlotte.
"That's where her house used to be," he said, pointing to a pile of debris. "We don't think she made it."
She had not answered her cell phone. There was no sign of her at any of the local hospitals. Her mobile home was gone, and her front yard was strewn with random possessions — a mattress, a silver stiletto, a brown baseball cap — that were not hers.
After hours picking through the wreckage, Justin and his wife, Mary, had found his mom's tabby cat, Lily, and put it in a wire pet carrier lined with a blue-and-orange Auburn University blanket.
In the neighboring lot, Barbara Rowan picked through the rubble and salvaged old photographs of her daughter Olivia and a beloved horse named Apache she owned years ago.
About 15 minutes before the tornado hit, her brother Jed had called and told her to take safety. She grabbed her purse and a pair of jeans and rode out the storm in her mother's brick home up the road. When it was over, her double-wide trailer was gone.
She found Sophie, her terrier mix, hiding in a tree stump. Her bedroom furniture was behind a hill. She had yet to find her daddy's shotgun or her pistol or rifle.
"I just thank God I'm alive," she said, "but I'm worried about my neighbors."
There was no sign of the family that lived in the mobile home behind hers. A rescue worker told a friend that the bodies of the man and two daughters who lived there had been found but that the wife was still missing.
Rowan stacked valuables she found — car keys, cell phone, TV remote, laptop — on a metal bed head for safe keeping. She had no idea who they belonged to. Hopefully, they would be important to someone.
Nearly 24 hours after the tornado struck, Morrison could barely believe she was still alive.
"It ain't really sunk in," Morrison said Monday.
She had bruises all over her ribs and her left shoulder and cuts on both feet. Her husband had lacerations on both legs.
"Just swoosh," Morrison said, describing the tornado. "It picked the whole house up — and then the whole house fell on us."
She credited the fiberglass enclosure around the bathtub with protecting them.
Her son-in-law Chris, who had clung to his couch as the tornado tossed his mobile home into a tree, had managed to climb down and locate them amid the rubble.
His leg broken, he hobbled up their two lane-country road to find helpers to dig them out.
On Monday morning, after a hospital visit, Morrison clambered over a stretch of particle board, hunting for her keys and wallet in a pile that included a black pickup truck, refrigerator, mattress and blue sectional sofa.
She had managed to salvage her insurance papers from the wreckage. Her daughter-in-law Sally walked across the rubble holding a pair of motorcycle boots and a leather-bound bible with Morrison's name embossed on the cover.
Still wearing a camouflage hunting jacket a rescuer had given her to keep warm, Morrison pulled out a pack of cigarettes and surveyed what was left of her house — rows of cinder blocks in front of a small, pristine swimming pool.
"I thank the Lord," she said.
---
Must-read stories from the L.A. Times
Get all the day's most vital news with our Today's Headlines newsletter, sent every weekday morning.
You may occasionally receive promotional content from the Los Angeles Times.