Legal deal over harsh CIA interrogations marks a milestone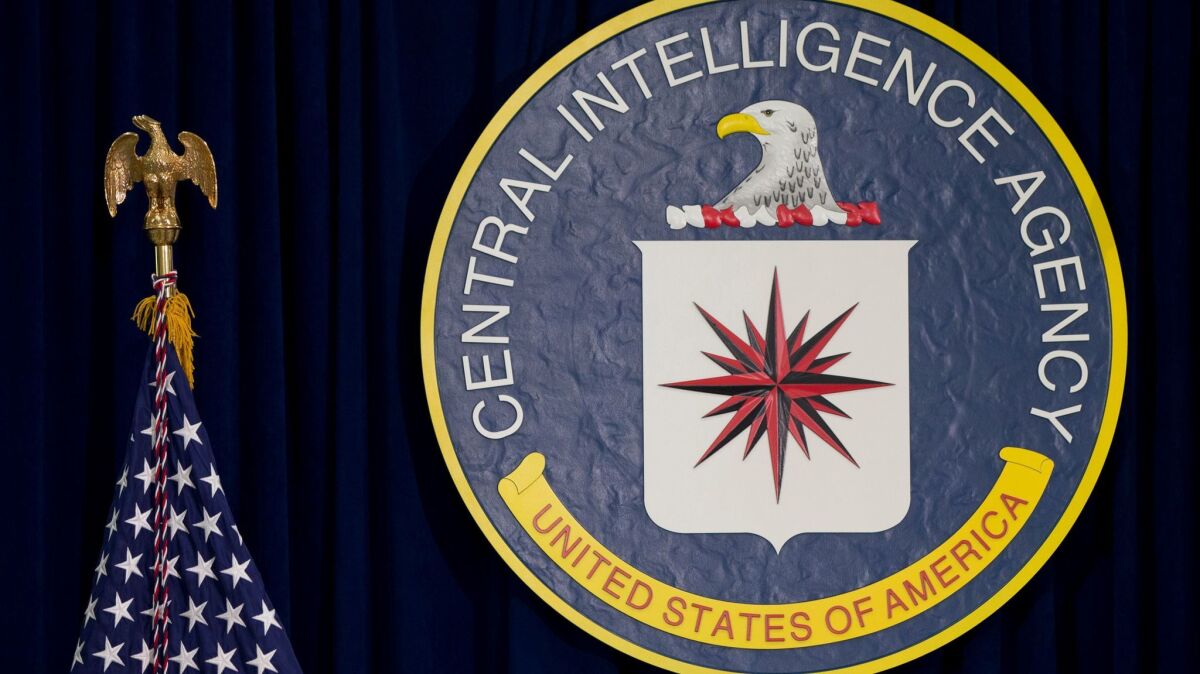 Reporting from SPOKANE, Wash. —
A settlement in a landmark lawsuit against two psychologists who helped design the CIA's harsh interrogation methods used in the war on terror marked the first time the agency or its private contractors have been held accountable for the program, legal experts said.
The deal in the lawsuit from the American Civil Liberties Union also makes it unlikely the CIA will again pursue the tactics, which included beatings and waterboarding, said Deborah Pearlstein, professor at the Cardozo Law School in New York.
"This sends a signal to those who might consider doing this in the future," Pearlstein said, adding, "This puts an exclamation mark at the end of 'don't torture.'"
Terms of the settlement were not disclosed, but it avoided a civil trial set for Sept. 5 in federal court in Spokane.
The ACLU sued psychologists James Mitchell and John "Bruce" Jessen on behalf of three former detainees, including one who died in custody, who contended they were tortured at secret CIA prisons overseas. Mitchell and Jessen were under contract with the federal government following the Sept. 11 terror attacks.
The lawsuit claimed they designed, implemented and personally administered an experimental torture program. The techniques they developed included waterboarding, slamming the three men into walls, stuffing them inside coffin-like boxes, exposing them to extreme temperatures, starving them and keeping them awake for days, the ACLU said.
James T. Smith, lead defense attorney, said the psychologists were public servants whose interrogation methods were authorized by the government.
"The facts would have borne out that while the plaintiffs suffered mistreatment by some of their captors, none of that mistreatment was conducted, condoned or caused by Drs. Mitchell and Jessen," Smith said.
Jessen said in a statement that he and Mitchell "served our country at a time when freedom and safety hung in the balance."
Mitchell also defended their work, saying, "I am confident that our efforts were necessary, legal and helped save countless lives."
But the group Physicians for Human Rights said the case shows that health professionals who participate in torture will be held accountable.
"These two psychologists had a fundamental ethical obligation to do no harm, which they perverted to inflict severe pain and suffering on human beings in captivity," said Donna McKay, executive director of the group.
The lawsuit sought unspecified monetary damages from the psychologists on behalf of Suleiman Abdullah Salim, Mohamed Ahmed Ben Soud and the estate of Gul Rahman.
Rahman, an Afghan, was taken from his home in Pakistan in 2002 to a secret CIA prison in Afghanistan. He died of hypothermia several weeks later after being shackled to a floor in near-freezing conditions.
According to the lawsuit, Salim and Ben Soud both were subjected to waterboarding, daily beatings and sleep deprivation at secret CIA sites. Salim, a Tanzanian, and Ben Soud, a Libyan, were later released after officials determined they posed no threat.
A U.S. Senate investigation in 2014 found that Mitchell and Jessen's techniques produced no useful intelligence. They were paid $81 million for their work. President Obama terminated the contract in 2009.
Mitchell and Jessen previously worked at the Air Force survival school at Fairchild Air Force Base outside Spokane, where they trained pilots to avoid capture and resist interrogation and torture. The CIA hired them to reverse-engineer their methods to break terrorism suspects.
---
Must-read stories from the L.A. Times
Get the day's top news with our Today's Headlines newsletter, sent every weekday morning.
You may occasionally receive promotional content from the Los Angeles Times.