Michigan will spend $87 million to replace Flint's water lines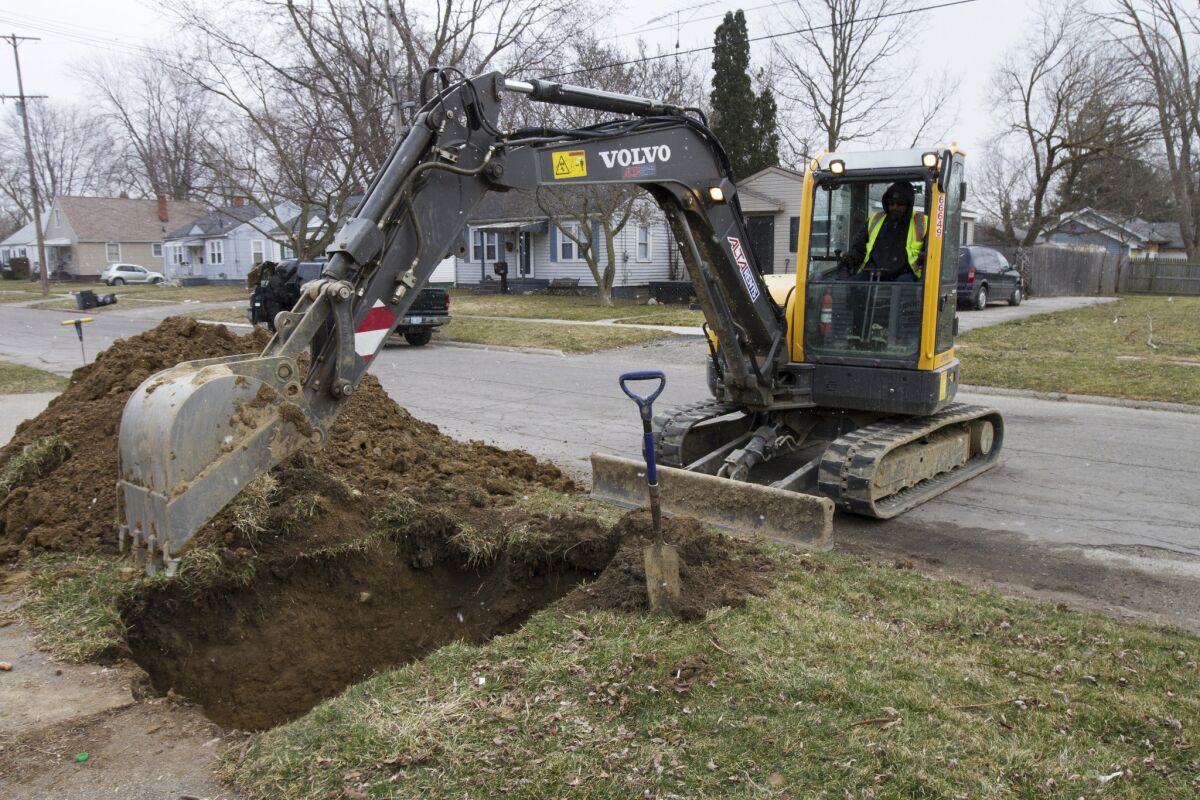 Michigan will spend $87 million to replace thousands of aging water pipes in Flint to settle a federal lawsuit over lead-contaminated drinking water, promising to bring an end to a water crisis that made the city a national symbol of crumbling infrastructure.
A federal judge on Tuesday approved the deal, in which the state agreed to replace 18,000 lead or galvanized-steel water lines over the next three years using state and federal funds. Officials will keep an additional $10 million available in reserves to spend if needed.
"We knew all along that the only way we were going to be safe again was if the pipes were ripped out of the ground," said Melissa Mays, a Flint resident who was a plaintiff in the lawsuit. "So this, today, was a huge win."
Michigan Gov. Rick Snyder said in a statement that the settlement "continues the state's commitment to providing the resources necessary for the residents of Flint to recover from the crisis."
He added, "The state will continue striving to work on many priorities to ensure the city of Flint has a positive future, including economic development, job placement and riverfront revitalization."
The saga stretches back to April 2014, when in an effort to save money, the struggling Rust Belt city stopped piping expensive drinking water from Detroit and instead drew water from the Flint River until a new pipeline could funnel less expensive water from Lake Huron.
We just want to turn our tap on and not be afraid of it.
— Flint resident Melissa Mays
State financial and environmental officials signed off on the proposal, which the state treasurer said would bring "desperately needed" savings.
When they made the switch, Mays said, city and state officials assured residents they'd be safe. But four months later, bizarre things started happening.
Her hair started falling out. Rashes broke out on the skin of her three sons. Her youngest got pneumonia. Her whole family was having trouble breathing.
In some homes, the water came out brown.
She, along with other activists, independently tested the water. In February 2015, she said, they found it was contaminated with lead.
After that, her life changed.
Her family, like many other Flint residents, had to brush their teeth with bottled water. They took lukewarm showers — eight minutes max — with the windows open to avoid inhaling the steam. Eventually, they had to drive out of town to do their laundry because the water reeked, Mays said.
"Our life, it used to be fun," Mays said. "There's no way that filters, bottled water and going to pick up your rations is any dignified way to live. We just want to turn our tap on and not be afraid of it."
It wasn't until October 2015 that the public was told to stop drinking the water.
Officials had failed to treat the water to prevent corrosion. As a result, dangerous amounts of lead leached out of the pipes and into the water. More than a dozen people were criminally charged in connection with the crisis.
"Never in our lives would we have thought we were being poisoned by our city and state government," Mays said.
In January of last year, former President Obama declared a state of emergency in Flint in response to the water crisis.
A few months later, he visited Michigan and, in a televised address, drank from a glass of filtered Flint water.
"I've got your back," Obama told residents. "I will not rest, and I'm going to make sure that the leaders at every level of government don't rest, until every drop of water that flows to your homes is safe to drink and safe to cook with and safe to bathe in, because that's part of the basic responsibilities of a government in the United States of America."
This month, Flint Mayor Karen Weaver briefly met with President Trump and asked for his continued support during the crisis, the Detroit News reported.
Last year, Trump visited Flint on a campaign stop, where he criticized local elected officials, saying they had "no clue" how to handle the water crisis.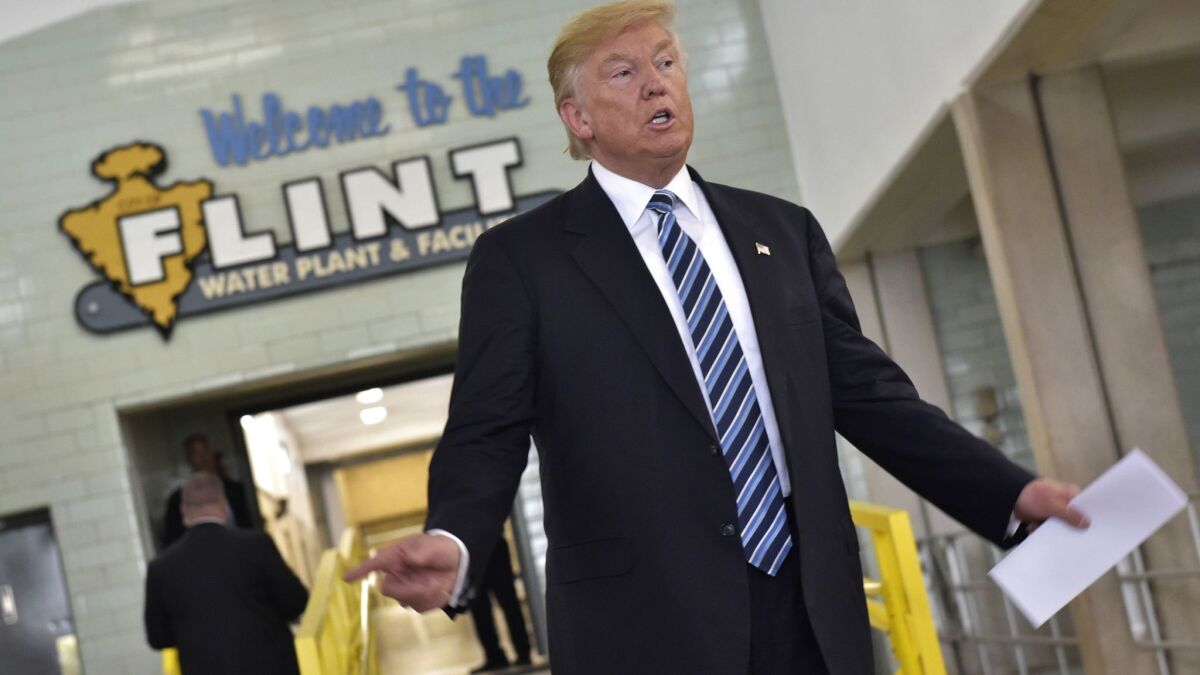 "It used to be cars were made in Flint, and you couldn't drink the water in Mexico," Trump said later that day in Cleveland. "Now, the cars are made in Mexico, and you can't drink the water in Flint."
Under the settlement, the state is required to extensively monitor Flint's tap water for lead and continue to distribute bottled water to Flint residents until Sept. 1. Also, residents will be hired to canvass households door-to-door, making sure faucet filters are properly installed.
No amount of lead is considered safe for humans. Exposure could lead to kidney damage, impaired reproductive function, elevated blood pressure and impaired cognitive performance. Pregnant women and young children are considered especially vulnerable.
"After nearly three years of grappling with lead-poisoned water, the residents of Flint can finally look forward to a long-term solution to a catastrophe that has devastated the community," Michael J. Steinberg, an attorney representing Flint residents on behalf of the ACLU of Michigan, said in a statement.
He called the water crisis a "tragic example" of government displacing democracy to save money.
"This groundbreaking settlement marks a huge step toward restoring a long-neglected community to some semblance of normalcy," he said.
alene.tchekmedyian@latimes.com
Follow me on Twitter @AleneTchek
---
UPDATES:
5:58 p.m.: Updates with staff reporting, details and background.
This article was originally posted at 10:35 a.m.
---
Must-read stories from the L.A. Times
Get the day's top news with our Today's Headlines newsletter, sent every weekday morning.
You may occasionally receive promotional content from the Los Angeles Times.