Koch brothers' political network says Senate GOP healthcare bill is insufficiently conservative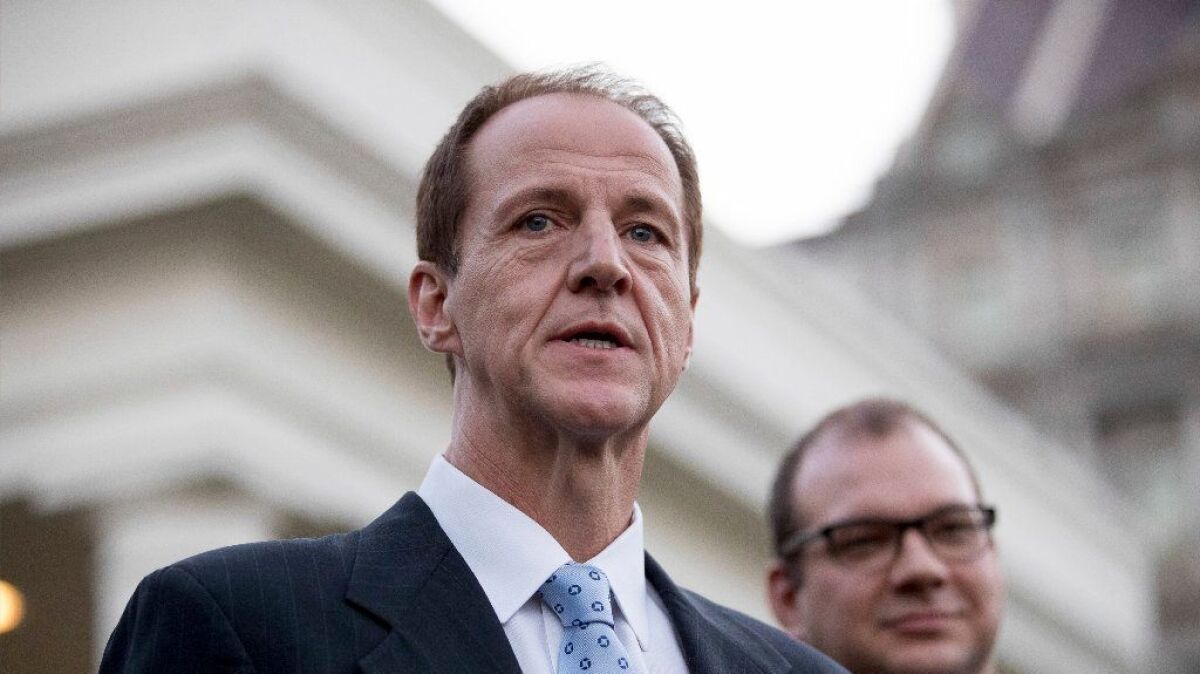 Reporting from Colorado Springs, Colo. —
Chief lieutenants in the Koch brothers' political network lashed out at the Senate Republican healthcare bill on Saturday, becoming a powerful outside critic as party leaders try to rally support for their plan among rank-and-file Republicans.
"This Senate bill needs to get better," said Tim Phillips, who leads Americans tor Prosperity, the Koch network's political arm. "It has to get better."
Phillips called the Senate's plan to slash Medicaid spending "a slight nip and tuck" over President Obama's healthcare law, a modest change he described as "immoral."
The comments came on the first day of a three-day private donor retreat at a luxury resort in the Rocky Mountains. Invitations were extended only to donors who promised to give at least $100,000 each year to the various groups backed by the Koch brothers' Freedom Partners — a network of education, policy and political entities that aim to promote small government.
No outside group has been more aggressive in the years-long push to repeal Obamacare than the Kochs, who vowed on Saturday to spend another 10 years fighting to change the healthcare system if necessary. The Koch network has often displayed a willingness to take on Republicans — including President Trump — when their policies aren't deemed conservative enough.
Network spokesman James Davis said the organization would continue to push for changes to the Senate healthcare bill over the coming week. "At the end of the day, this bill is not going to fix healthcare," Davis declared.
The network's wishes are backed by a massive political budget that will be used to take on Republican lawmakers if necessary, Phillips said.
He described the organization's budget for policy and politics heading into the 2018 midterm elections as between $300 million and $400 million. "We believe we're headed to the high end of that range," he said.
On Friday, Nevada Republican Dean Heller became the fifth GOP senator to declare his opposition to the Senate healthcare proposal. Echoing the other four, Heller said he opposes the measure "in this form" but does not rule out backing a version that is changed to his liking.
However, while the other four oppose the bill because it does not go far enough in undoing the Affordable Care Act, Heller objects because he says it would cause millions of people to lose their health insurance and would do nothing to lower premiums.
The bill's chief architect, Senate Majority Leader Mitch McConnell (R-Ky.), has said he's willing to alter the measure to attract support, and he promised plenty of back-room bargaining as he tries to push a final package through his chamber next week.
The Senate measure resembles legislation the House approved last month that the nonpartisan Congressional Budget Office said would result in 23 million additional uninsured people within a decade and that recent polling shows is viewed favorably by only about 1 in 6 Americans.
ALSO
Atty. Gen. Jeff Sessions wants to get tough on crime. These people think he's got it all wrong
Nevada Sen. Heller -- a key swing vote -- says he opposes Senate healthcare bill
Vice President Mike Pence stops in for an unscheduled chat with billionaire Charles Koch
---
Must-read stories from the L.A. Times
Get the day's top news with our Today's Headlines newsletter, sent every weekday morning.
You may occasionally receive promotional content from the Los Angeles Times.