Flights canceled, schools closed as sub-zero polar vortex descends on Midwest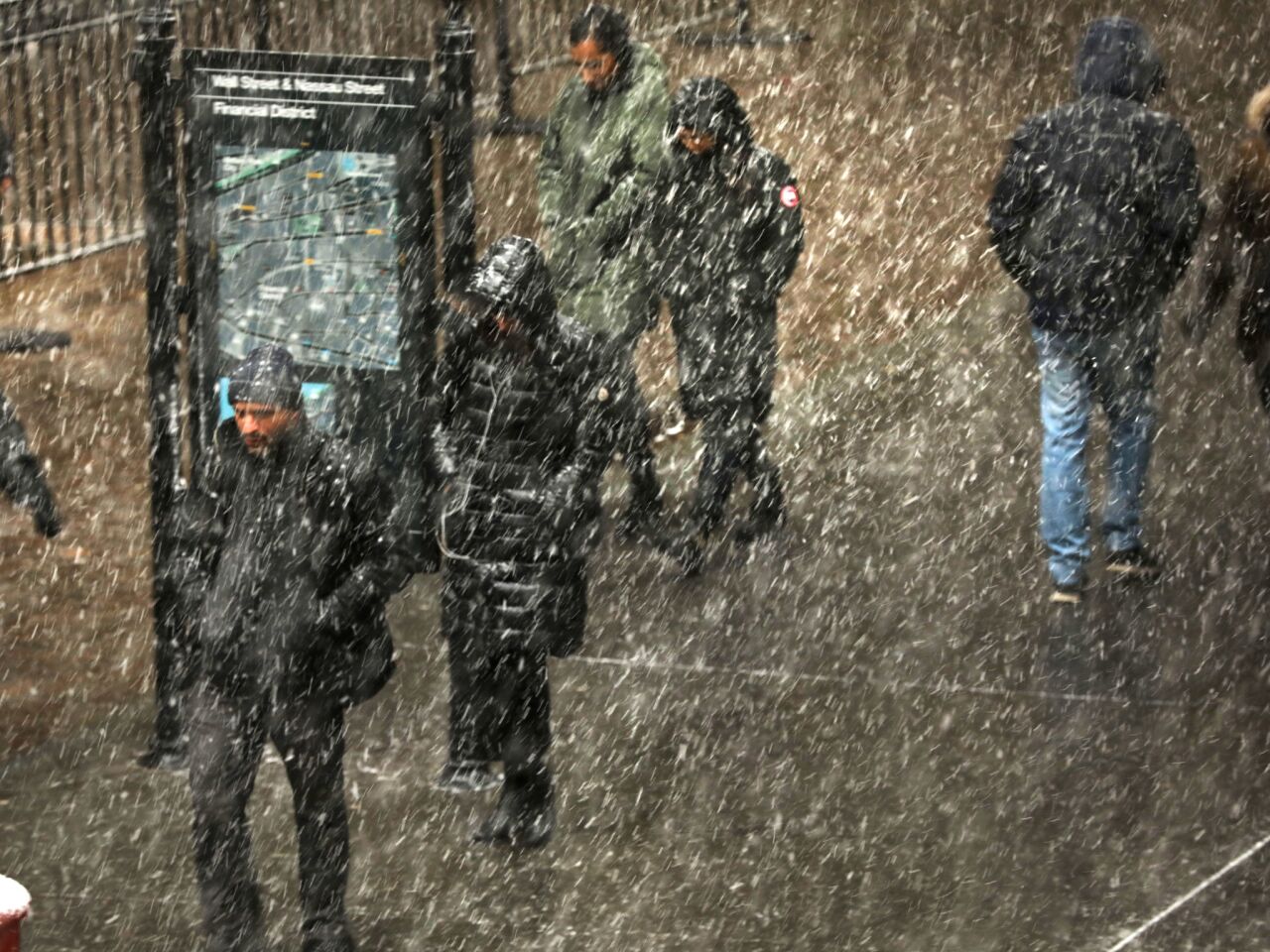 People walk through the snow in lower Manhattan as extremely cold temperatures are predicted for New York City in the coming days as a Polar Vortex, which is now over parts of the midwest, heads towards the region.
(Spencer Platt / Getty Images)
Ice forms on tree branches as New York firefighters battle a blaze in a commercial building in Brooklyn, New York.
(Mark Lennihan / Associated Press)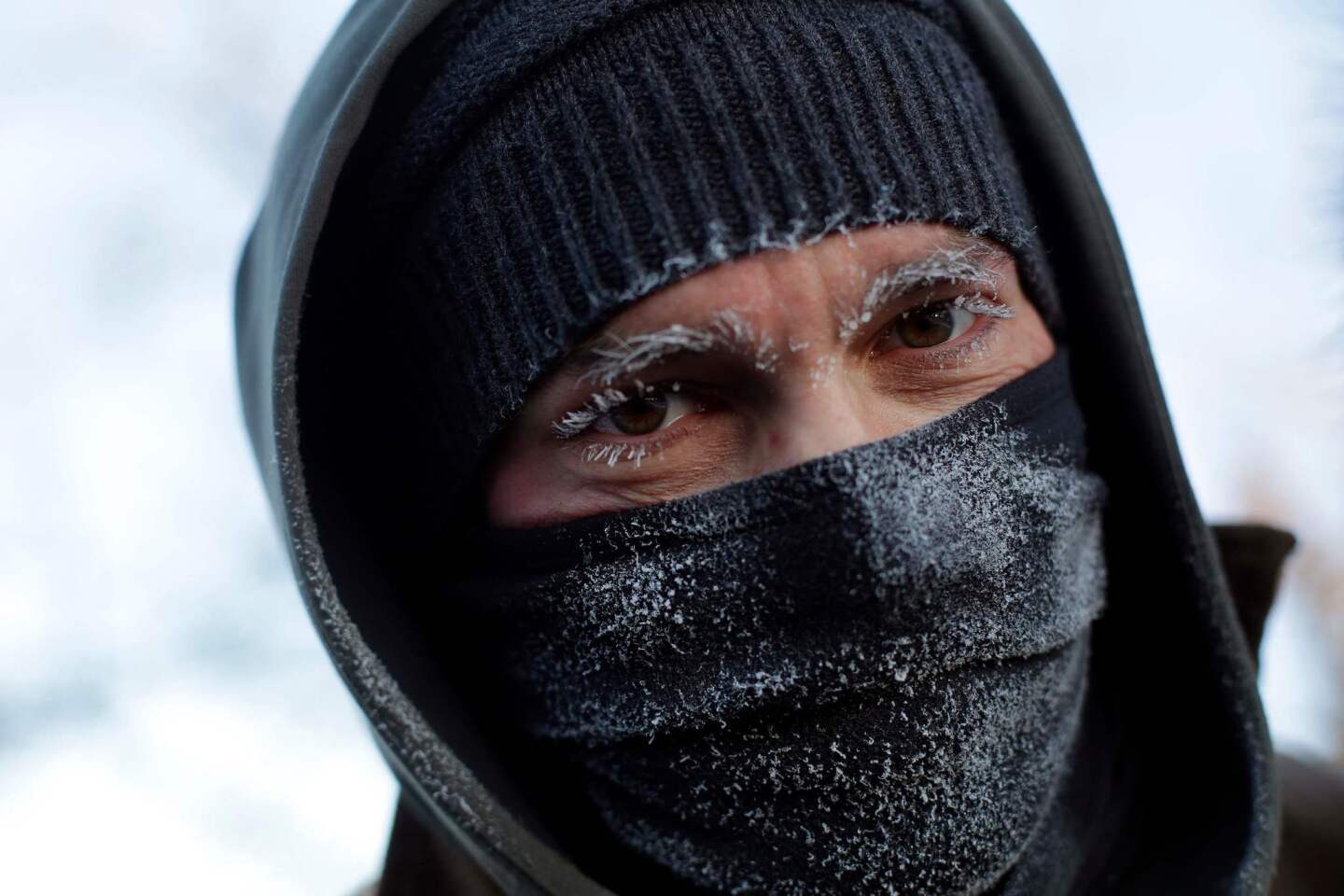 Frank Lettiere's eyebrows and eye lashes are frozen after walking along Lake Michigan's ice covered shoreline as temperatures dropped to -20 degrees F in Chicago.
(JOSHUA LOTT / AFP/Getty Images)
At Chicago airports, more than 1,700 flights were cancelled, according to the city's Aviation Department due to the polar vortex in the Midwest.
(KAMIL KRZACZYNSKI / EPA / REX / Shutterstock)
A man waits to cross a street during heavy snow fall in downtown Manhattan.
(JOHANNES EISELE / AFP/Getty Images)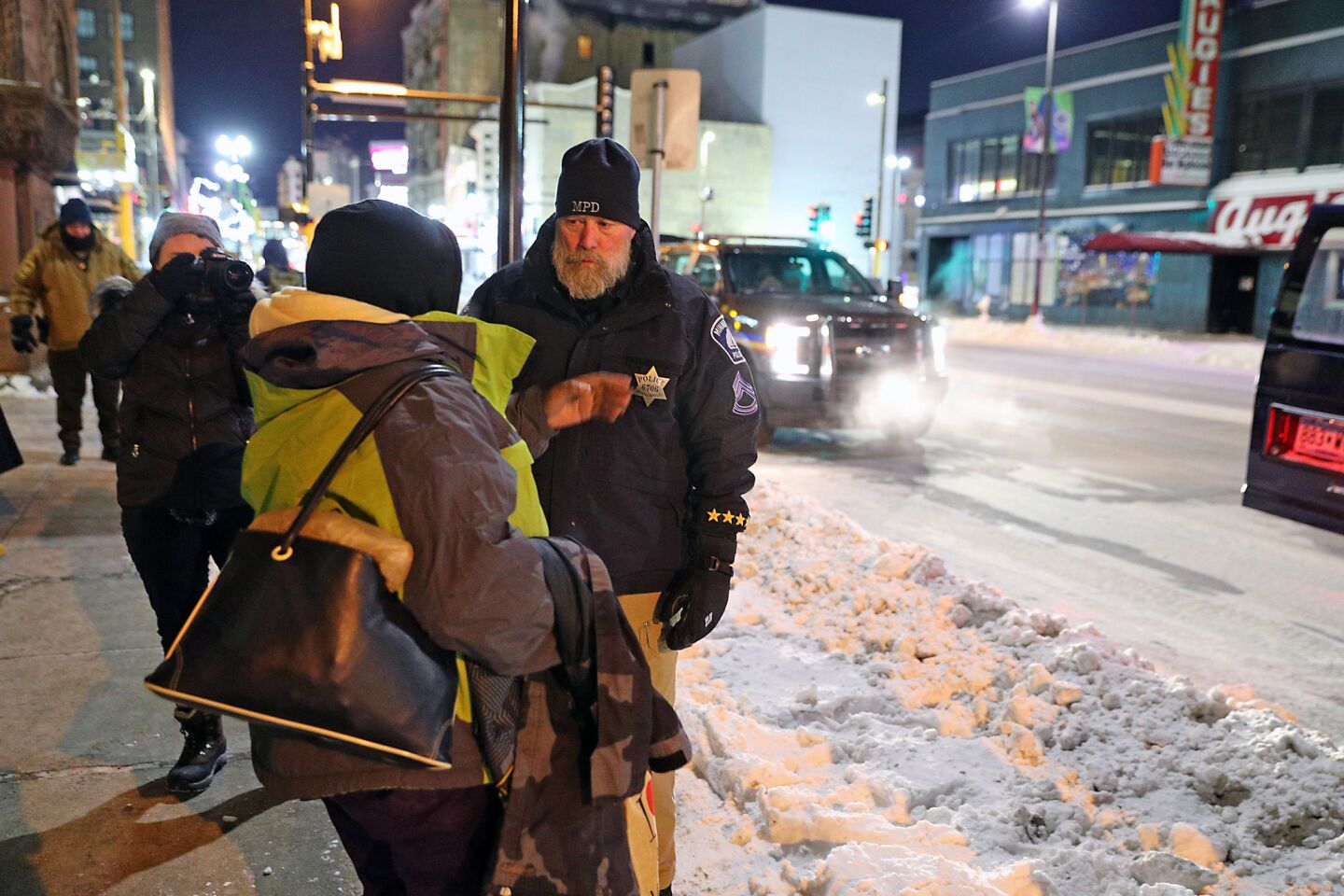 Minneapolis Police Sgt. Grant Snyder hands out gloves, hats and food to the homeless while temperatures dropped to -24 degrees Fahrenheit in Minneapolis, Minnesota.
(Adam Bettcher / Getty Images)
Steam rises from the city and Lake Michigan as the sun comes up in Chicago. The Midwest is braced with a coldspell as a polar vortex sent temperatures below zero degrees Fahrenheit.
(KAMIL KRZACZYNSKI / EPA / REX / Shutterstock)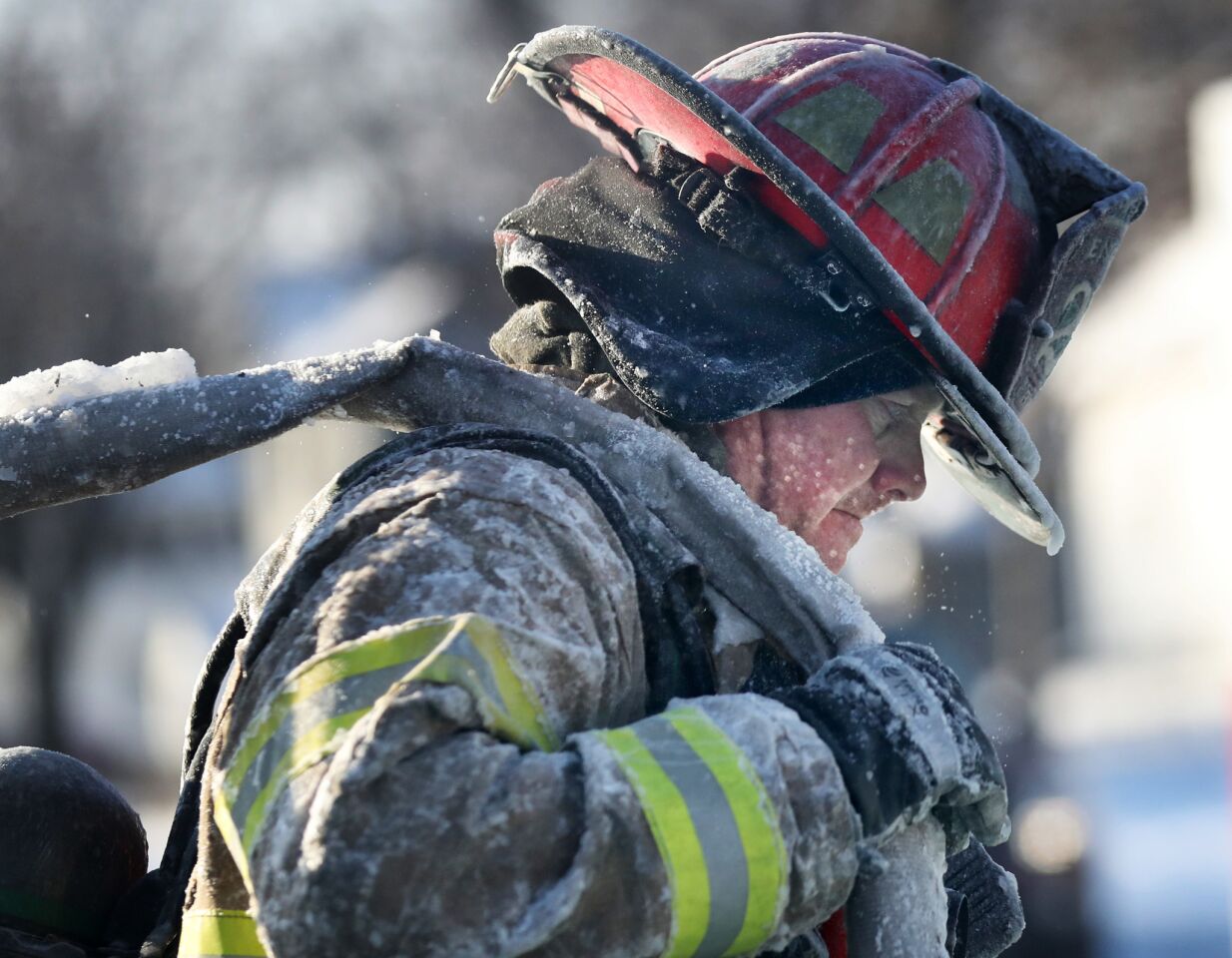 St. Paul firefighters at the scene of a house fire at Hatch Ave. and Park St. in St. Paul, Minn.
(David Joles / Minneapolis Star Tribune)
With temperatures dipping into the upper 20's below zero with a -50 wind chill, St. Paul's West 7th neighborhood was steaming Wednesday morning as furnaces tried to keep up with the record breaking cold.
(Brian Peterson / Minneapolis Star Tribune)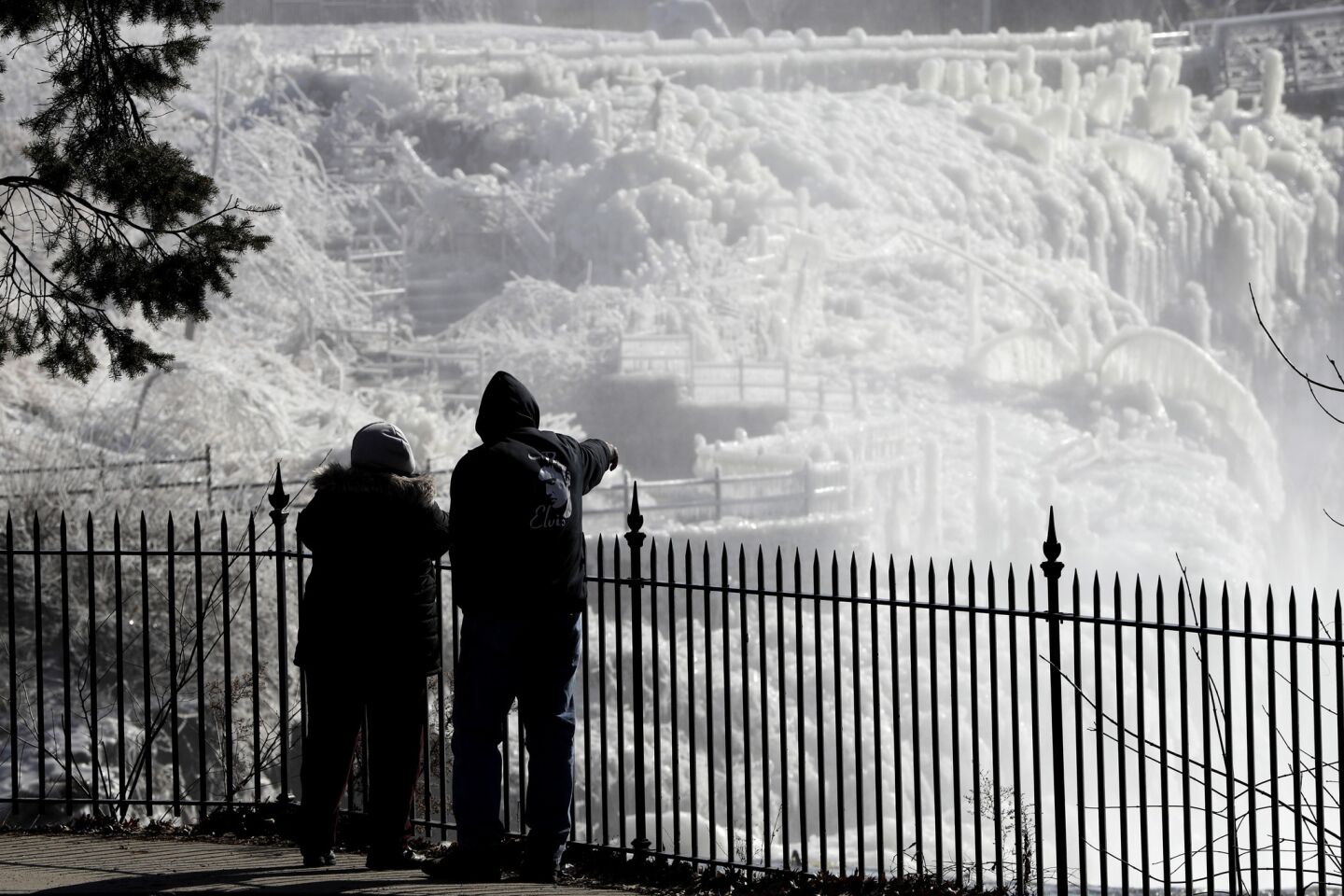 Ice is seen on the side of the Great Falls National Historic Park as a couple takes in the sights during a frigid winter day in Paterson, N.J.
(Julio Cortez / Associated Press)
Chloe Adams of Minneapolis goes for a ski run with her dog, Roscoe. Temperatures in parts of southwestern Minnesota fell to negative 29 degrees Fahrenheit.
(Craig Lassig / EPA/REX/Shutterstock)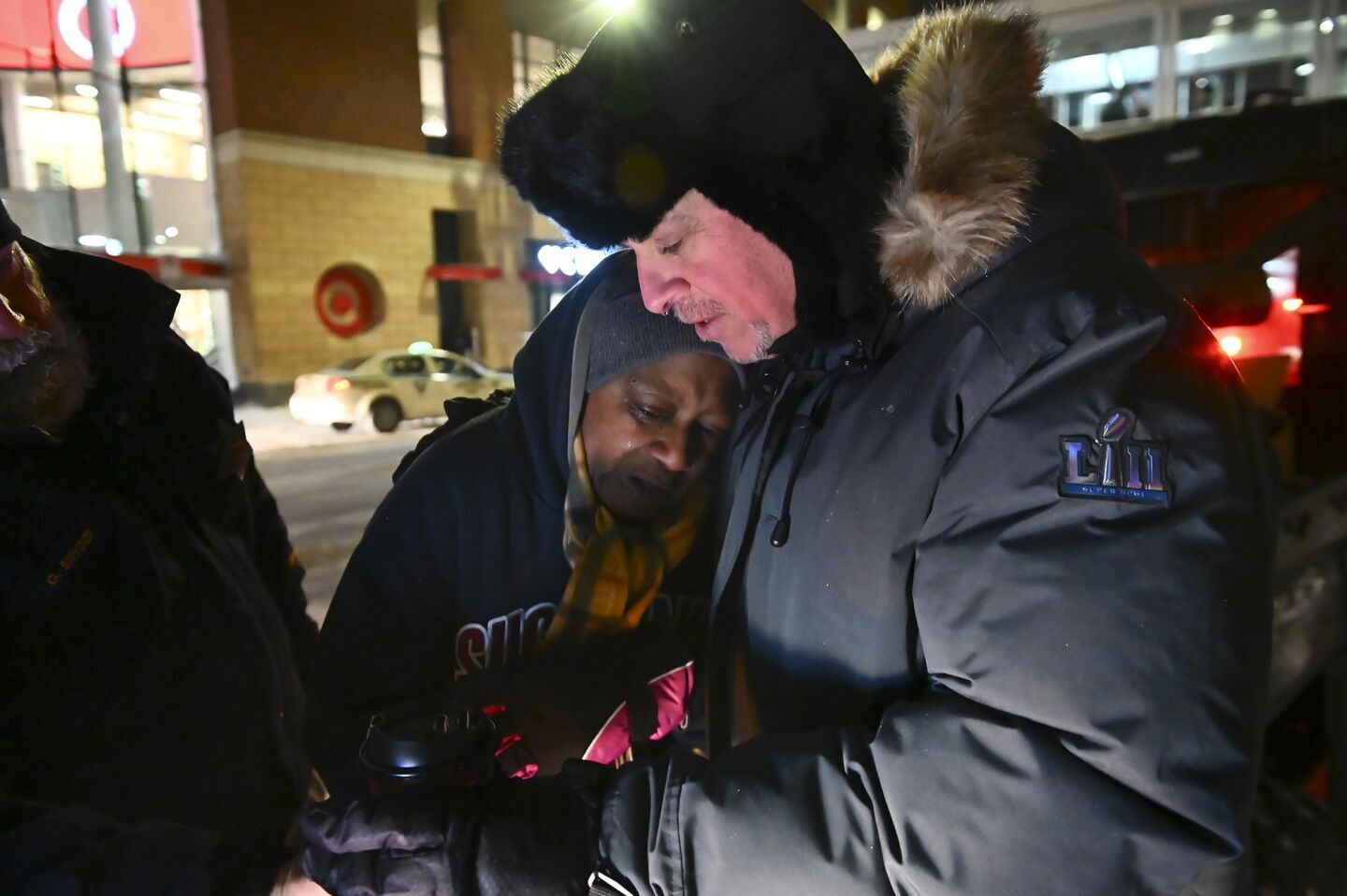 Pastor John Steger, with Grace in the City church, embraces Jearline Cyrus, a homeless woman, in downtown Minneapolis while delivering cold-weather gear, hot chocolate and food.
(Aaron Lavinsky / Minneapolis Star Tribune)
Braving the cold for a walk along Stone Arch Bridge in Minneapolis.
(Stephen Maturen / AFP/Getty Images)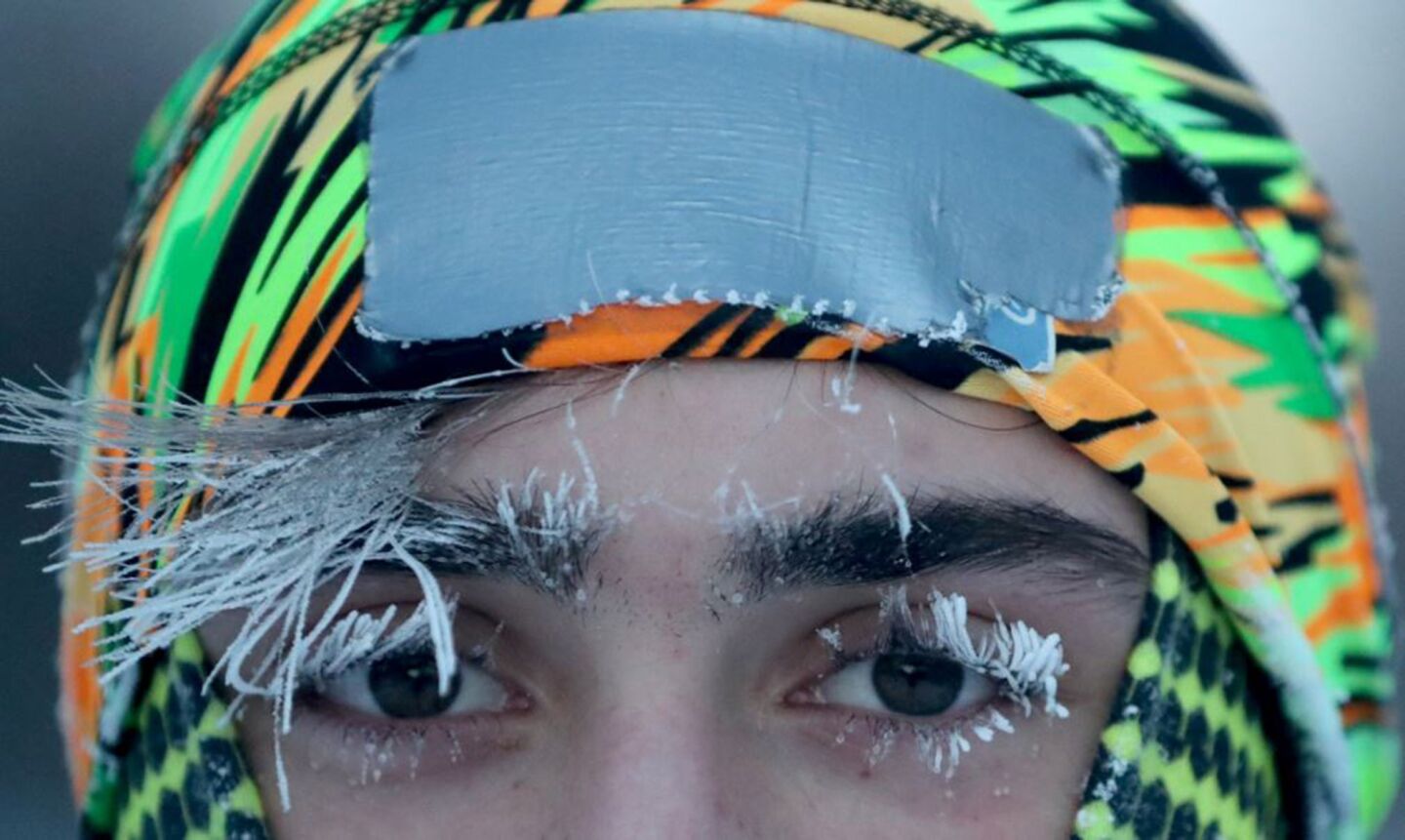 University of Minnesota student Daniel Dylla, out for a jog in Minneapolis, frosted over in the morning cold Tuesday.
(David Joles / Minneapolis Star Tribune)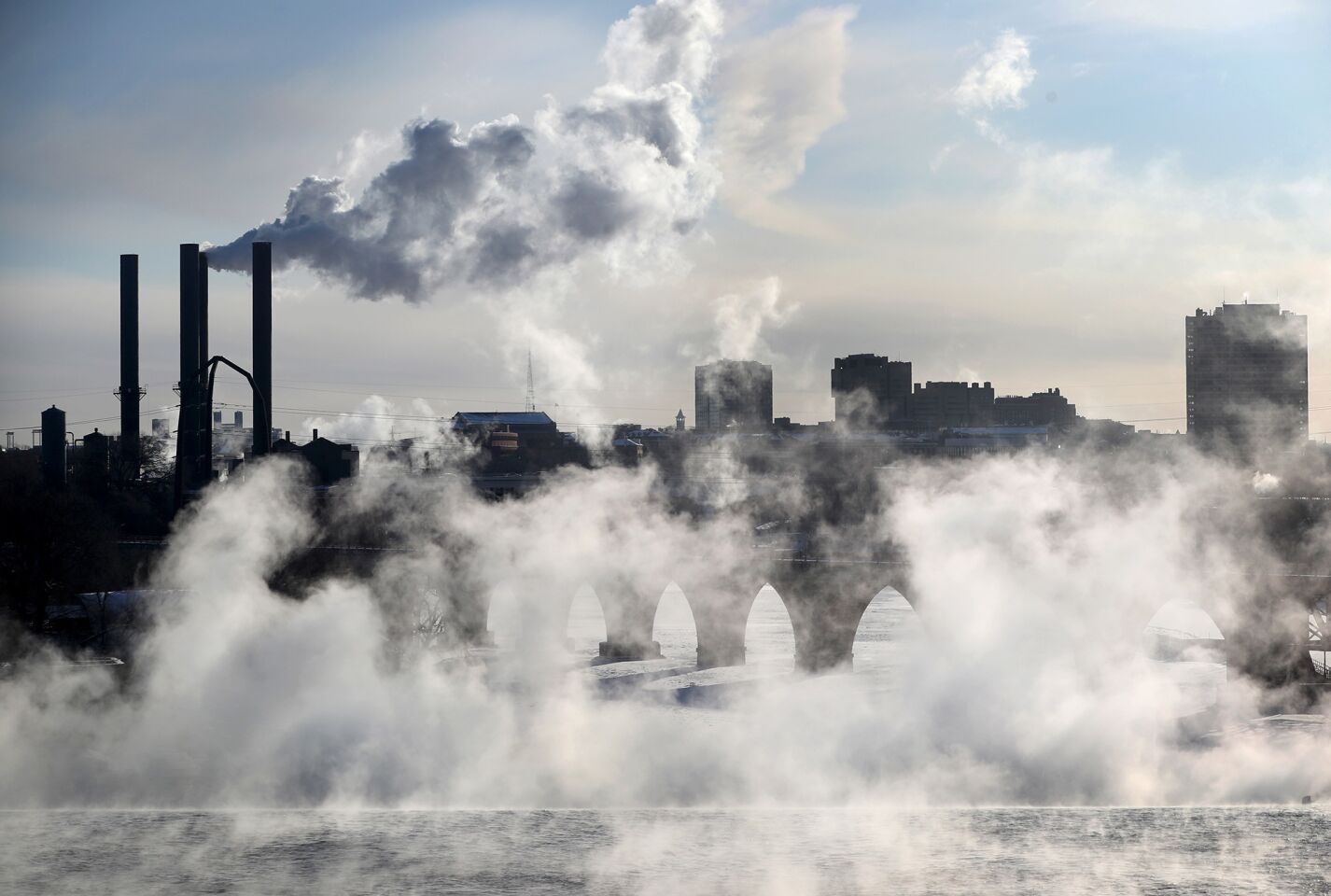 Water vapor rises Tuesday from Saint Anthony Falls on the Mississippi River in Minneapolis.
(David Joles / Minneapolis Star Tribune)
"They're going to call me 'wife of the frozen pants guy' in my obituary," said Karla Grotting with a laugh. Husband Tom has a winter tradition of freezing clothing for their yard in northeast Minneapolis.
(Anthony Souffle / Minneapolis Star Tribune)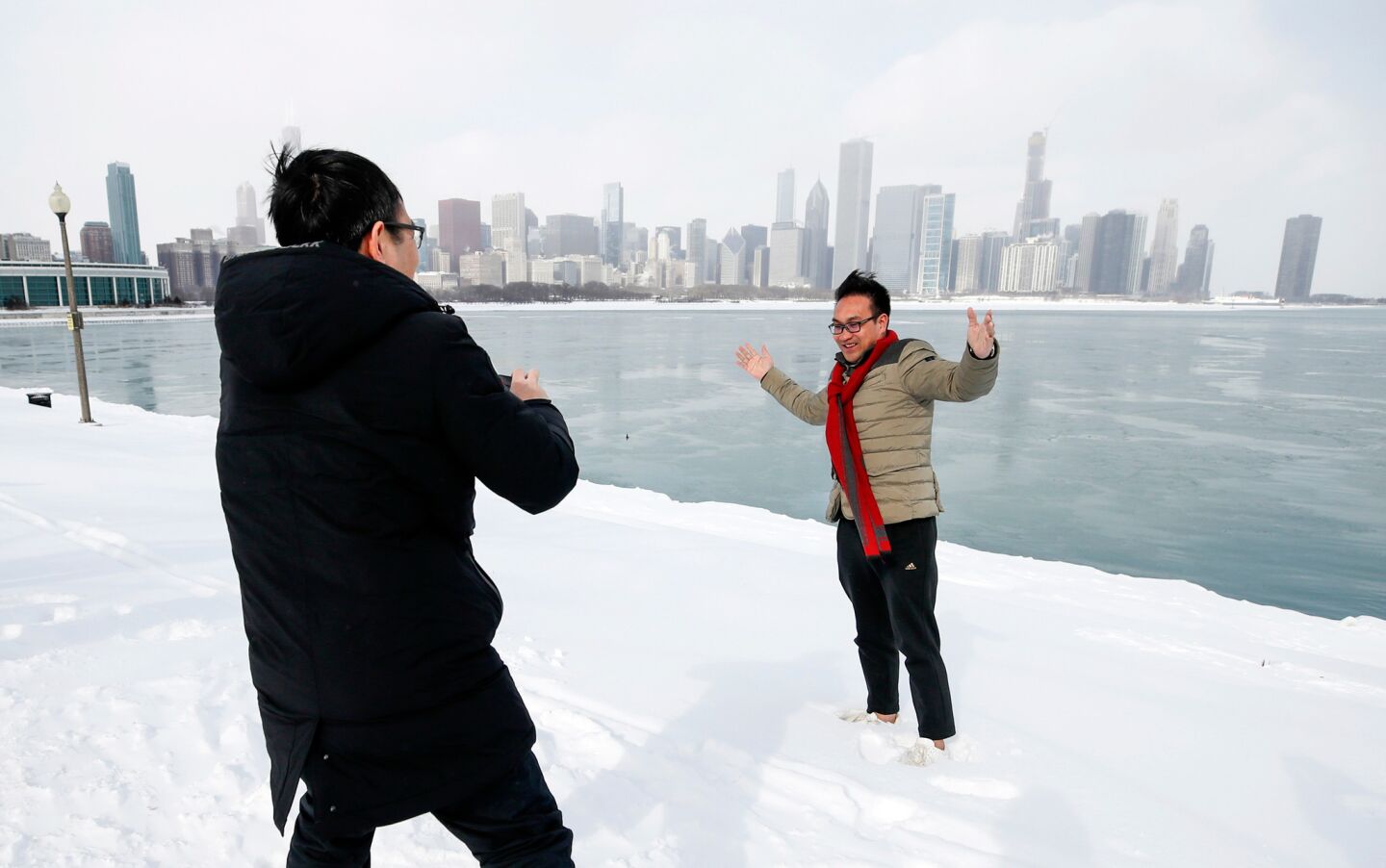 A student from China poses for a picture along Lake Michigan in Chicago on Tuesday. Temperatures in the city plunged early Wednesday to minus 19 degrees.
(Kamil Krzaczynski / EPA / Shutterstock)
A Metra train moves southbound toward downtown Chicago as the gas-fired switch heater on the rails keeps the ice and snow off the switches.
(Kiichiro Sato / Associated Press)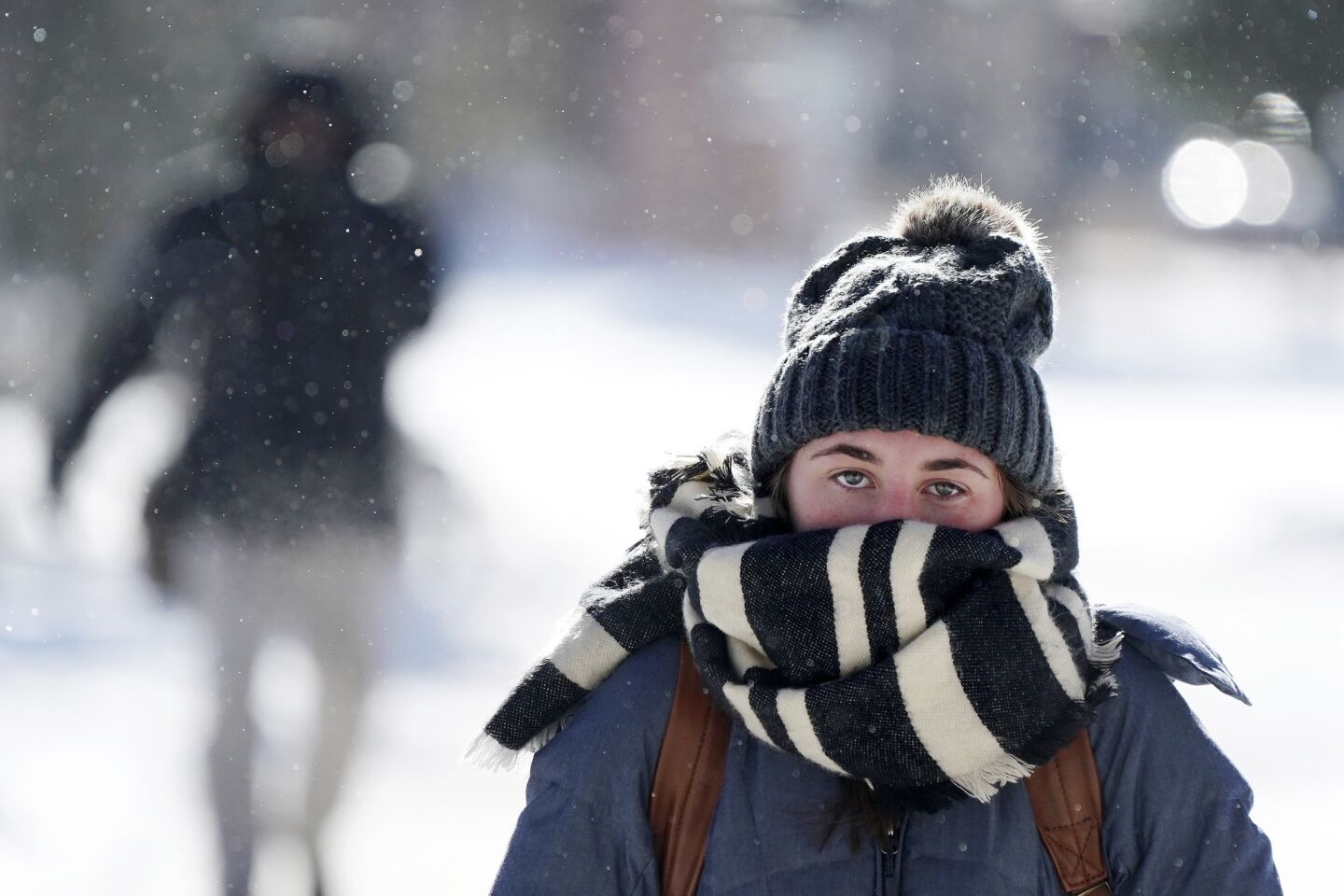 Jillian Hansen, a senior at the University of Minnesota, makes her way across campus.
(Anthony Souffle / Minneapolis Star Tribune)
Sheets of ice sit on the Chicago River near Wolf Point in Chicago.
(Armando L. Sanchez / Chicago Tribune)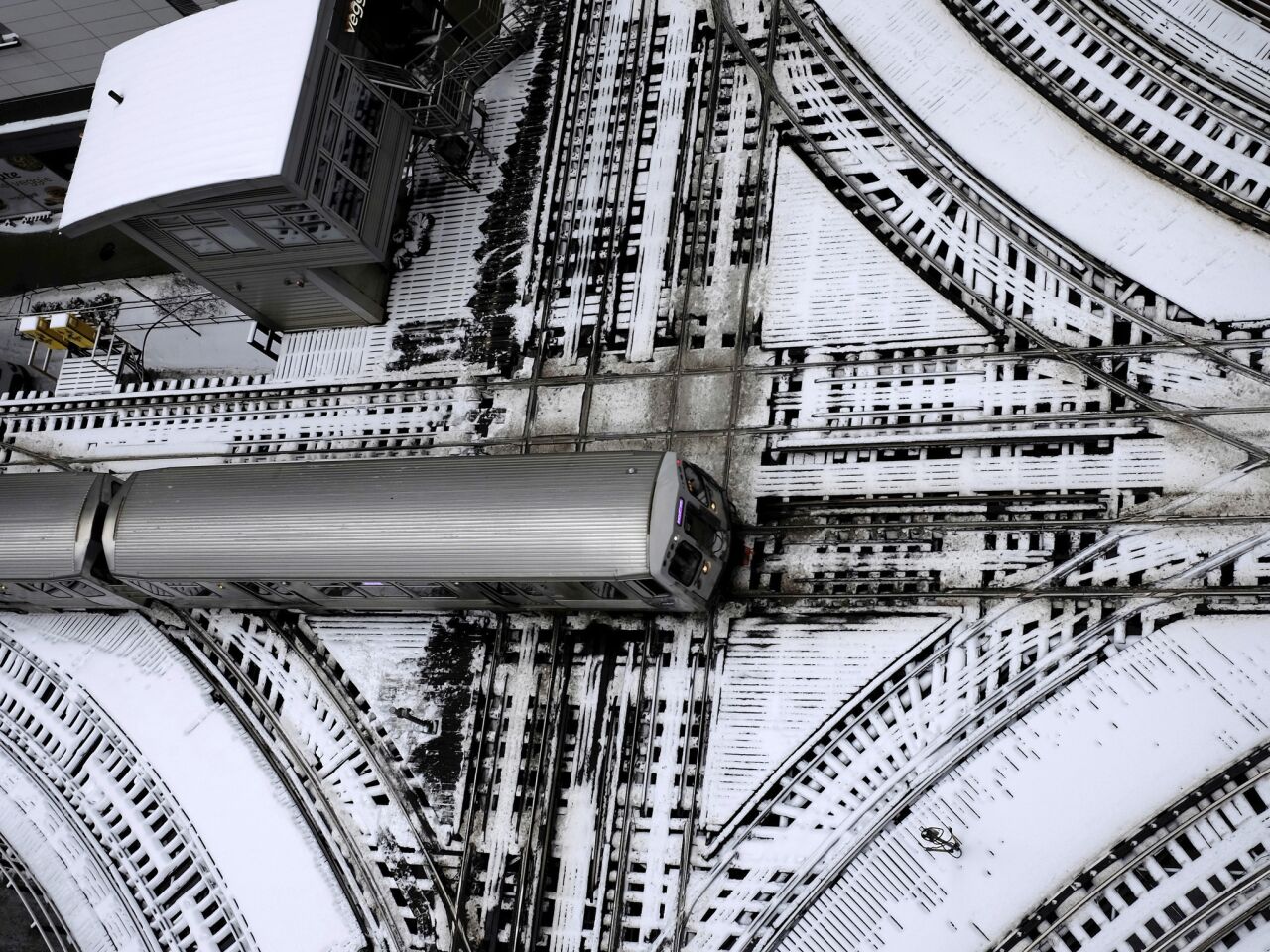 Chicago's El train moves along a snow-covered track in Chicago. The plunging temperatures expected later this week have forecasters especially concerned.
(Kiichiro Sato / Associated Press)
Commuters wait for a train as snow falls Monday in Chicago.The National Weather Service called the storm hitting the Midwest "possibly life threatening."
(Kiichiro Sato / Associated Press)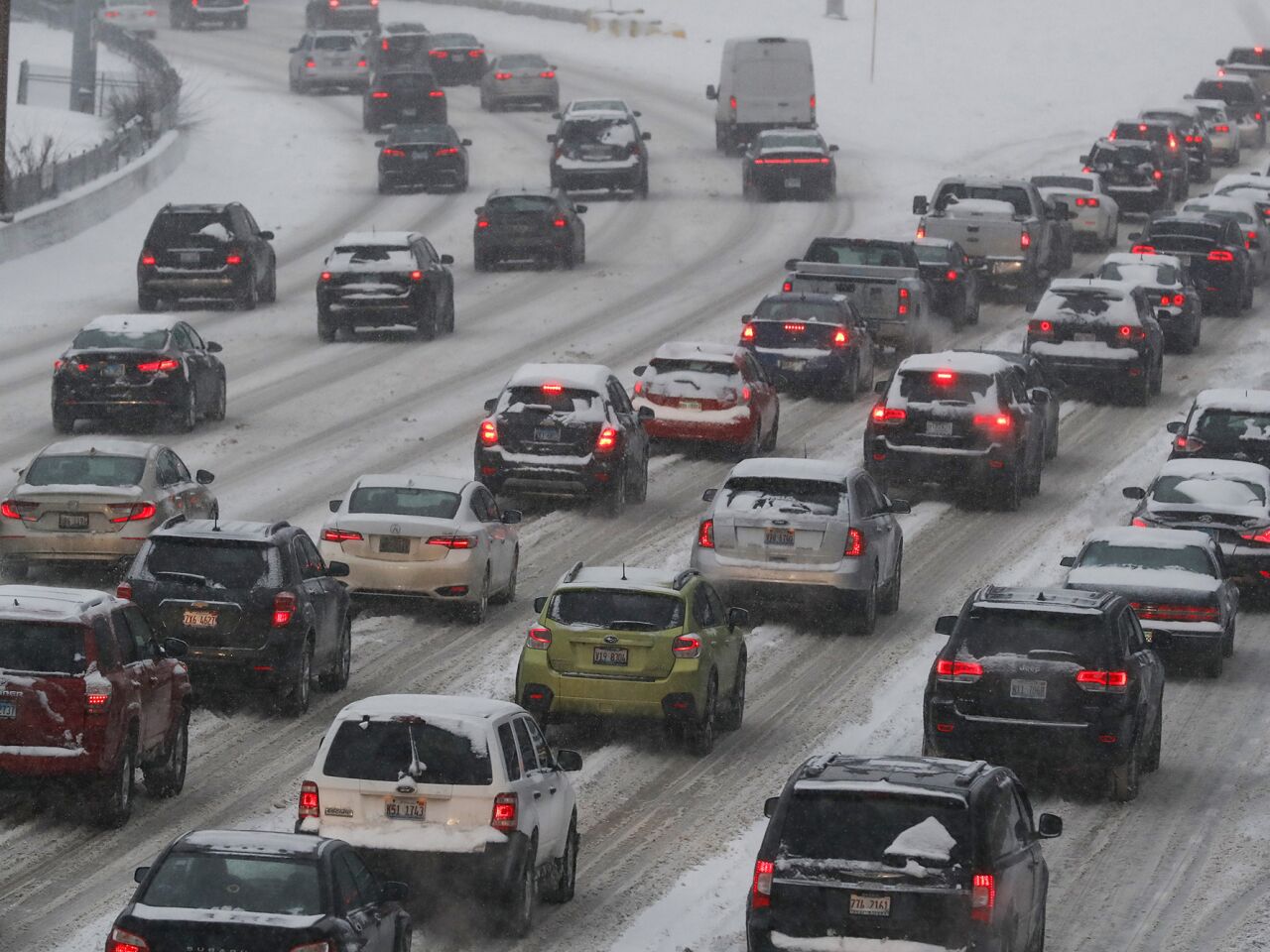 The outbound Kennedy Expressway, left, and Edens Expressway in Chicago on a cold and snowy Monday morning.
(Jose M. Osorio / Chicago Tribune)
Frost forms patterns on the window of a St. Joseph, Mich., home.
(Don Campbell / Associated Press)
Vapor rises from Lake Michigan in Milwaukee.
(Carrie Antlfinger / Associated Press)
Vehicles travel along a highway during a snowstorm in Appleton, Wis. Heavy snow and gusting winds created blizzard-like conditions across the Upper Midwest.
(Danny Damiani / Associated Press)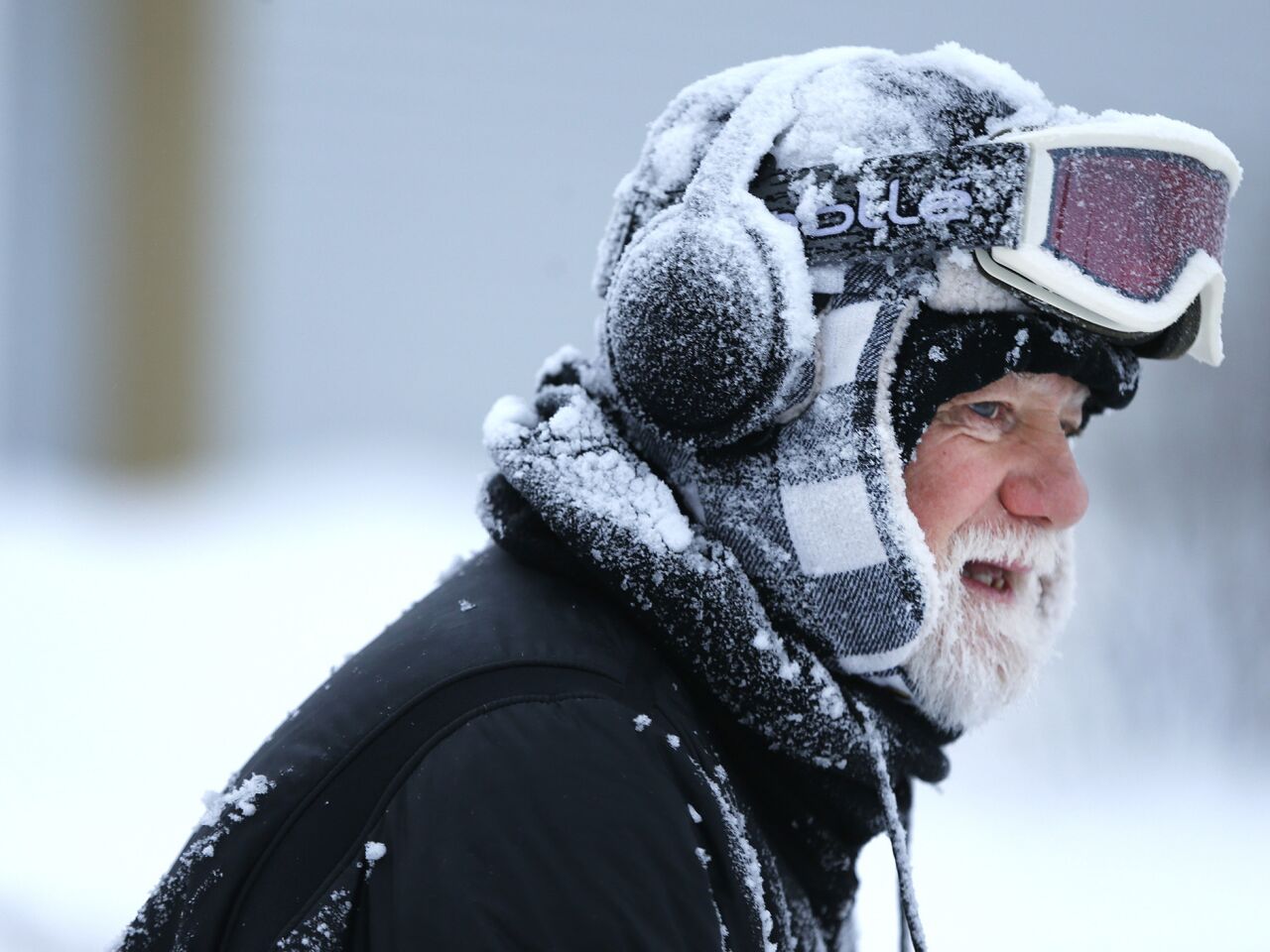 In Illinois, Don Milliken of Palatine clears snow from his neighbors' sidewalks and driveways on Monday.
(Stacey Wescott / Chicago Tribune)
Reporting from Milwaukee —
Heavy snow and powerful wind created blizzard-like conditions across parts of the Midwest on Monday, prompting officials to cancel about 1,000 flights at Chicago's airports and close hundreds of schools. But forecasters warned the most dangerous weather is yet to come: frigidly low temperatures that the region hasn't seen in a quarter century.
Snowplow drivers had trouble keeping up with the snow in Minnesota and Wisconsin, where some areas got as much as 15 inches. Chicago-area commuters woke up to heavy snowfall, with more than 5 inches already on the ground. In Michigan, non-essential government offices were closed, including the Capitol.
But the snow is only "Part 1, and maybe even the easier part" because temperatures will plunge over the next three days, said Brian Hurley, a meteorologist with the Weather Prediction Center.
Wednesday is expected to be the worst. Wind chills in northern Illinois could fall to negative 55 degrees, which the National Weather Service called "possibly life threatening." Minnesota temperatures could hit minus 30 degrees with a wind chill of negative 60.
"You're talking about frostbite and hypothermia issues very quickly, like in a matter of minutes, maybe seconds," Hurley said.
Cold weather advisories are in effect across a broad swath of the central U.S., from North Dakota to Missouri and spanning into Ohio. Temperatures will be as many as 20 degrees below average in parts of the Upper Great Lakes region and Upper Mississippi Valley, according to the National Weather Service.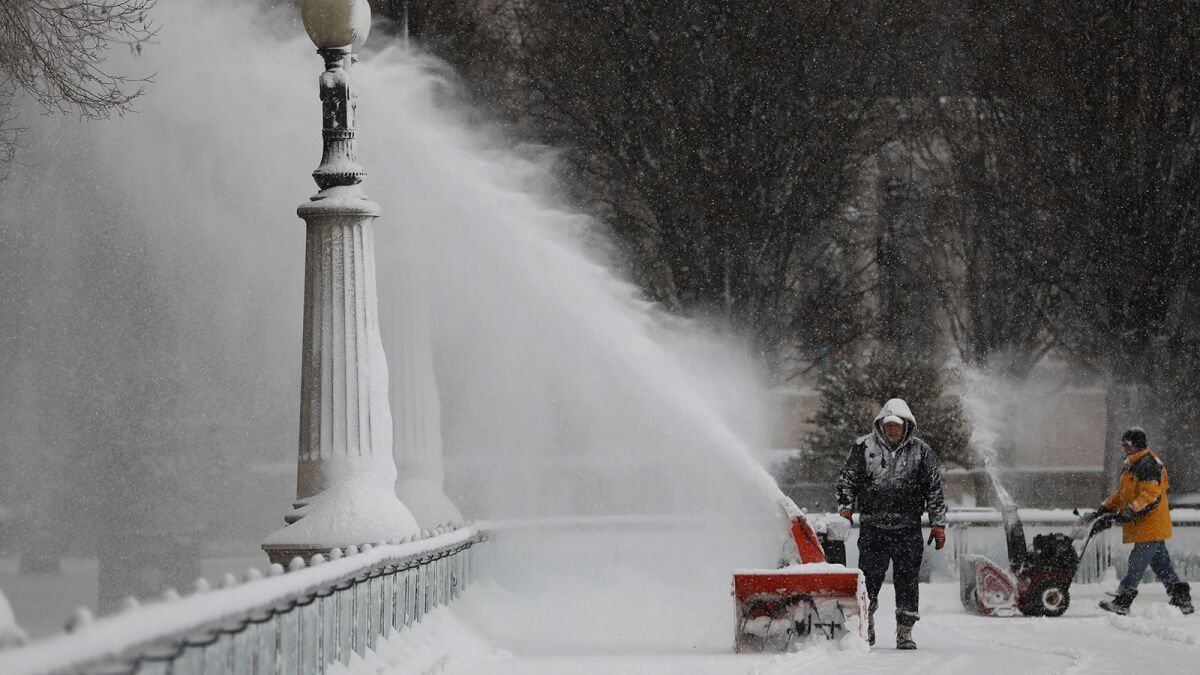 The unusually frigid weather is attributed to a sudden warming far above the North Pole. A sudden blast of warm air from misplaced Moroccan heat last month made the normally super-chilly air temperatures 20 miles above the North Pole rapidly rise. That split the polar vortex into pieces, which then started to wander, according to Judah Cohen, a winter storm expert for Atmospheric Environmental Research, a commercial firm outside Boston. One of those 'polar vortex' pieces is responsible for the sub-zero temperatures across the Midwest this week.
Chicago Mayor Rahm Emanuel urged residents to check on their neighbors and take safety precautions. He said city agencies are making sure homeless people are in shelters or offered space in warming buses.
Hundreds of schools were closed across Michigan as road conditions deteriorated, including Eastern Michigan University. The largest public school districts in Wisconsin and Minnesota also were among those closed, including districts in Milwaukee and St. Paul. Minneapolis Public Schools announced there would be no classes through Wednesday. The cold also prompted officials to close some schools in eastern Iowa, and Chicago Public Schools officials said they were monitoring the weather ahead of Wednesday's cold snap.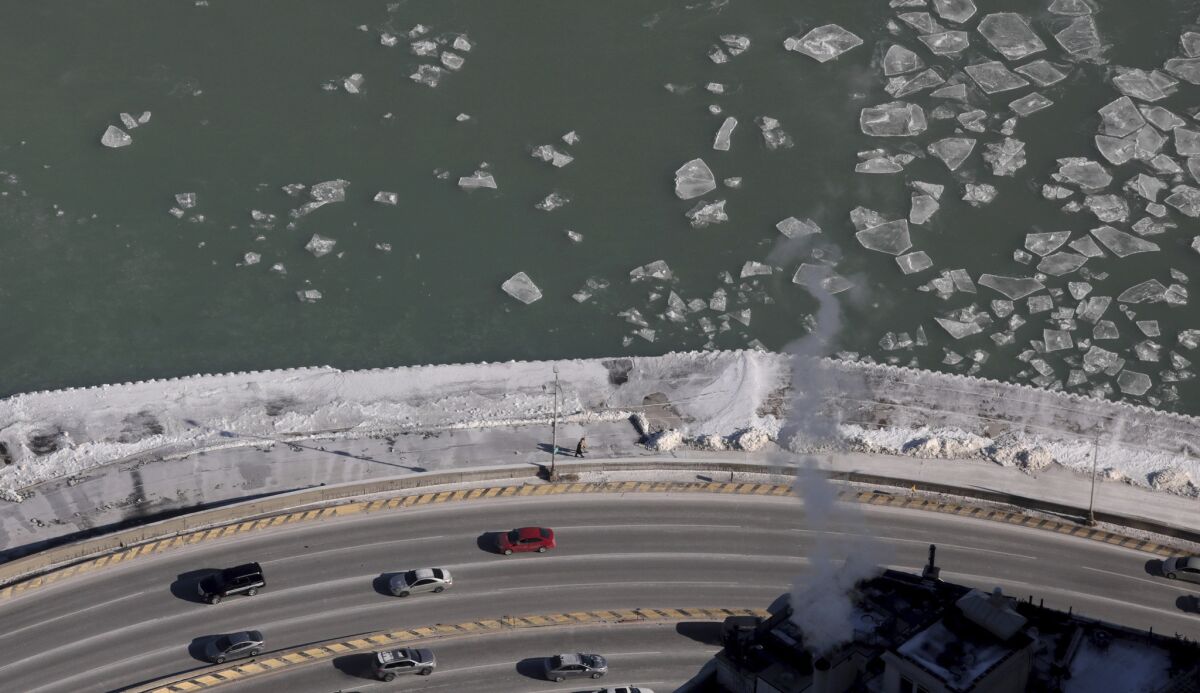 In eastern North Dakota, officials issued travel alerts because of blowing snow. The Minnesota State Patrol was responding to scores of spinouts and crashes Monday in the Twin Cities metro area because of snow-covered and icy roads.
Even the fabled "frozen tundra" of Lambeau Field, home to the NFL's Green Bay Packers, wasn't able to withstand the heavy snow and wind that closed hundreds of businesses, schools and government offices in Wisconsin. The stadium said tours, the Packers Hall of Fame and other related businesses were closed Monday.
---
Must-read stories from the L.A. Times
Get the day's top news with our Today's Headlines newsletter, sent every weekday morning.
You may occasionally receive promotional content from the Los Angeles Times.