Plea deal talks ongoing for Cleveland kidnap suspect Ariel Castro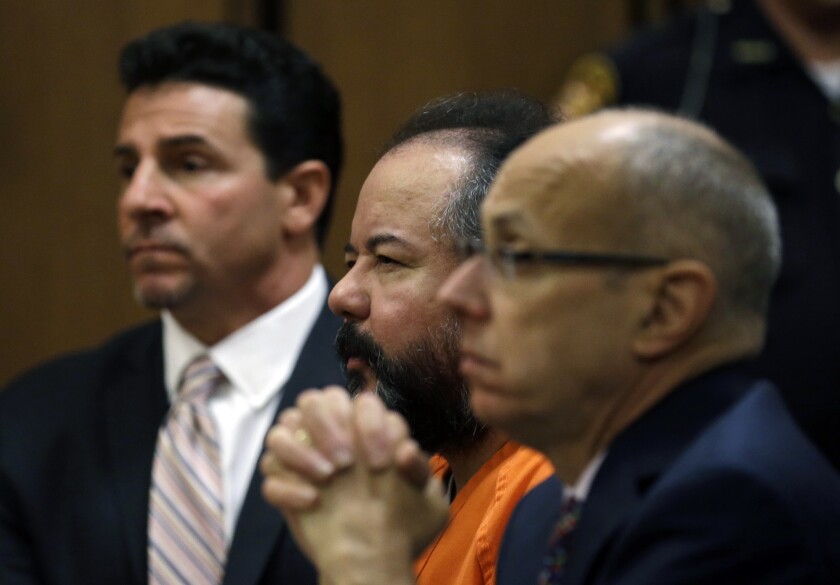 CLEVELAND — Prosecutors and lawyers for a Cleveland man accused of holding three women captive in his home for more than a decade signaled Wednesday that they are talking about a possible plea deal.
With a trial less than two weeks away, there was no mention of whether the prosecutor will seek the death penalty. Attorneys for Ariel Castro, 53, say a deal is dependent on taking the death penalty off the table.
"My understanding is that the parties have discussed possible pleas and that you're working to see if that would be an effective resolution, is that correct?" Judge Michael Russo asked.
Both sides responded "yes" without elaboration and left the courtroom without commenting. Last month, the judge had mentioned the possibility of a plea deal raised by the defense.
Castro mostly kept his head down during the brief hearing and quietly answered "yes" to routine questions from the judge.
The hearing focused on the trial date, Aug. 5, and whether the prosecution had provided its evidence to the defense in a timely fashion, as required.
The defense attorneys have been given more discovery evidence "in a shorter period of time than any case in the history of this county," Cuyahoga County Prosecutor Tim McGinty said.
But Castro's defense team said the prosecution had missed the deadline for sharing its evidence three weeks before a trial.
Prosecutors said they would share forensic evidence from a state crime laboratory as soon as they receive it. The evidence wasn't specified in court.
McGinty acknowledged the time demands to review evidence and prepare for trial and added, "We've got nearly 1,000 counts in a period of 10 years of solid crime — never stopped, day after day after day."
The judge cut McGinty off, saying it wasn't time for speeches.
As in previous court appearances, Castro was dressed in an orange jail outfit and kept his chin tucked to his chest for most of the hearing. He has pleaded not guilty.
The 977-count indictment charges him with two counts of aggravated murder related to one act: accusations that he punched and starved one woman until she miscarried. He also is charged with hundreds of counts of kidnapping and rape, plus assault and other counts.
Castro is accused of repeatedly restraining the women, sometimes chaining them to a pole in a basement, to a bedroom heater or inside a van. The charges say that one of the women tried to escape and that he assaulted her with a vacuum cord around her neck.
The three disappeared separately between 2002 and 2004, when they were 14, 16 and 20 years old. Each said they had accepted a ride from Castro.
They escaped to freedom May 6, when one kicked out part of a door and called to neighbors for help. Castro was arrested within hours.
ALSO:
Landing gear punched into Southwest 737 jet on landing
Loose rules leave Six Flags to investigate itself for park death
Las Vegas police officer who died rescuing hiker is remembered
---
Must-read stories from the L.A. Times
Get the day's top news with our Today's Headlines newsletter, sent every weekday morning.
You may occasionally receive promotional content from the Los Angeles Times.