Baltimore police illegally detained many protesters, public defender says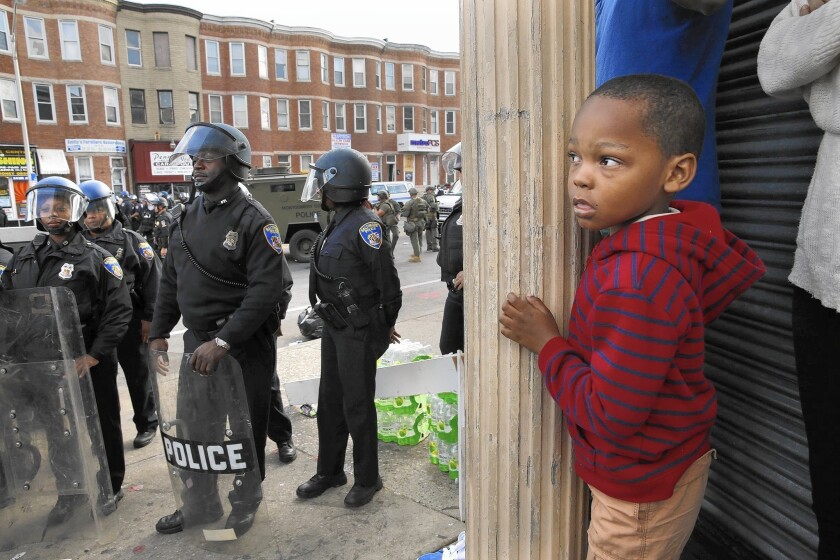 Nearly half the people arrested during the unrest that roiled Baltimore on Monday night were released Wednesday night, and the city public defender's office contends they were held in cramped and dangerous conditions.
Deputy Public Defender Natalie Finegar said 101 people were released from the city's jail around 7 p.m. local time Wednesday. Few if any of them understood why they were arrested in the first place, she said.
"It looks like a lot of folks were just flat-out illegally detained, from our perspective," Finegar told the Los Angeles Times in a brief phone interview.
Baltimore police said they arrested 235 people on Monday night, when demonstrations over the death of 25-year-old Freddie Gray turned violent. The city was rocked by looting, a chaotic scene reminiscent of the chaos that enveloped Ferguson, Mo., last year.
During a Wednesday afternoon news conference, Baltimore Police Capt. Eric Kowalcyzk said the department was struggling to file formal charging documents as officers have been scrambling to respond to emergencies citywide.
The city planned to release those who were not formally charged within 48 hours of their arrest, but Kowalcyzk said Wednesday that formal charges would still be filed in the future.
"We don't want to violate anyone's consitutional rights," Kowalcyzk said earlier in the day.
Finegar, however, believes most of the people released on Wednesday should not face criminal charges. Many of them, she contends, were simply traveling through the affected areas and were swept up by police in the wild scene.
One man, she said, was walking home from work wearing a Best Buy shirt when he was stopped by police.
"He was walking through the area, going home from work, and he got scooped up as if he was part of the demonstration," Finegar said.
She also argued that large groups of men and women, in some cases as many as 15, were stuffed into cells meant to hold only eight.
"We're watching folks come out with medical issues who have been denied medical care. We're hearing 15 women being held in a cell that only seats eight," Finegar said. "They haven't been able to be in touch with their families or their employers. Some of them may have lost their jobs."
A Baltimore Police spokesman did not immediately reply to a request for additional comment. During an evening news briefing, Police Commissioner Anthony Batts reiterated that those who were released Wednesday would be prosecuted in the future.
"We're not giving up on them, we're just going to follow up," he said.
Follow @JamesQueallyLAT on Twitter for breaking news.
---
Must-read stories from the L.A. Times
Get the day's top news with our Today's Headlines newsletter, sent every weekday morning.
You may occasionally receive promotional content from the Los Angeles Times.