At Nogales' steel border fence, bishops celebrate Mass for both sides
Tucson Bishop Gerald Kicanas gives Communion to people on the Mexican side of the border fence.
(Cindy Carcamo / Los Angeles Times)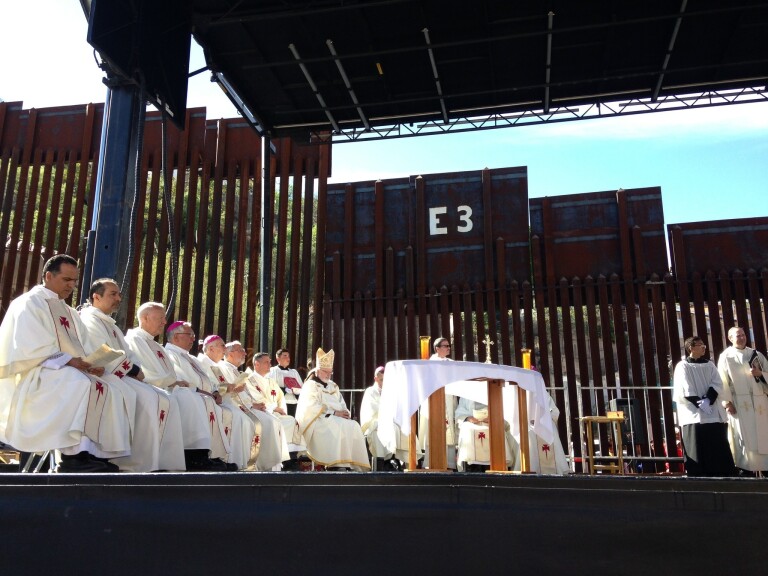 Catholic leaders gather for the Mass on the Arizona side of the border.
(Cindy Carcamo / Los Angeles Times)
Worshipers sit near the U.S.-Mexico border fence during the Mass.
(Cindy Carcamo / Los Angeles Times)
Cardinal Sean O'Malley of Boston celebrates Communion at the U.S.-Mexico border fence.
(John Moore / Getty Images)
A child prays during a Mass at the U.S.-Mexico border calling for immigration overhaul.
(John Moore / Getty Images)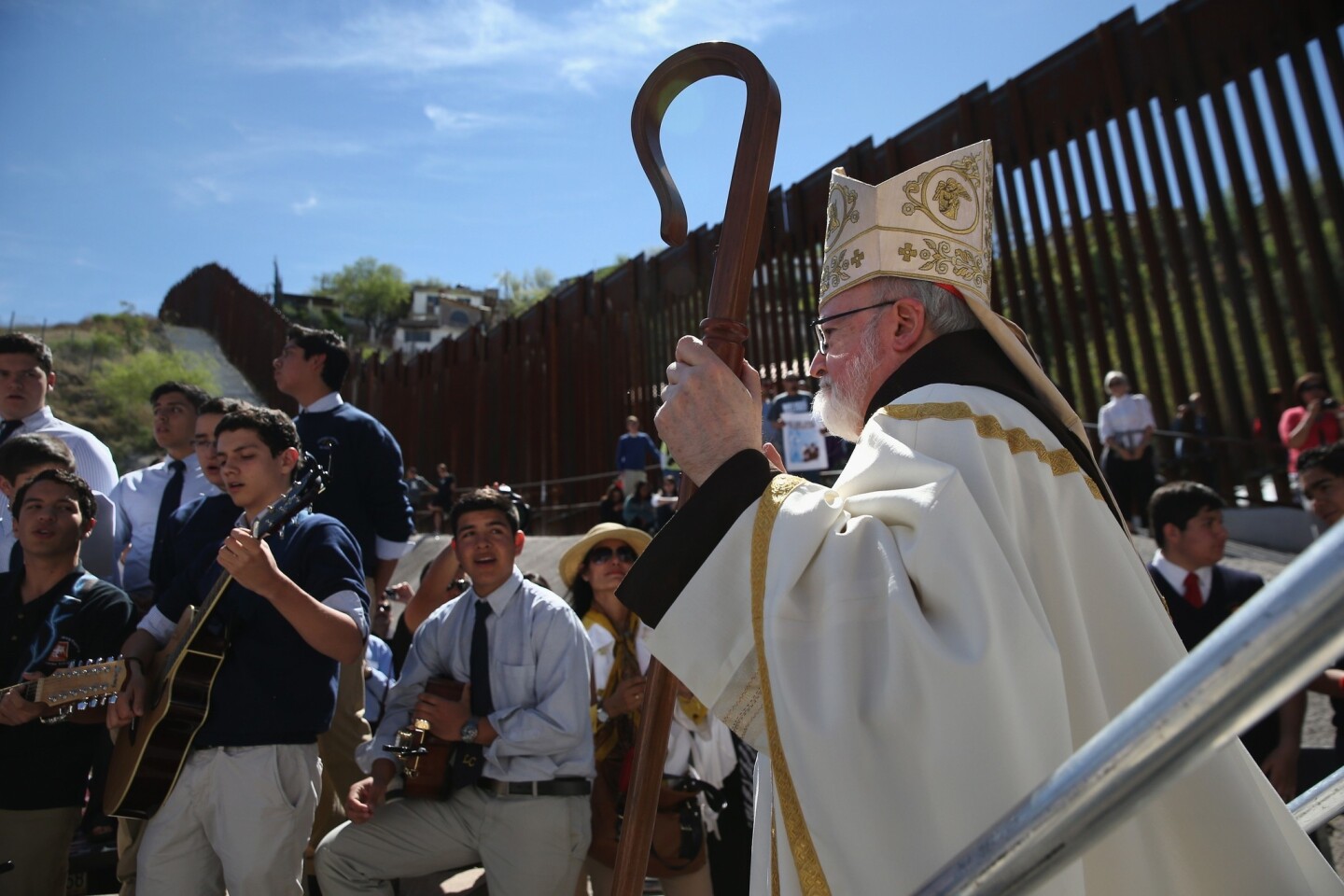 Cardinal Sean O'Malley of Boston walks near the U.S.-Mexico border fence.
(John Moore / Getty Images)
NOGALES, Ariz.—It had been years since Maria Miranda of Tucson attended Catholic Mass with her son Jorge Lopez.
Tuesday they finally did. But they were separated by the U.S.-Mexico border fence in southern Arizona.
"I'm just a couple of bars, a couple steps away from her," the 35-year-old said he told himself. "There's a fence but it's the same ground."
At one point Lopez even forgot he was on the Mexican side. He forgot about his banishment from the U.S. He forgot about how immigration officials, he says, denied him an extension to his green card and finally caught up with him at work three years ago and deported him.
Lopez was one of an estimated 300 people who gathered at the border fence in Nogales to attend a transnational Mass led by Cardinal Seán O'Malley of Boston and bishops from across the West and Southwest, including Eusebio Elizondo, auxiliary bishop of Seattle; Gerald F. Kicanas, bishop of Tucson; Mark Seitz, bishop of El Paso; and Oscar Cantu, bishop of Las Cruces, N.M.
The Mass to celebrate the lives of those who have died crossing the U.S.-Mexico border is an attempt by the Catholic Church to call on President Obama to use his executive powers to limit deportations of people who are in the country illegally.
The move comes at a time when an immigration overhaul is at a standstill and thousands of people have died while crossing the Sonoran desert in Arizona.
The border fence, the backdrop for the outdoor Mass, became the center of attention when O'Malley and the bishops gave Communion to people gathered on the Mexican side, as hands reached through the gaps in the steel slats.
In the last few years, the Catholic Church has become increasingly vocal about immigrant rights — preaching from the pulpit about immigration reform as an "ethical and moral imperative."
Late last month, Bishop Elizondo, who also is chairman of the U.S. Conference of Catholic Bishops' Committee on Migration, wrote to Department of Homeland Security officials asking them to limit deportations.
O'Malley, who took a weeklong tour of the southern Arizona border with several bishops from the Southwest, said he was inspired and emboldened by Pope Francis, who visited Lampedusa, Italy, last year to pray for people who died trying to migrate to Europe by boat.
During Tuesday's Mass, O'Malley and the bishops laid a wreath at the border wall in Nogales and called for Catholics to remember those who have died.
"We know the border is lined with unmarked graves," O'Malley said. "They call them illegal aliens. We are here to say they are not forgotten. They are our neighbors. Our brothers. Our sisters. … You cannot love God without loving your neighbor."
Follow LATimes National on Facebook
ALSO:
Ex-FAMU band member gets 1 year in hazing death
Florida's speed-trap city agrees to reform, won't be killed off
Range war heats up again between defiant Nevada rancher and BLM
Twitter: @thecindycarcamo
tter.com/theCindyCarcamo">@thecindycarcamo
---
Must-read stories from the L.A. Times
Get the day's top news with our Today's Headlines newsletter, sent every weekday morning.
You may occasionally receive promotional content from the Los Angeles Times.