Fake Twitter account of Peoria, Ill., mayor prompts police raid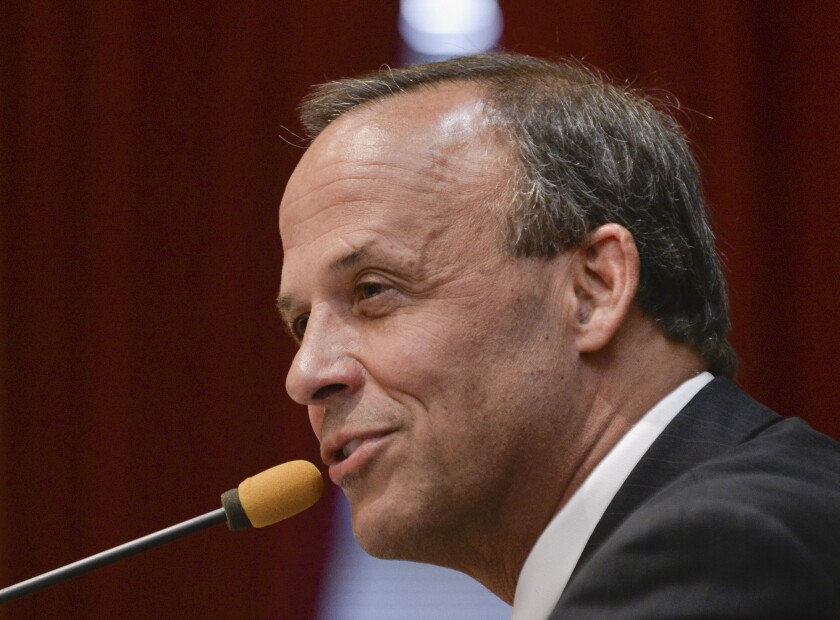 The mayor of Peoria, Ill., might have saved his Police Department and a handful of residents some grief if he had just joined Twitter.
Instead, someone set up a phony but official-looking Twitter account in the name of Mayor Jim Ardis and proceeded to tweet about drugs, sexual exploits and even crack-smoking Rob Ford, the disgraced Toronto mayor who's seeking reelection.
Although Twitter suspended the account, the fraud was reported to the Peoria Police Department, which launched an investigation because the account impersonated a public official, a misdemeanor punishable by up to a year in jail, Police Lt. Willie King Jr. told The Times on Thursday.
As part of their probe, investigators executed a search warrant at a local home earlier this week. Five people were questioned in connection to the scandalous tweets, the Peoria Journal Star reported. Several electronic devices were seized.
The raid yielded one arrest — for marijuana possession.
Police believe the account creator is from the area, but King said a suspect has yet to be identified.
"We're just still in investigation mode and don't have a suspect in custody," King said, declining to comment on whether additional searches have been done. "We have a couple of forensic guys that do this type of crime investigation. If they come up with things, we look into them."
Although Twitter welcomes parody accounts, there must be a clear mention that the account is just that. In violation of Twitter policy, the account in question reportedly showed a picture of Ardis, listed his email address in the "about" section and made no mention in the account name of being a fake.
The Journal Star reported that the account had about 50 tweets and 50 followers.
The mayor didn't comment — in person or via social media — on the investigation.
Follow LATimes National on Facebook
ALSO:
Atty. Gen. Holder decries hate-inspired violence in Kansas
Teen urinates in reservoir; officials to flush 38M gallons; L.A. weeps
Judge rules North Dakota's ban on abortions after 6 weeks unconstitutional
paresh.dave@latimes.com
---
Must-read stories from the L.A. Times
Get the day's top news with our Today's Headlines newsletter, sent every weekday morning.
You may occasionally receive promotional content from the Los Angeles Times.