Amid Missouri unrest, FAA closes air space over Ferguson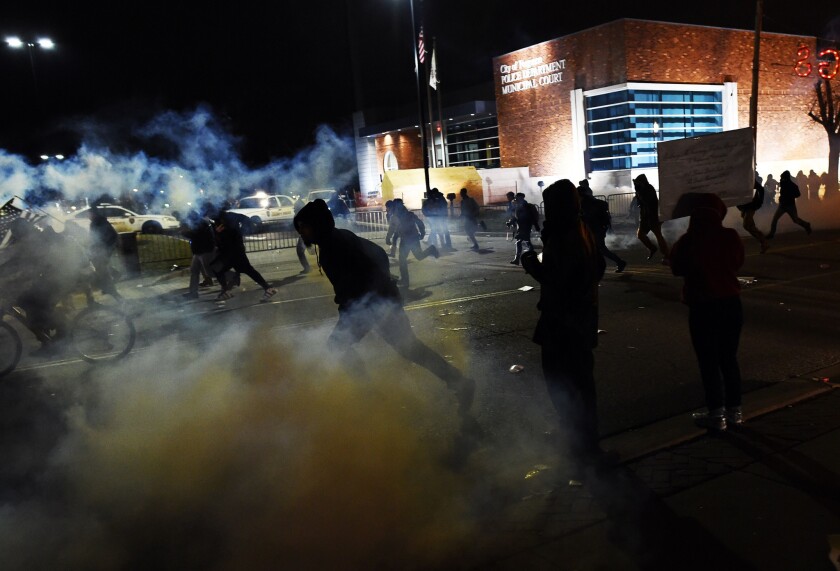 Reporting from St. Louis —
The airspace over Ferguson is a no-fly zone once again.
The Federal Aviation Administration placed temporary flight restrictions over Ferguson late Monday after deeming it a hazardous area.
No media helicopters or commercial flights are allowed in a three-mile radius up to an altitude of 3,000 feet.
Earlier Monday night, St. Louis County Prosecutor Robert McCulloch announced that a grand jury had declined to indict Ferguson police Officer Darren Wilson in the fatal shooting of Michael Brown. Protests turned violent, with gunfire ringing out and police cars set on fire. Police responded with tear gas and smoke grenades.
The no-fly zone is the strictest kind legally available to the FAA. It poses a challenge to pilots trying to land at nearby Lambert-St. Louis International Airport.
The airport remains open, but some Southwest Airlines flights have been diverted, officials told The Los Angeles Times.
"On board a flight DIA to STL when the pilot announced STL airport closing due to trouble in St Louis," tweeted Tim Ryan, a Denver TV journalist. "Returning to DIA."
Staff writer Ryan Parker contributed to this report.
---
The Latinx experience chronicled
Get the Latinx Files newsletter for stories that capture the multitudes within our communities.
You may occasionally receive promotional content from the Los Angeles Times.