Dozens arrested in Ferguson demonstrations; state of emergency declared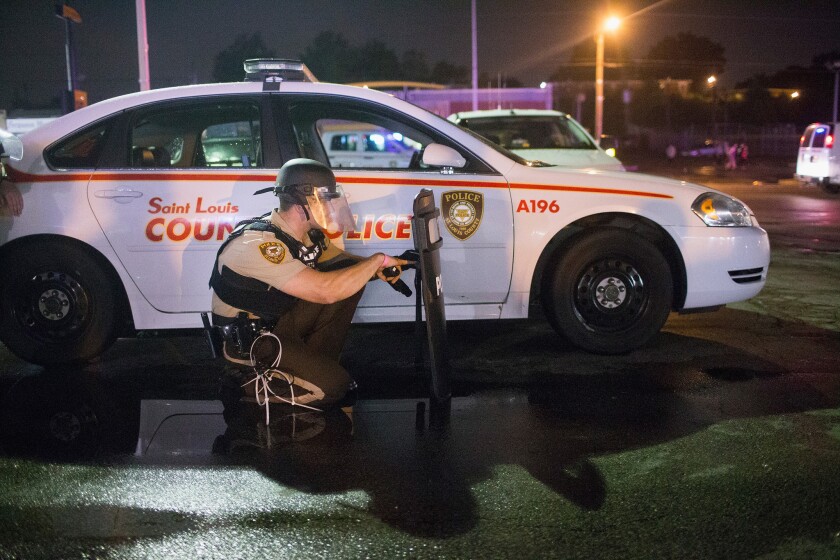 Reporting from Ferguson, Mo. —
A sense of dread returned to the St. Louis area as demonstrations continued Monday and officials declared a state of emergency, fearing another spiral of violence could shatter the riot-scarred area's fragile recovery.
Dozens of protesters were arrested a year and a day after Ferguson Police Officer Darren Wilson fatally shot Michael Brown, 18, during a struggle. Wilson was white; Brown was black and unarmed.
Monday's protests also came one day after St. Louis County police critically wounded an 18-year-old black man they said had fired at them first, and after a late-night gun battle sent demonstrators diving for cover.
St. Louis County Executive Steve Stenger announced a state of emergency to give St. Louis County Police responsibility for emergency response in Ferguson, where the streets had been calm of late — until Sunday night.
"The recent acts of violence will not be tolerated in a community that has worked so tirelessly over the last year to rebuild and become stronger," Stenger said. "The time and investment in Ferguson and Dellwood" — a neighboring suburb also affected by violence last year — "will not be destroyed by a few that wish to violate the rights of others."
As darkness fell Monday, about 200 people gathered on West Florissant Avenue, site of protests last year after Brown's death and a grand jury's refusal to indict Wilson. About 30 police officers in riot gear stood across the street.
"Why are you in riot gear? I don't see no riot here," the protesters chanted.
The Rev. Rob White of Clergy United tried to calm an angry crowd that surrounded a man objecting to an upside-down American flag. The man declined to identify himself to a reporter. White helped usher him away, saying the man was trying to incite a riot.
"If it had been a bunch of African American kids, the police would have been over here arresting them," White said.
Shortly after 10 p.m., police said frozen water bottles were being thrown at them. "This is no longer a peaceful protest. Participants are now unlawfully assembled.... Please follow the commands of the police department or you will be subject to arrest," police said on Twitter. At least nine people were arrested during the nighttime protest, along with about 60 during the day, police said.
As midnight passed, police said on Twitter: "Officers are being hit with rocks and bottles. We continue to support free speech, but agitators who ignore orders to disperse risk arrest."
The return of protesters and riot police highlighted two paradoxes: Some peaceful protests here have brought violence in their wake, and some police efforts to restore order have heightened the unrest.
"People are starting to use the protests as a reason to shoot at one another over whatever their little beef is," said Patricia Bynes, Democratic committeewoman for Ferguson township. She called Sunday's violence "a kick in the gut."
"How dare they use it as an opportunity to shoot at each other," she said. "People all over this country and especially this community have been doing a lot of work, community work, outreach, development.... It's beyond frustrating."
Most of Sunday had been devoted to peaceful demonstrations marking the anniversary of Brown's death on Aug. 9, 2014. But a gun battle broke out about 11:10 p.m., apparently between two groups, St. Louis County Police Chief Jon Belmar said, with 40 to 50 shots fired within 45 seconds.
Protesters scattered as gunfire and breaking glass echoed across West Florissant Avenue.
One shooter opened fire at an unmarked police SUV, striking the windshield four or five times, as well as the hood, Belmar said.
Detectives returned fire and the gunman ran behind a building, where he found himself in a fenced-in area with "nowhere to go," Belmar said. The gunman "engaged the officers," all four detectives returned fired and he collapsed, Belmar said. The chief said officials recovered a 9-millimeter stolen gun.
The suspect was identified as Tyrone Harris Jr., 18, who remained hospitalized in critical condition. He was charged with multiple felonies and ordered held in lieu of $250,000 cash-only bond.
His father, Tyrone Harris Sr., called the police version "a bunch of lies." He told the Associated Press that two girls who were with his son said he was unarmed and had been drawn into a dispute involving two groups of young people.
"My son was running to the police to ask for help, and he was shot," he told the Associated Press. "It's all a bunch of lies.... They're making my son look like a criminal."
Also Sunday, a St. Louis Post-Dispatch reporter was robbed, assaulted and hospitalized. A police officer was hit in the face with a rock and hospitalized. Two teenagers were shot in a drive-by shooting near Brown's memorial and hospitalized. None of the injuries appeared life-threatening.
On Monday, officials denounced the violence and the threat it posed: a return to the bad old days of last year when looters, arsonists and gunmen sowed anarchy on the fringes of the protests.
"Those who terrorize communities with gunfire and commit violence against police officers are criminals, and their reprehensible acts must not be allowed to silence the voices of peace and progress," Democratic Gov. Jay Nixon said.
"Over the last year, people of good will across the community have worked tirelessly to bridge divisions, restore trust and build a brighter, safer and more united future for the region," he said.
Johnetta Elzie, 26, was at Sunday's demonstration when the gunfire erupted. She was mystified why such shootings often seemed to happen where protesters and media gathered, and she criticized police for donning riot gear before anything serious had happened.
"Why am I in this same situation where I'm running from police in the area where I grew up and went to shop?" asked Elzie, who was arrested Monday while filming demonstrators blocking the doors of the St. Louis federal courthouse. "Why is this happening? Why are we still here? And for them to shoot someone on Aug. 9, on the one-year anniversary — really, I could have cried. I was in shock."
nigel.duara@latimes.com
matt.pearce@latimes.com
Duara reported from Ferguson and Pearce from Los Angeles. Times staff writer James Queally contributed to this report from New York.
Hoy: Léa esta historia en español
MORE ON FERGUSON:
Ferguson a year later: 'I'm still hurting,' Michael Brown's father says
2 officers shot during Ferguson protests following police chief's resignation
Ferguson report's racist details: More of the same, but still shocking
---
The Latinx experience chronicled
Get the Latinx Files newsletter for stories that capture the multitudes within our communities.
You may occasionally receive promotional content from the Los Angeles Times.