Florida man, 90, is cited again for feeding the homeless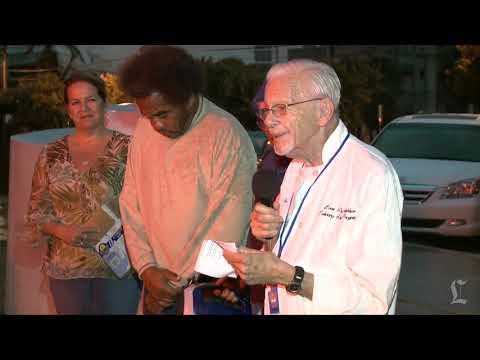 Arnold Abbott, 90, was cited Wednesday for feeding homeless people in Fort Lauderdale, Fla., in violation of a new ordinance. Abbott says he will continue to feed the homeless even though he faces arrest.
A 90-year-old Florida man continues to be cited and faces arrest for doing what he has done for 20 years - feed the homeless.
His staff says he doesn't care.
A new ordinance, which went into effect Friday, is intended to help Fort Lauderdale better control the downtown homeless population, the Sun Sentinel reports, and "limits where outdoor feeding sites can be located, requires the permission of property owners and says the groups have to provide portable toilets."
Activist Arnold Abbott of Fort Lauderdale was cited by police Wednesday night, marking the second time this week he has been in hot water with the law for giving food to the area's homeless population, said Minister Mark Sims of St. Mary Magdalene Episcopal Parish.
"Arnold is an amazing man," Sims said. "He will not stop helping others."
Abbott, Sims and another minister were cited by police Sunday for feeding people in a Fort Lauderdale park.
Wednesday night, Abbott fed people near the beach, Sims said.
Sims said he speaks for himself and Abbott when he calls the measure "lunacy."
Attempts to reach the city and police for comment were unsuccessful.
Abbott could not be reached for comment Wednesday, as he was preparing food for the evening handout, but his staff told the Los Angeles Times that he was prepared to be arrested.
Sims, who could not be with Abbott for Wednesday's feeding, said Sunday's citation -- which could result in a maximum of 60 days in jail and a $500 fine -- had zero effect on Abbott.
"He's not rattled a bit," Sims said.
In previous interviews, Abbott said he plans to take the city to court to combat the new law.
"These are the poorest of the poor, they have nothing, they don't have a roof over their heads. How do you turn them away?" Abbott told Fort Lauderdale's Local 10 news.
Follow Ryan Parker for breaking news on Twitter @theryanparker and on Facebook.
Sign up for Essential California for news, features and recommendations from the L.A. Times and beyond in your inbox six days a week.
You may occasionally receive promotional content from the Los Angeles Times.