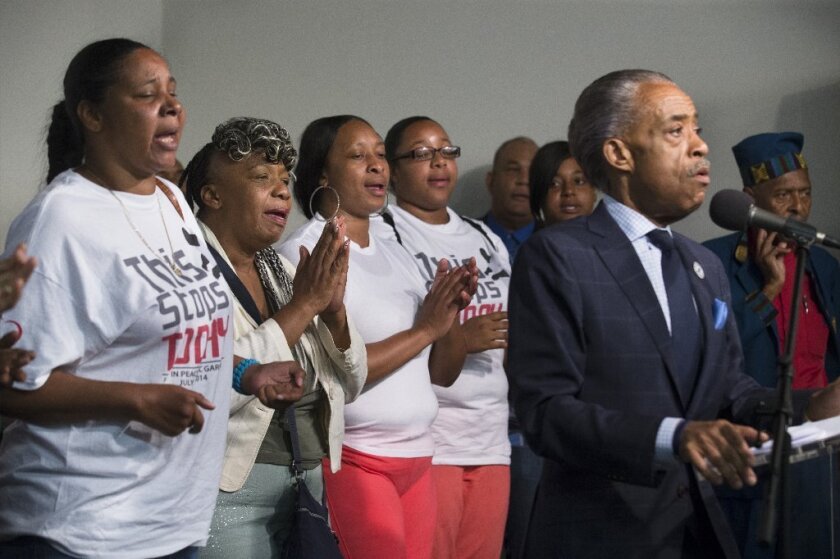 The Rev. Al Sharpton will lead a protest march across the Verrazano-Narrows Bridge in New York City later this month in response to a medical examiner's ruling that Eric Garner was the victim of a homicide after police placed him in a chokehold last month.
Flanked by Garner's relatives, Sharpton made the announcement during a weekly meeting of the National Action Network on Saturday.
"Now it's time. Since the ME has made his determination, now is the time for the rubber to meet the road, and somebody to show, where we go," he said.
Sharpton, who said the march across the bridge linking Brooklyn and Staten Island would take place on Aug. 23, also urged Richmond County Dist. Atty. Daniel Donovan to move toward an arrest.
Garner's case has been a source of controversy since July 17, when amateur videos emerged showing a New York police officer place him in a chokehold while trying to arrest him on suspicion of selling untaxed cigarettes.
After Garner was wrestled to the ground, and can be heard repeatedly saying, "I can't breathe," another officer is seen pressing the 43-year-old's head against the sidewalk.
Garner's death was ruled a homicide Friday by the New York City medical examiner's office. Those findings concluded that the actions of police led to his death, though his chronic asthma and weight were also contributing factors.
Officer Daniel Pantaleo, who allegedly applied the chokehold, has been stripped of his gun and badge. Officer Justin D'Amico remains on desk duty and both are facing an internal investigation.
Garner's mother, Gwen Carr, said her reaction to the medical examiner's findings was simple: "Thank you, Jesus," she said.
The NYPD has declined to comment on the medical examiner's findings. Sharpton, who has also met with federal prosecutors on the matter, said he and the family were prepared for a long fight to make sure someone answers for Garner's death.
"Eric, we won't let you down, no matter what they say," Sharpton said.
The Associated Press contributed to this report.
Follow @JamesQueallyLAT for breaking news
---