Steamboat Geyser, idle for 8 years, puts on a show in Yellowstone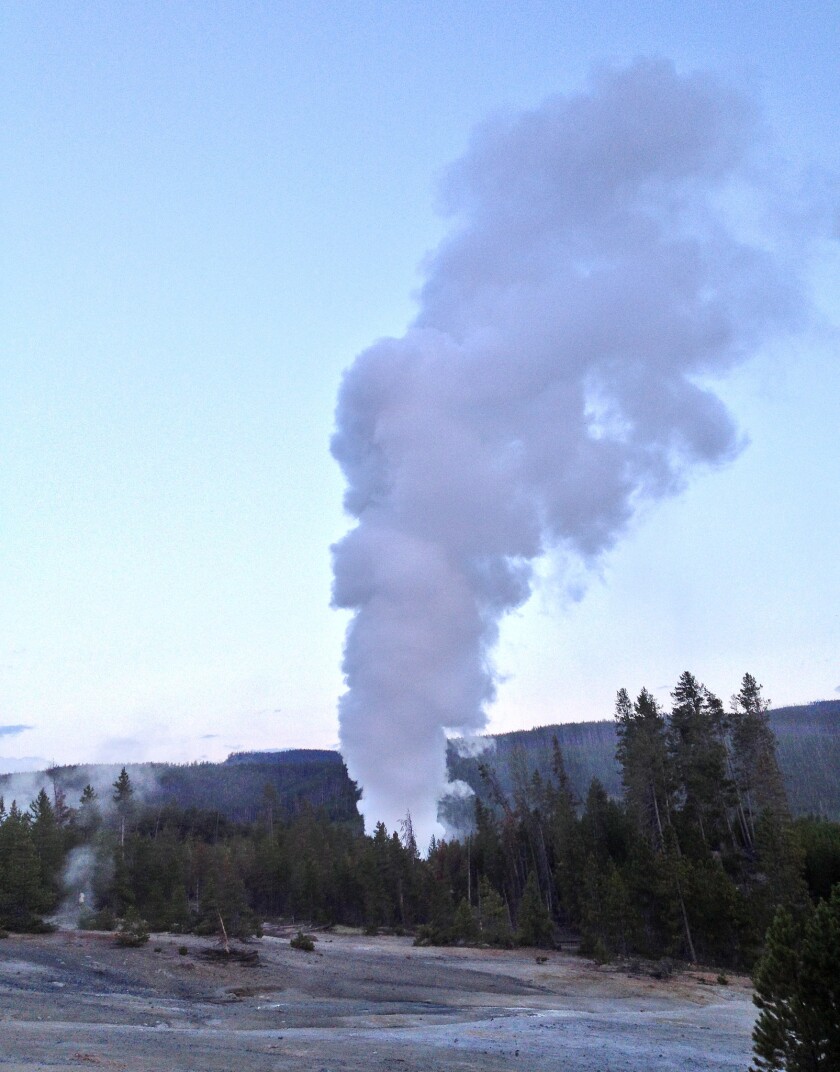 They're like people with anger issues--you never quite know when they're going to blow their tops.
And so when Yellowstone National Park's Steamboat Geyser (the world's tallest) erupted Wednesday for the first time in more than eight years, people took notice.
The marvelous natural show, a nine-minute blast that sent steaming hot water 250 feet in the air, was witnessed by several dozen lucky visitors who happened to be in the park's Norris Geyser Basin.
"They got quite an historic show," park spokesman Dan Hottle told the Los Angeles Times. "We have a lot of geyser watchers who will camp out and wait for the ones that are more regular.
"But with Steamboat, either you're there or you're not."
Steamboat is one of more than 500 geysers at Yellowstone, the largest collection of hydrothermal features in the world.
Some are like clockwork, like the sister geyser Old Faithful, the park's popular and famous steam spout, which spews water every hour and a half.
But no one knows when Steamboat will erupt next, Hottle said.
It has gone as long as 50 years without a major event. In 1964, it erupted a record 29 times. The last blast came in 2005.
Hottle said that Yellowstone's geysers are fueled by cold water that feeds into a natural underground plumbing network, where heat from the park's volcano forces chemical-laden water to the surface and causes the periodic eruptions.
Steamboat's first geyser was recorded in 1878. Since 2005, the park has used electronic monitors to more closely track the geyser, Hottle told The Times.
Robb Long, a freelance photographer from Sioux Falls, S.D., who was visiting the park with his fiancee and her family, was one of the lucky few to witness Wednesday's eruption.
"It was an amazing experience. This thing sounded like a locomotive," Long told the Associated Press. "Everybody was frantic, taking pictures. People were running down there trying to get to it before it went away, and park rangers were running around trying to gather up people so they didn't get too close."
The Steamboat show was short, but oh so sweet.
"There was a nine-minute water phase," Hottle told The Times. "Then comes the steam phase, where hot steam spews out for about 24 hours, but the geyser calms back down again."
ALSO:
Funeral held for bride-to-be killed in N.Y. boat crash
Cleveland kidnapper Ariel Castro: 'I'm not a monster'
Man begs court to forgive his wife who plotted his murder
Follow L.A. Times National on Twitter
---
Must-read stories from the L.A. Times
Get the day's top news with our Today's Headlines newsletter, sent every weekday morning.
You may occasionally receive promotional content from the Los Angeles Times.