Federal judge says Pentagon may resume force-feeding at Guantanamo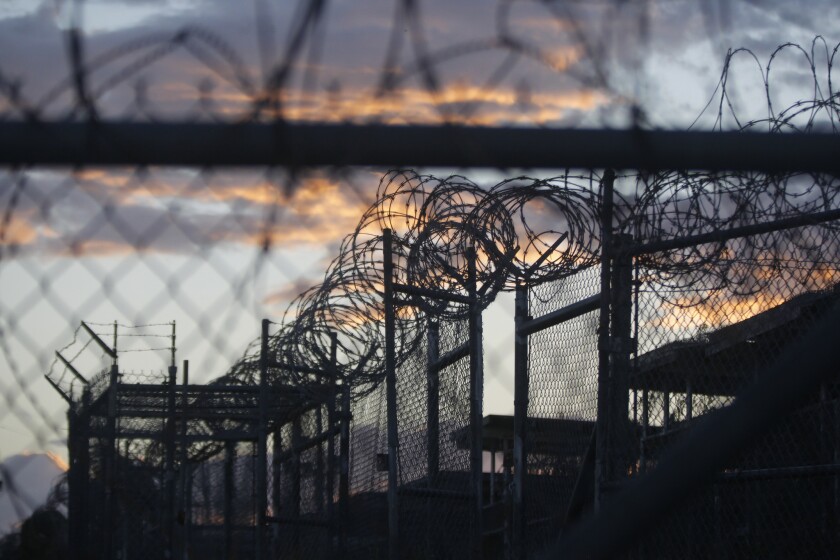 Reporting from Washington —
A federal judge in Washington has reversed her weeklong ban that prevented the Pentagon from force-feeding a terrorist detainee at Guantanamo Bay, saying she "simply cannot let [him] die."
Judge Gladys Kessler also sharply criticized the military for not allowing the prisoner to be fed in a base hospital rather than strapped down at the prison compound.
Lawyers for Jihad Ahmed Mujstafa Diyab, a 43-year-old Syrian, have been trying for nearly a year to get the federal courts to end the practice of force-feeding detainees on hunger strikes protesting their open-ended incarcerations. Diyab has been cleared for release, and although Uruguay has offered to take him, the Obama administration still has not released him after more than 11 years in custody at Guantanamo Bay.
On May 16, Kessler ordered the military to stop force-feeding Diyab. The Pentagon obeyed and Diyab continued his hunger strike.
The judge said in her ruling late Thursday that his "physical condition was swiftly deteriorating, in large part because he was refusing food and/or water."
She noted that Diyab is willing to be fed at the nearby base hospital on the Cuban island, something the military refuses to do. If it could be done, she said, "he could be spared the agony of having the feeding tubes inserted and removed for each feeding, and he could be spared the pain and discomfort of the restraint chair."
Pentagon officials have responded by saying they will not allow any detainees to commit suicide by refusing to eat. They justified the force-feeding practice as an effort to save lives among the some 150 detainees.
Meanwhile, the judge said she hopes to move Diyab's lawsuit forward, asking to review his medical records and any videos of him being force-fed there.
---
Must-read stories from the L.A. Times
Get all the day's most vital news with our Today's Headlines newsletter, sent every weekday morning.
You may occasionally receive promotional content from the Los Angeles Times.