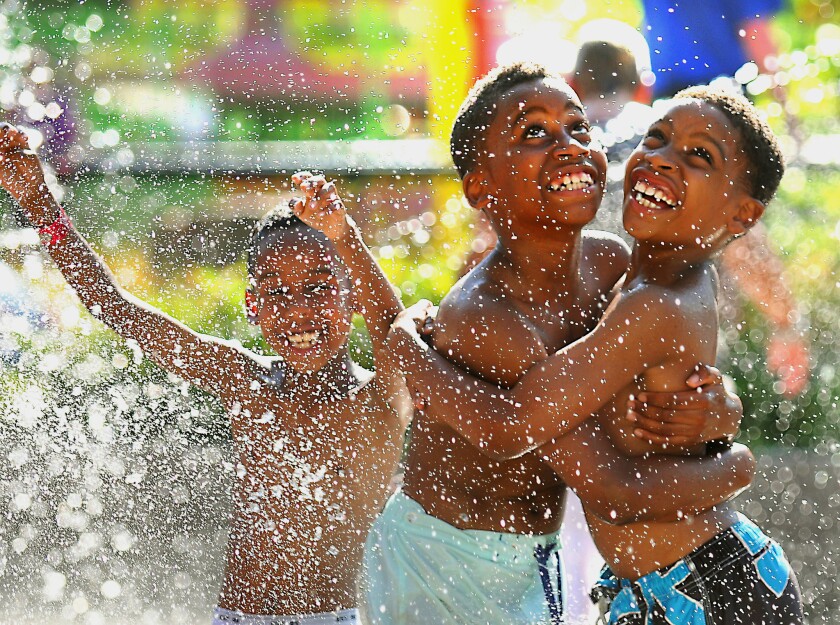 Cooler temperatures are approaching, but the year's worst heat wave continues to punish areas from South Dakota to coastal Massachusetts on Thursday, prolonging withering conditions that have already claimed one man's life in Kentucky.
Officials warn that persistent overnight heat, high humidity and intense sunshine threaten areas of the country, especially the Midwest, that aren't accustomed to near-tropical conditions. Excessive heat still blankets parts of 21 states and the District of Columbia, with temperatures reaching into the 100s when accounting for humidity.
"It's oppressive and dangerous for people exposed to this condition," warned Chris Vaccaro, spokesman for the National Weather Service headquarters in Silver Spring, Md. He said only a Miami resident vacationing in Minneapolis would be accustomed to the muggy conditions in the Midwest.
"This is the most significant heat wave of the year," Vaccaro said.
One man, a 78-year-old Alzheimer's patient, died of heat exhaustion Tuesday after he wandered away from his northern Kentucky home, Mason County Deputy Coroner David Lawrence told the Los Angeles Times.
In Indianapolis, where temperatures reached 95 degrees Thursday, 300 people living in a senior community were evacuated after an electrical outage knocked out their air conditioning. The Indianapolis Fire Department said firefighters transported them to a ballroom nearby.
It took a "three-pointer-at-the-buzzer type fix" to save 150,000 Prince George County, Md., residents from losing their water at the peak of the heat wave Wednesday, said Jerry Irvine, public affairs manager at the Washington Suburban Sanitary Commission.
Moments before the community lost water, two "never-say-die" utility workers convinced their superiors to let them try to fix a corroded valve, Irvine said. Against everyone's expectations, it worked.
Experts attribute the heat wave to a high pressure system, called a "heat dome," that is dominating the eastern two-thirds of the country. The high pressure also traps air pollutants closer to the ground, threatening air quality.
While cooler temperatures won't reach the Northeast until the weekend, a cold front is dropping southward into the Great Lakes region. Relief from the heat may also be accompanied by severe thunderstorms starting Thursday afternoon in the Midwest.
The heat wave comes on the heels of June temperatures that a National Oceanic and Atmospheric Administration report released Thursday shows were the month's fifth highest on record.
Dr. Jessica Blundon, one of the report's authors, said the June temperatures are "consistent with what we expect to see in a warming world."
She also said the near-record June heat created dry conditions in the Western U.S. that set the stage for devastating forest fires.
ALSO:
'Whitey' Bulger trial: Stephen 'The Rifleman' Flemmi takes the stand
Texas Gov. Rick Perry signs bill to curb abortions; challenges likely
Would-be witness in 'Whitey' Bulger mob trial found dead
Twitter: @benjmueller
---