Ice Bucket Challenge breaks records, shows no signs of cooling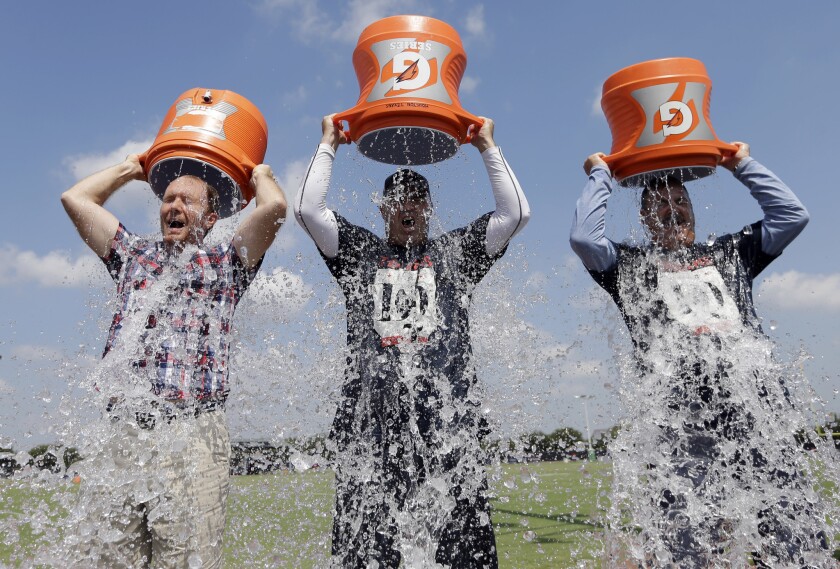 The Ice Bucket Challenge to raise funds for ALS research showed no signs of cooling this week, with the ALS Assn. reporting Wednesday that it had raised a whopping $8.6 million overnight.
Between July 29 and Aug. 20, the organization has raised $31.5 million, more than 16 times the amount raised in the same time period last year.
The organization has seen the windfall during the viral campaign in which participants douse themselves (or their friends) in buckets of ice water on video and post them to social media, challenging others to do the same or donate money to research for ALS, or amyotrophic lateral sclerosis, a degenerative condition also known as Lou Gehrig's disease.
Since the movement picked up steam last week, the organization has reported raising nearly $2 million a day.
Wednesday's 24-hour numbers were the second all-time record in a row for the organization, said spokeswoman Carrie Munk.
Plenty of celebrities have joined in on the challenge, including Charlie Sheen, who modified the challenge, dumping a bucket of cash over his head instead and pledged to donate $10,000 to the ALS Assn.
He challenged former "Two and A Half Men" costar Jon Cryer and producer Chuck Lorre, with whom he famously feuded, and Ashton Kutcher to do the same.
Cryer responded with a video of his own, dumping ice water and cash (which was actually prop money, he revealed), pledging another $10,000, and, possibly, winning the Internet for the day.
The ALS Assn., one of the organizations raising funds for research into the disease, has promised the money will be used wisely to help families and caregivers battling the disease, and to fund research worldwide.
For more breaking news, follow me @cmaiduc
---
Must-read stories from the L.A. Times
Get all the day's most vital news with our Today's Headlines newsletter, sent every weekday morning.
You may occasionally receive promotional content from the Los Angeles Times.