Tornadoes tear across Midwest, killing at least 5 in Illinois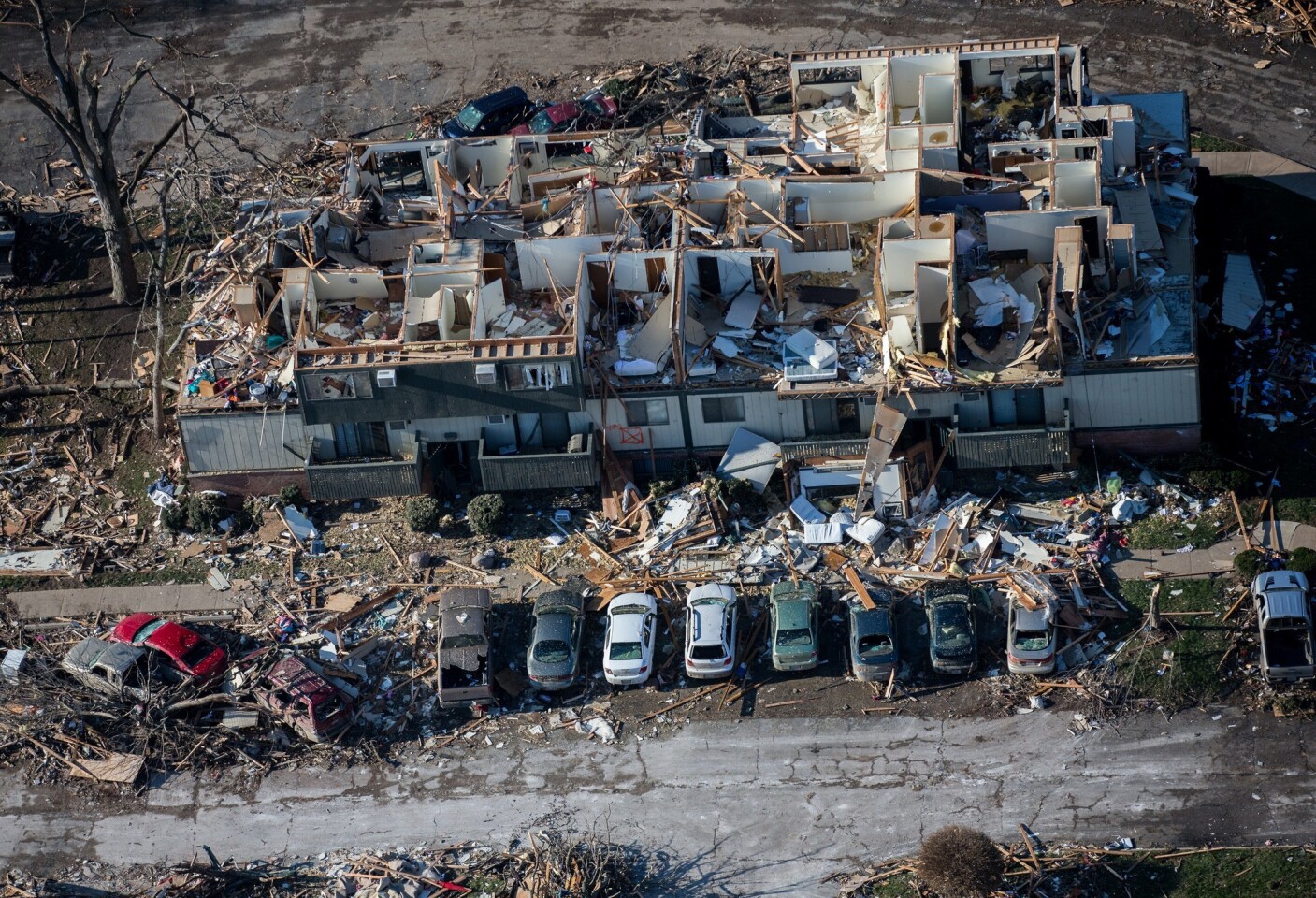 Tornado damage in Washington, Ill.
(Zbigniew Bzdak / Chicago Tribune)
The devastation in Washington, Ill.
(Tasos Katopodis / Getty Images)
A person stands among damaged buildings along Washington Road in the aftermath of a tornado in Washington, Ill.
(Tasos Katopodis / Getty Images)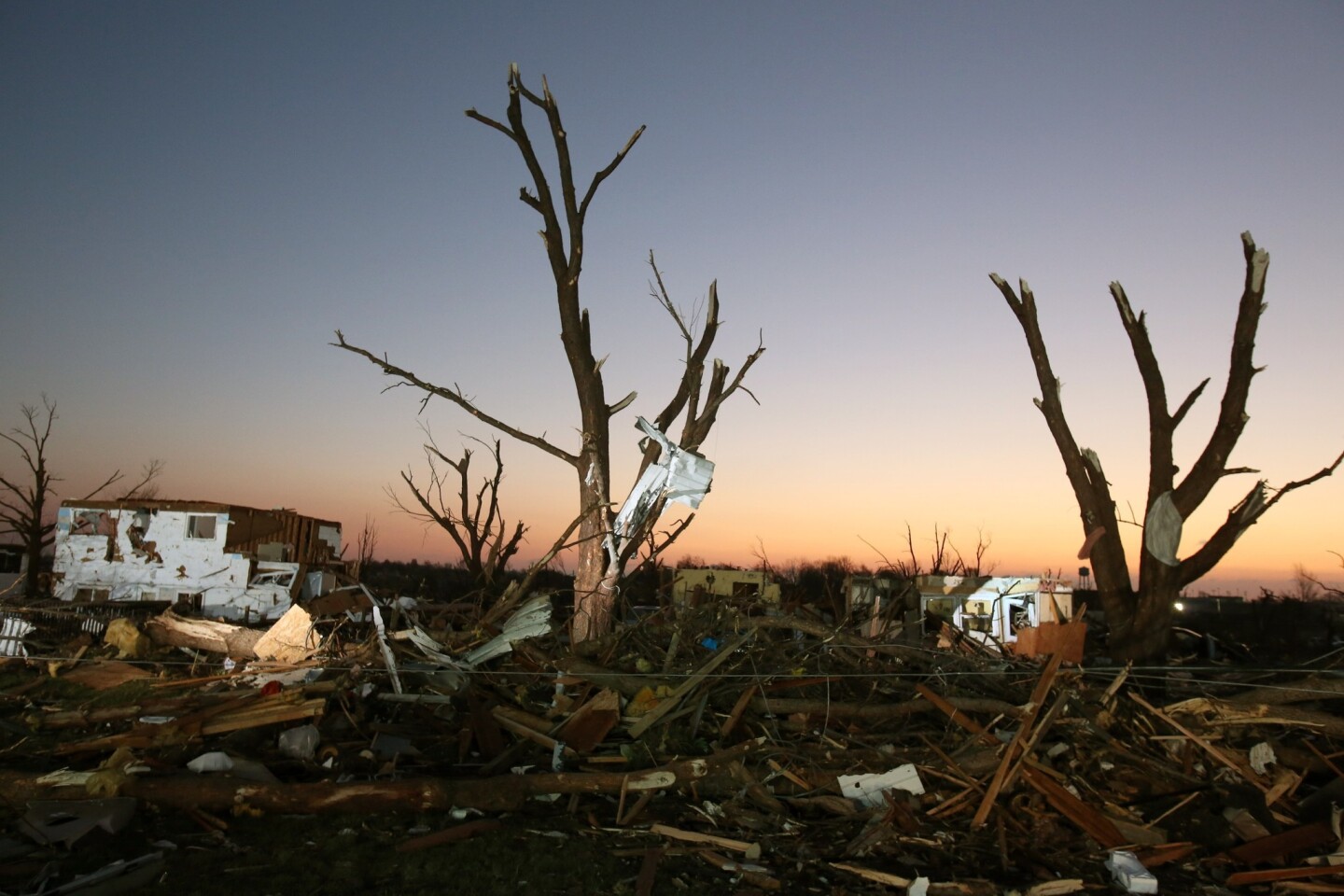 A fast-moving storm system that produced several tornadoes that touched down across the Midwest left behind a path of destruction in 12 states.
(Tasos Katopodis / Getty Images)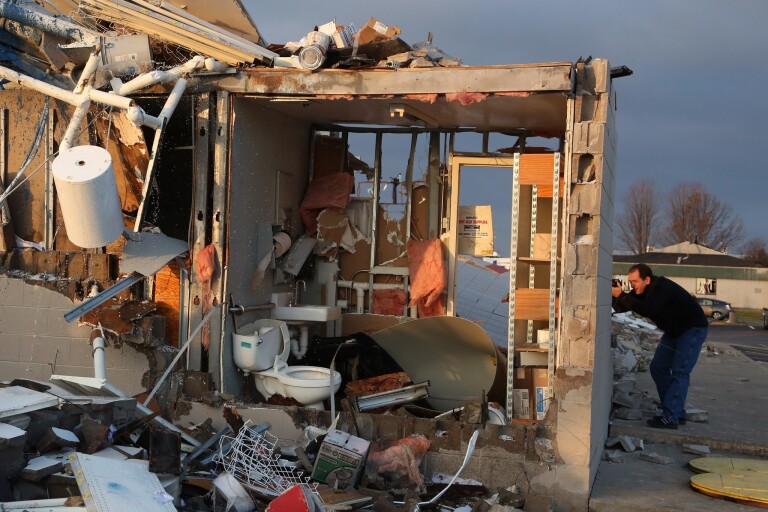 A man takes a photo of a damaged building along Washington Road in the aftermath of a tornado in Washington, Ill.
(Tasos Katopodis / Getty Images)
Firefighters look over damage to trailers at Summit Village east of Marion, Ind., after storms blew through Marion and Grant County on Sunday afternoon.
(Jeff Morehead / Associated Press)
Ben and Lindsay Dubois walk past their front door as it lies in their backyard after a tornado destroyed their home in Washington, Ill.
(Tannen Maury / EPA)
A man walks among damaged buildings along Washington Road in the aftermath of a tornado in Washington, Ill.
(Tasos Katopodis / Getty Images)
Tornado damage in Washington, Ill.
(Tasos Katopodis / Getty Images)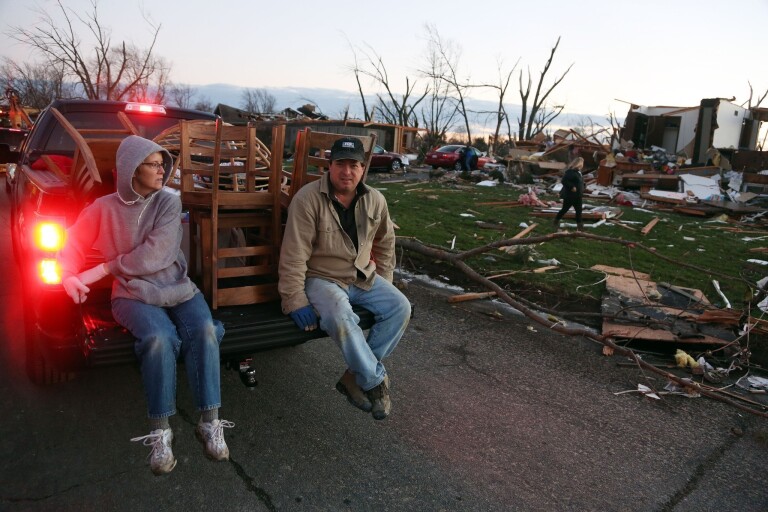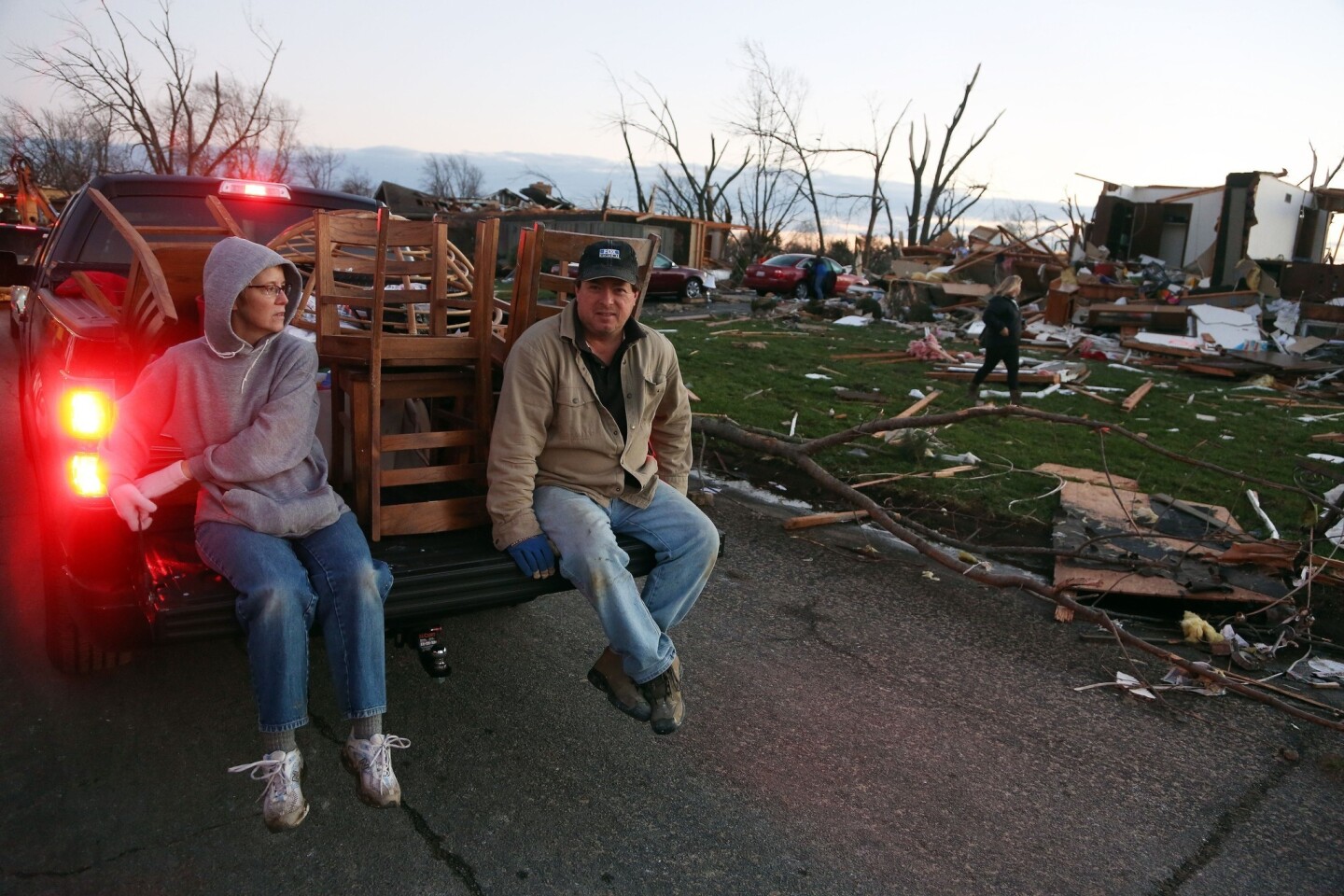 Residents survey the damage in Washington, Ill.
(Tasos Katopodis / Getty Images)
An overturned car rests on tree branches and other rubble near a destroyed home in Washington, Ill.
(David Mercer / Associated Press)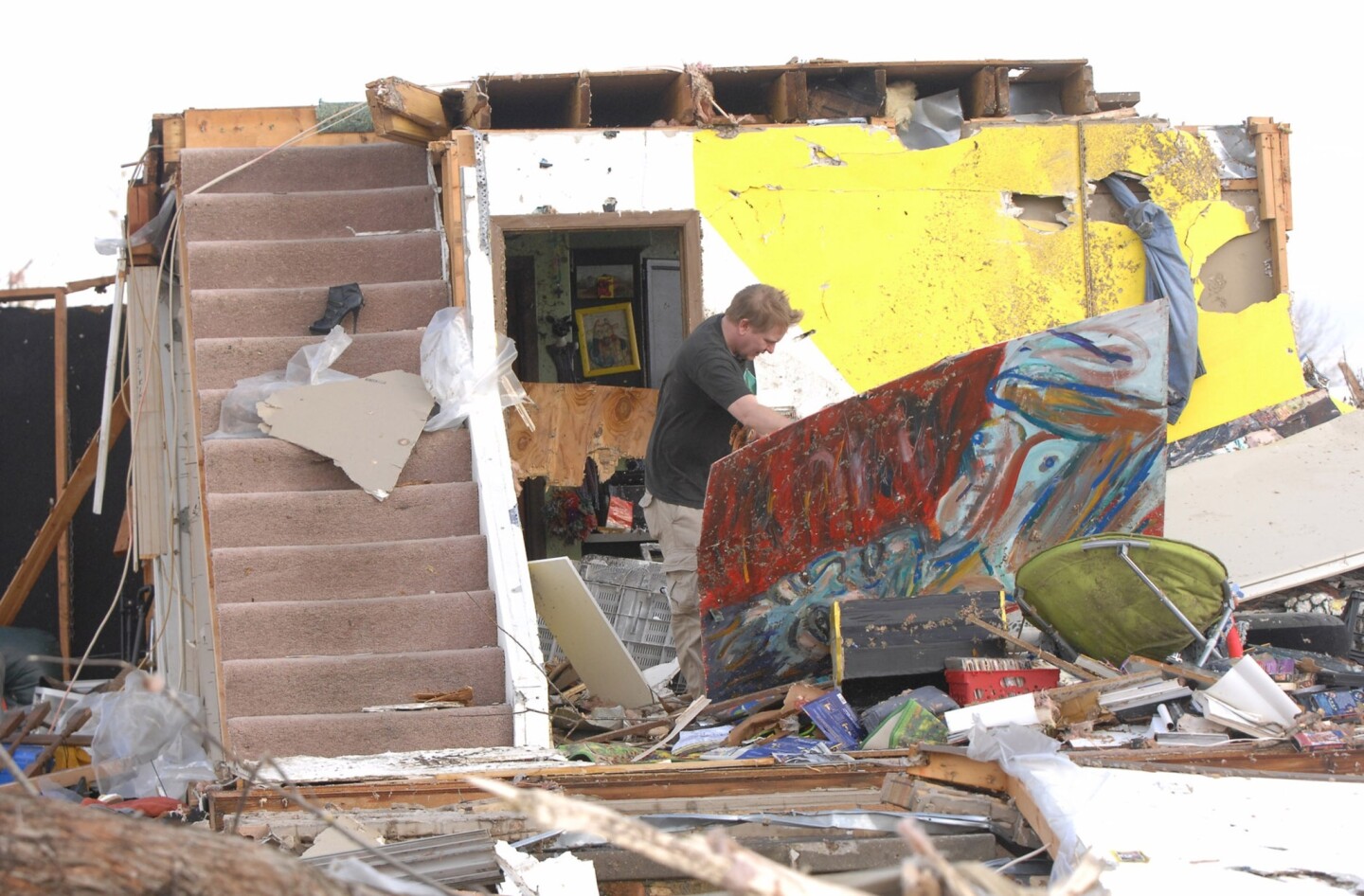 A man looks through debris from his tornado-damaged home in Washington, Ill.
(Steve Smedley / Pantagraph)
Firefighters survey the damage on a street in Washington, Ill.
(Steve Smedley / Pantagraph)
Firefighters on a block in Washington, Ill., after a tornado leveled at least 50 homes.
(Steve Smedley / Pantagraph)
<i>This post has been updated, as indicated below.</i>
At least five people were killed Sunday in a tornado outbreak that left dozens more injured across the Midwest, and officials feared the toll could rise as emergency responders sifted through the wreckage.
Illinois has suffered the brunt of the storms' wrath, which swept through communities in Missouri, Indiana and Kentucky, smashing homes, toppling cell towers and tossing cars in a rare November tornado outbreak. One twister was estimated to be half a mile wide.
An elderly man and his sister were found dead after a tornado struck their farmhouse in New Minden in southern Illinois, Washington County coroner Mark Styninger told the Associated Press.
About 100 miles to the south, a twister pounced on a trailer park in the tiny riverside community of Brookport, Ill. A representative of Massac County's emergency response office said officials had received unconfirmed reports of fatalities and of residents trapped in the wreckage.
"It's a mess," Larry Douglas, a former manager of the Massac County Emergency Services and Disaster Agency and a current agency volunteer, told the Los Angeles Times.
[Updated, 7:30 p.m. Nov. 17: By Sunday evening, officials had confirmed five deaths, the Chicago Tribune reported -- one in Washington and four in the southern part of the state.]
A preliminary report from the National Weather Service said at least 50 mobile homes in two trailer parks could have taken a "direct hit."
The first casualties from Brookport were starting to trickle into a hospital directly across the Ohio River in Paducah, Ky., a spokeswoman for Baptist Health Paducah told the Los Angeles Times.
At least one person was killed and 37 others injured when a twister hit the central Illinois communities of Washington and Pekin, hospital and state emergency officials said.
Twenty-eight patients - eight in critical condition with broken bones and head injuries from storm debris - remained at OSF Saint Francis Medical Center in Peoria, a spokeswoman told The Times.
Tazewell County, Ill., spokeswoman Sara Sparkman told The Times that there were "whole neighborhoods where there's nothing left" in Washington and Pekin.
Photos from Washington showed buildings that had been flattened, with reports that some people couldn't get out of damaged homes.
An aerial photo of part of the destruction in Washington, IL. Might as well be Joplin or Moore. pic.twitter.com/LUEbElel7p— Wayne Mahar (@WayneStormWatch) November 17, 2013
Theresa Vancil, 41, of Pekin told the Chicago Tribune that she had been in labor with her fifth child at Pekin Hospital since Thursday.
When an alert on her smartphone flashed a message to take cover, she told the Tribune she looked out the window of her eighth-floor hospital room and spotted a funnel cloud forming in the distance. She alerted the nurses and soon new mothers and babies flooded the hallways of the maternity ward, she said.
"I do feel so sad for everybody who lost everything," said Vancil, whose home was still standing. She was thinking of naming her daughter Winter, but is now considering Dorothy, the character in "The Wizard of Oz."
Much of the worst damage was centered in Tazewell County, which contains Washington and Pekin.
"We've got several residences where people are trapped," one Tazewell County emergency responder radioed immediately after the storm hit. Another added, "I have multiple people coming up to me with reports of injured people that they can't provide a street or address because everything's gone."
Less serious storm damage was reported in Lebanon, Ind., where, among other structures damaged, winds blew out the windows of a Starbucks and tossed a car on its side in the store's parking lot.
Lebanon Starbucks. About 20 ppl were inside, one witness says. Amazingly no reported injuries so far. pic.twitter.com/Kx2RT6VLBt— Alex Campbell (@alex_g_campbell) November 17, 2013
Another twister appeared to leave its mark in Corydon, Ky., knocking down power lines and trees. No injuries were immediately reported, according to the Henderson County Sheriff's Office.
Kokomo, Ind., was also struck, with winds ripping through the brick walls of a bank and tossing the roof of a home onto a nearby road.
House in the middle of road in #Kokomo pic.twitter.com/QsX91qWP8A— Tammy Lively (@tammylively) November 17, 2013
Seven members and associates of a touring punk-rock band from Memphis, Tenn., were hit by a possible tornado while driving on an interstate east of Peoria. They credited their equipment with saving their lives.
Joshua Cannon, 21, a singer and guitarist for the band Pillow Talk, said in an interview with The Times that bandmate Calvin Labeur, 19, was driving the band's white GMC Suburban when Labeur suddenly said, "Guys, we're about to be in the middle of a tornado."
Labeur said he saw what "almost looked like a mist, and two seconds later, there was debris everywhere."
Strong winds hit the Suburban and shattered its windows, cutting the heads and faces of five of the seven occupants. The vehicle spun three times, its tires lifting off the ground, band members said.
"I accepted the fact I was about to die," Cannon said. "I looked at my best friend that I've been playing music with [all my life], and we were like, 'OK, guys, this is it.' "
But within 45 seconds, Cannon said, the vehicle came to rest — on the other side of the interstate, facing oncoming traffic. The top of their trailer had been ripped open and several passengers were bleeding, but they were alive.
A tornado wrecked our car & trailer today. Almost died, thankfully everyone is cut up but okay. More updates soon. pic.twitter.com/TBiIJHx9ud— pillow talk (@pillowtalktn) November 17, 2013
"We think the weight of the trailer is what saved us," Labeur said, counting off the amps and guitars piled inside it — "every aspect of a full, live rock band that would be needed to do a show," he said, laughing at the possibility that, yes, punk rock had saved their lives.
The band had been headed for a show in Evanston, Ill., on Sunday night, but Labeur added, "Obviously, that's canceled."
---
Must-read stories from the L.A. Times
Get the day's top news with our Today's Headlines newsletter, sent every weekday morning.
You may occasionally receive promotional content from the Los Angeles Times.