Washington landslide victim describes the day the mud rushed in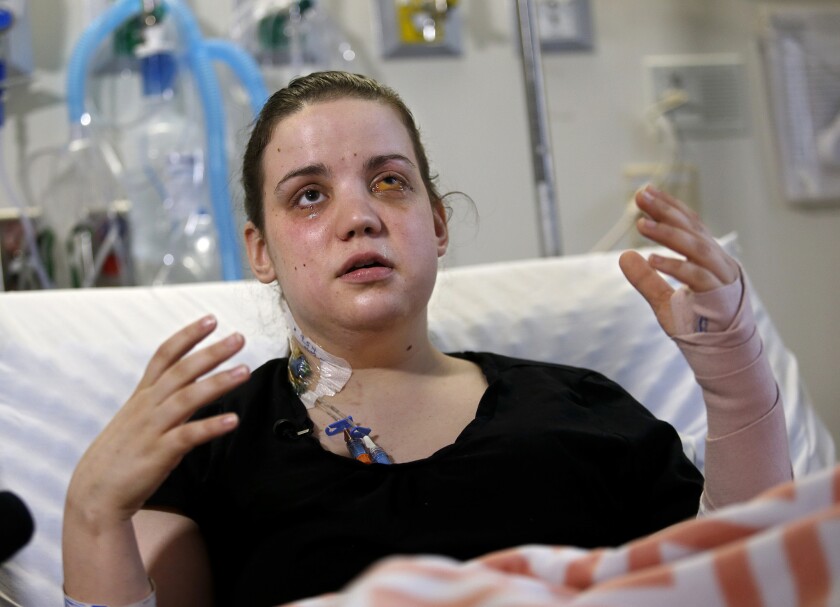 SEATTLE -- Two broken legs. A broken arm. A shattered eye socket. And a memory of terror, an "unexplainable" sound "that will never get out of my head."
That is what Amanda Skorjanc, 25, remembers after the March 22 Oso landslide that destroyed her home, almost wiped her little town off the map and nearly killed her infant son, Duke Suddarth, who was 22 weeks old when the disaster struck. At least 35 people were killed and 10 others remain missing.
Skorjanc describing the ordeal for the first time Wednesday from Harborview Medical Center, with her left arm bandaged, her left eye bruised and half closed, and intravenous lines feeding into the side of her neck. She has gone through half a dozen surgeries.
"I just saw houses exploding" and the mass of mud "was coming to me. That's when I saw my neighbor's house coming at me. I turned and screamed out to God to save us. It got dark around us, and it was throwing us all over the place."
Skorjanc and her baby had been watching YouTube videos in the kitchen of their Oso home when the slide hit. Her partner, Ty Suddarth, had just given her a hug and driven off to the little town of Darrington, east on State Route 530.
The slide left a square mile of mud and debris in its wake. Skorjanc said a couch had broken around her and her son, leaving them in "this little cushioned pocket," 600 to 700 feet from where her house had been.
Her legs were trapped from the knees down. She couldn't move her left arm, or anything around her and her baby.
"I started to hear sirens," she said, "the most amazing sound I ever heard."
Her attending physician, Dr. Daphne Beingessner, told reporters that Skorjanc's ordeal is "one of the worst things I've seen someone go through. She will take a long time to recover from the emotional scars."
Not to mention the physical ones. She will have to learn to walk again, said Beingessner, a University of Washington orthopedic surgeon. It will take "a good year to be as good as she will get, or a little longer."
Duke's skull was fractured, but the baby is improving daily. As he heals, Beingessner said, so does his mother.
During the Wednesday morning interview, Skorjanc said she was deeply grateful to her rescuers. But she struggles every day with the enormity of the disaster and its aftermath.
"I'm working at the guilt and other feelings," she said, her partner Ty Suddarth at her side. She wonders why they survived when so many did not.
"Families not making it," she said, "us being blessed enough to have all three of us together. I'm so blessed, and at the same time, I feel guilty that I have my family, and some don't."
https://twitter.com/marialaganga
---
Must-read stories from the L.A. Times
Get all the day's most vital news with our Today's Headlines newsletter, sent every weekday morning.
You may occasionally receive promotional content from the Los Angeles Times.