Ambush leaves 2 Vegas officers and Wal-Mart shopper dead; suspects also dead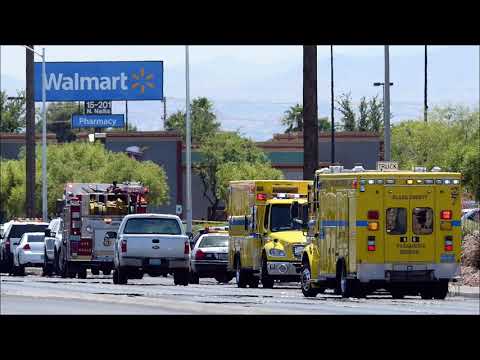 Las Vegas police are looking for a motive in the killing of two officers ambushed while eating lunch, part of a rampage that left five dead, including the two shooters.
Reporting from Las Vegas —
Five people were dead Sunday after a man and a woman ambushed two police officers at a Las Vegas pizzeria and then stormed a nearby Wal-Mart, where police said they killed themselves after a gun battle with officers.
An unidentified woman, described as a Wal-Mart customer, was also found dead inside the store just inside the door.
------------
FOR THE RECORD
An earlier version of this post misspelled the last name of one of the witnesses at the Wal-Mart. His name is Emmanuel Flores.
------------
No motive for the tag-team attack is known, police said, although witnesses said at least one of the suspects shouted remarks about the arrival of a "revolution" and alluded to some kind of war.
LAS VEGAS RAMPAGE: Police investigating shooters' motives
Officials said the attack began shortly before 11:22 a.m. at Cici's Pizza on North Nellis Boulevard, where patrol officers Alyn Beck, 41, and Igor Soldo, 31, were having lunch.
The unidentified man and woman walked into the pizzeria and fatally shot both officers; one officer was able to fire back before succumbing to his injuries, Clark County Sheriff Doug Gillespie told reporters.
"What precipitated this event? We do not know. Our officers were simply having lunch when this started," Gillespie said. "They are both family men, and they're leaving behind loved ones."
The attackers then made their way to a nearby Wal-Mart as police raced to the scene, Gillespie said.
Alize Harper, 16, was selling newspapers outside the Wal-Mart when she saw a car drive up. A man emerged and yelled for everyone to get out. He warned that the police were coming before he entered the store, she said.
Monse Galindo, 19, a customer inside, was near the registers when she saw a tall, thin, middle-aged white man in military-style clothing walk in with a small gun in his hand.
"He came in, shouting, 'The revolution is about to start,' something about a war, and that the cops were on their way," Galindo told the Los Angeles Times, adding that the man then fired one shot in the air.
Galindo and Harper said the man appeared to be by himself, though police said both suspects ended up inside the store.
Karl Catarata, 16, was shopping with his mother and brother inside and also were near the registers when they first heard the commotion, though the people shouting were just out of eyesight, he said.
"We thought they were shouting because there was a dispute, an argument," Catarata said, but as he watched the body language of the Wal-Mart employees, who could see what was going on, he knew there was something seriously wrong.
After the first shot rang out, he grabbed his mother's and brother's hands and began to run toward the back of the store. He heard a total of three shots before he made it to the exit.
Jesus Bustamante, 27, was at the Wal-Mart with his cousin, Emmanuel Flores, 26, to buy an Xbox when the shooting began.
"Should we run?" Flores asked his cousin as the shots rang out, Bustamante said. "Hell yes, we should run!" Bustamante replied, and the pair joined the other shoppers and Wal-Mart employees flooding out the back of the store.
By 11:27 a.m., just five minutes after officials received a call about the ambush at the pizzeria, they received the first call about the shooting in the Wal-Mart.
Outside the Wal-Mart, police swarmed. Bustamante said he saw one motorcycle officer dump his bike in his haste to get inside. One police officer got inside the store, then came back out to tell everyone outside to get away.
"If you know the cops are scared, then you know it's dangerous," Bustamante said.
After police went inside, and found the dead shopper at the front of the store, they got into a gunfight with the suspects, Gillespie said.
A short time later, the officers heard more gunshots – the woman had apparently turned the gun on her partner before shooting herself, Gillespie said.
The pair died, and with that, the rampage had ended, but the chaotic aftermath of the unusual attack had only just begun.
"It's a very difficult day, but we still have a community to police, we still have a community to protect," Gillespie said, adding that Las Vegas police officers would now be patrolling in pairs rather than alone for the immediate future. "We'll be out there doing it with our heads held high, but an emptiness in our hearts. It is truly a tragic day here in the Las Vegas Valley."
Mayor Carolyn G. Goodman issued a statement, which read in part: "This was a senseless and cruel act killing three innocent people, two who dedicated their lives to protecting all of us in our community and one who was innocently going about her daily life. At UMC Trauma and thereafter with fellow officers, I saw their pain was evident and clear."
Goodman ordered the city to fly flags at half staff in remembrance of the two officers and the woman shopper.
Gov. Brian Sandoval also issued a statement, calling the shooting "senseless violence."
"I am devastated. ... My thoughts and prayers go out to the victims and their families. I am receiving regular updates with regard to this tragedy and local and state law enforcement are assisting at the scene."
Harper, the teen selling newspapers outside, added: "You don't think this kind of thing can happen. It's a Sunday, you're selling newspapers, and all of a sudden a man walks in and starts shooting up a Wal-Mart. What is going on here?"
Police were working quickly to get an answer after they gained control of the scene, and bused away witnesses for police interviews.
"We express our deepest condolences to everyone who have been affected by this senseless act of violence," Brooke Buchanan, a spokeswoman for Wal-Mart, said in a statement. "Our store is currently closed. This is still an active investigation and we are working with local police."
A man who described himself as the manager of the Wal-Mart, Jason, declined to speak with media as he gathered contact information for other people who were at the store.
A woman asked him if she should give him a call later Sunday evening, and he replied, "I don't think I'm going to be going home tonight."
Glionna reported from Las Vegas and Pearce from Los Angeles. Times staff writer Ryan Parker, in Los Angeles, contributed to this report.
Sign up for Essential California for the L.A. Times biggest news, features and recommendations in your inbox six days a week.
You may occasionally receive promotional content from the Los Angeles Times.