Ferguson, Mo.: New recordings, documents released in Michael Brown case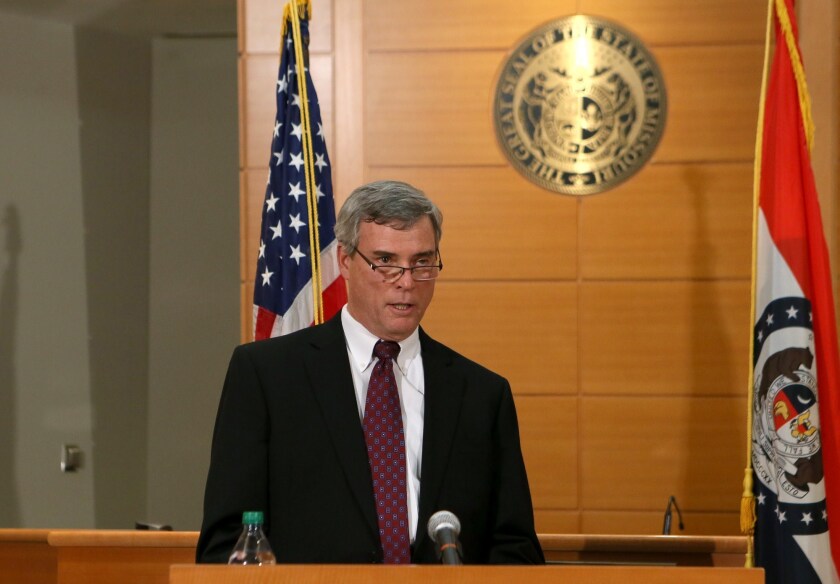 The St. Louis County Prosecutor's Office released a slew of new documents late Monday from the investigation into the death of Michael Brown at the hands of a white police officer, including dramatic snippets of police radio traffic and a recording of the gunshots.
But the latest releases did not appear to shed new light on the controversial killing in Ferguson, Mo., a St. Louis suburb.
Monday's documents include eight partially redacted transcripts of FBI interviews with witnesses and a transcript of Prosecutor Robert McCulloch's Nov. 24 announcement that the grand jury did not indict Ferguson Officer Darren Wilson in the death of Brown, 18.
The 53 recordings of police radio traffic, presumably between Ferguson officers and the police dispatcher, begin with a report of "a stealing in progress." A female voice describes an incident before Brown was shot, a strong-arm robbery at a convenience store on Aug. 9.
When Wilson accosted Brown, however, he was not responding to the report. Instead, he was warning Brown and a friend, Dorian Johnson, that they should not be walking in the middle of the street, forcing traffic to swerve around them. It was only later that Wilson said he realized Brown sounded like the suspect in the robbery.
In the radio exchanges, the dispatcher describes the assailant as "a black male in a white T-shirt. He took a whole box of Swisher cigars."
Some time later, she announces that EMS [emergency medical services] is en route."
The most chilling exchange followed:
Officer: "Send us several more units over here. There's gonna be a problem."
Dispatcher: "Are there any available Ferguson units that can go to Canfield and Copper Creek? Advise."
Officer: "We're gonna need crowd control here."
Among the other information released Monday was the federal autopsy, which matches two other autopsies released earlier – one performed by local officials, the other at the behest of the family. Brown was shot eight times, at least once at close range, and suffered other abrasions to his face, the autopsy found. It also found, like the other autopsies, that marijuana was present in Brown's system.
Brown and Johnson were walking near the Canfield Green apartments when the fatal clash occurred.
Many conflicting portraits of the shooting have surfaced, but most witnesses seem to agree that Brown and Wilson struggled at the police vehicle before a gun went off and Brown ran.
The interview transcripts released Monday – like the dozens of witness statements released earlier – differ over a critical fact. Although some witnesses say Brown was fleeing from Wilson when he was shot, two say Brown tensed up and charged toward the officer with his hands forward before he died. Those two accounts are similar to the officer's.
All of the witnesses' names were redacted, but none of the additional interviews appeared to be with Johnson, the man who was walking with Brown.
It remains unclear whether all of the documents and transcripts connected to the grand jury investigation have been made public. Emails and phone calls to the St. Louis County Prosecutor's Office late Monday were not immediately returned. Grand jury proceedings are usually secret, but McCulloch had pledged to release the evidence if Wilson was not indicted.
Some of the transcripts did offer a deeper look into how difficult it was for investigators to piece together a coherent narrative of the shooting. In an October interview, a man identified as Brown's cousin seemed to offer a different version of events than he did during his first interview with police.
"Back when you talked to the FBI previously, that was on Aug. 13, OK, just a few days after this happened, about four days after this happened. You told them that after the officer shot Brown in the head, he shot him eight more times," the person interviewing Brown's cousin says, according to the transcript.
Brown's cousin replies that he did make that statement Aug. 13. But in the interview released Monday, Brown's cousin says that he only saw Wilson shoot the teen once, and that he heard the other gunshots as he ran from his apartment to the street.
The cousin also said he saw Wilson shoot Brown in the head when Brown was on his knees in surrender. But the bulk of witnesses' testimony differed from that version of events.
Times staff writer Kurtis Lee contributed to this report.
Twitter: @JamesQueallyLAT, @marialaganga
---
Must-read stories from the L.A. Times
Get all the day's most vital news with our Today's Headlines newsletter, sent every weekday morning.
You may occasionally receive promotional content from the Los Angeles Times.