NASA, SpaceX launch could be scrapped because of backup's failure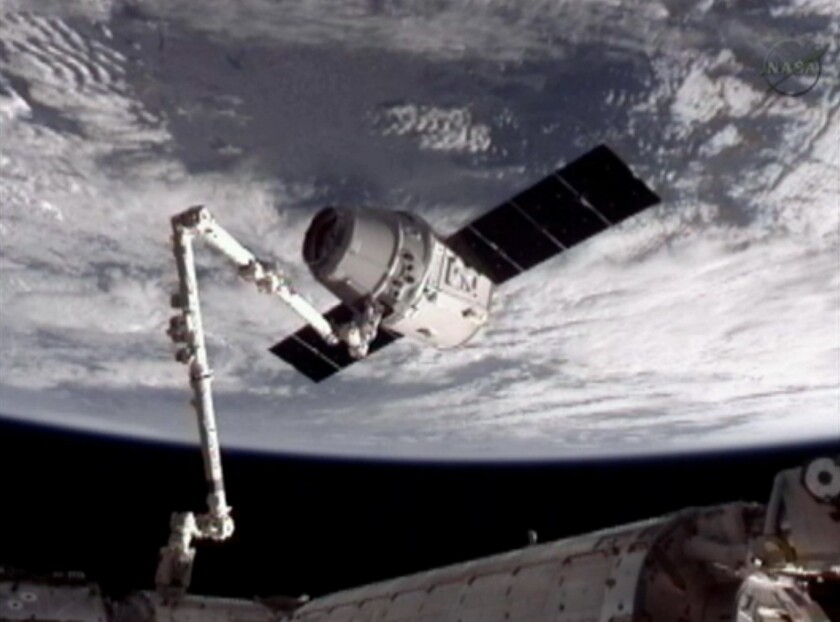 Officials at NASA and SpaceX were working through the weekend to see whether they could still safely rocket a cargo capsule to the International Space Station on Monday, despite the failure of one of the backup computers in the system that helps dock the pod in space.
While workers continued to prepare for a Monday afternoon launch, NASA said a final determination would likely come Sunday afternoon.
The deployment of 5,000 pounds of supplies to the space station by SpaceX's unmanned Falcon 9 rocket has already been delayed a month because of other technical issues.
NASA said Saturday that engineers must determine whether the station's Canadarm2 robotic arm "has enough redundancy" -- while one component is offline -- to properly catch and hold the supply craft, known as Dragon. The craft would dock on Wednesday if the launch from Cape Canaveral, Fla., moves forward as planned.
To fix the backup computer, astronauts need to orchestrate a spacewalk. No date had been scheduled for a spacewalk as of Saturday.
The issue affects a 213-cubic-foot, 50-pound box that runs computer commands to help move the robotic arm along a truss. A routine check on Friday uncovered the problem with the backup computer. The primary computer is working "flawlessly," NASA said.
The two Americans, one Japanese and three Russians inside the space station are not at risk, NASA said.
About 3,500 pounds of gear and paperwork are expected to be shipped back to Earth once the capsule reaches the station. Since NASA ended the Space Shuttle program, Hawthorne-based SpaceX has launched two successful resupply missions to the space station as part of a government contract.
Follow LATimes National on Facebook
ALSO:
Chimps break loose, briefly, at Kansas City Zoo
Ohio finds link between fracking and sudden burst of earthquakes
12 shootings on roads around Kansas City 'positively linked', police say
---
The Latinx experience chronicled
Get the Latinx Files newsletter for stories that capture the multitudes within our communities.
You may occasionally receive promotional content from the Los Angeles Times.