Fraternity expels 3 linked to statue noose, suspends Ole Miss chapter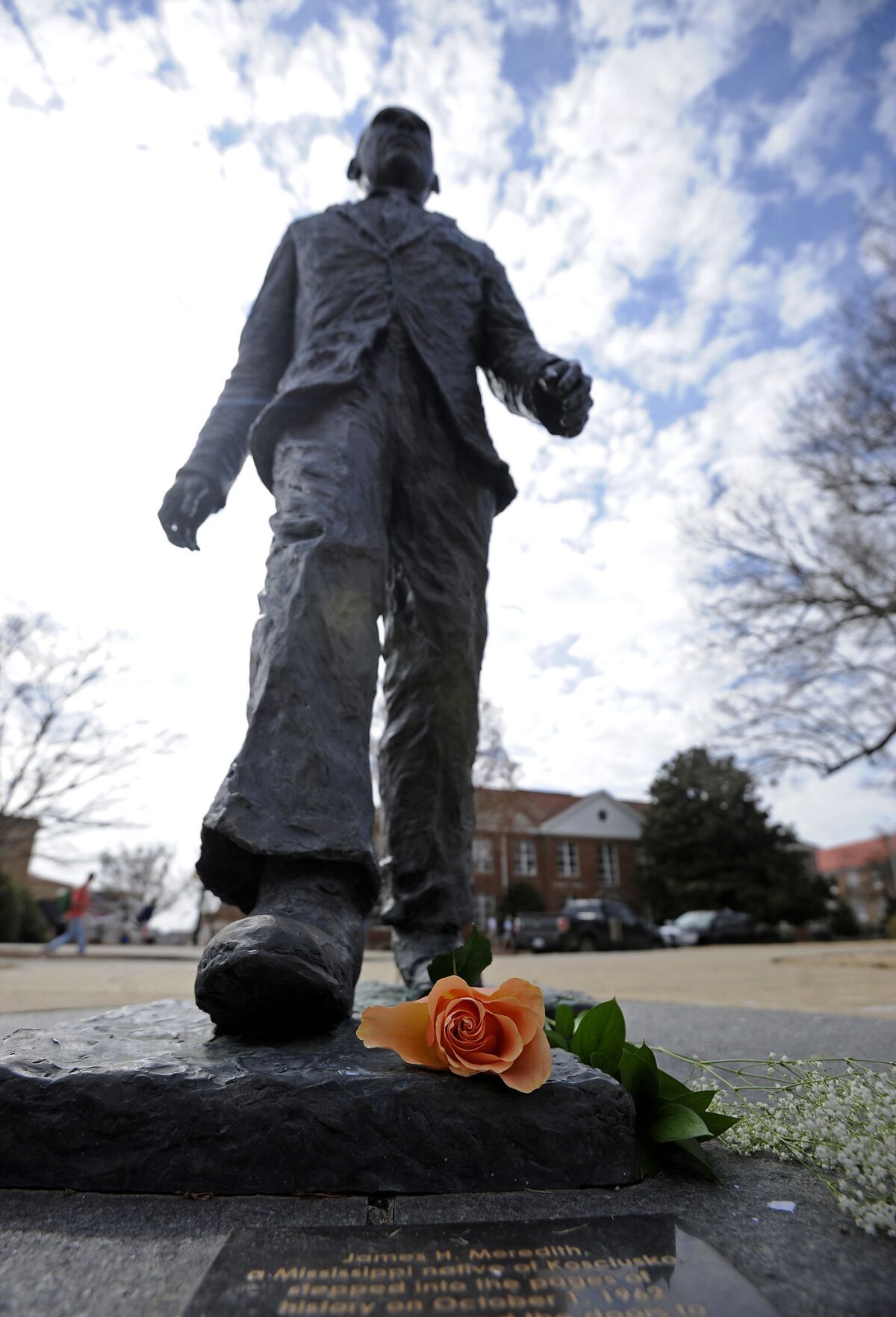 The Sigma Phi Epsilon fraternity said it has indefinitely suspended its chapter at Ole Miss and has expelled three 19-year-old freshmen who it said were responsible for the "desecration" last weekend of a campus statue honoring the school's first black student.
"It is embarrassing that these men had previously identified with our fraternity," Brian Warren Jr., the organization's chief executive, said in a statement late Friday.
"SigEp has championed racial equality and issues on diversity since 1959, when it became the first national fraternity to invite members of all races, creeds and religions to join its membership," Warren said. "For this to occur in 2014 is an insult to the legacy of James Meredith, the University of Mississippi community and the SigEp alumni who fought for racial equality in the late 1950s."
University of Mississippi police said earlier Friday that they were pushing for criminal charges to be filed against the three freshmen suspected of placing a noose and a flag with a Confederate battle emblem on a life-size bronze statue of Meredith.
But authorities appeared to be struggling to find a crime that matched the act.
Lafayette County Dist. Atty. Ben Creekmore told WMC-TV that he could not prosecute the case because possible misdemeanor charges required damage to the statue.
Still, FBI Special Agent in Charge Daniel McMullen said Friday that authorities would "expand" their investigation "for potential violations of federal law." Earlier this week, he said hate crime charges could be filed if authorities determine that the act of placing the noose on the statue was meant to intimidate African Americans.
The suspected students declined through their attorneys to be questioned by university police about the Sunday morning incident, which the school has described as vandalism. The fraternity's statement said the identities of three students were turned over to the university and investigators after learning of their alleged involvement.
Campus Police Chief Calvin Sellers said in a statement Friday that he and the university's lawyer believed that "sufficient evidence exists to bring criminal charges against the suspects," and pledged to help state and federal authorities in the investigation.
The university said the three Ole Miss students being sought are white.
Federal educational privacy law does not permit the university to release the students' names unless they are arrested. SigEp leaders at Ole Miss did not respond to requests for comment, and the national office did not immediately explain why it had not released the students' names publicly.
With tips pouring in after a $25,000 reward was offered, enough evidence had been gathered by late Wednesday to prosecute two of the students through the university's internal judicial process, Sellers said. But the students did not show up to a scheduled meeting with officials Thursday.
The university later learned that the three students had retained attorneys, Sellers said.
Fifteen fraternity presidents at Ole Miss, including SigEp's, had declared in a letter Thursday that they would immediately expel any member who was found to be involved in the incident.
The officials did say that during the suspension, the Mississippi Alpha Chapter would be investigated and reviewed "to ensure members' values align with those espoused by the fraternity." SigEp said it has about 15,000 members across more than 200 universities.
A witness saw two young men leaving the area near the statue, which depicts Meredith striding forward. A coiled rope and a former Georgia state flag with a Confederate battle emblem were wrapped around the statue's neck.
Meredith, 80, told the Los Angeles Times this week from his Mississippi home that the incident showed that youths weren't being taught right from wrong. He said all the nation's ills would be cured if every child learned the Golden Rule, the Ten Commandments and the Lord's Prayer before reaching kindergarten.
In 1962, Meredith became the first black student at Ole Miss after a U.S. Supreme Court ruling cleared the way. Campus riots followed; two people were killed and dozens were injured. Mississippi officials initially tried to keep Meredith from enrolling, but President Kennedy ordered hundreds of federal authorities to escort him onto campus.
As of November, Ole Miss' Oxford and regional campuses had about 19,000 students, 76% of them white and 16% black. Nationwide, the respective figures in 2010 were 61% and 14%, according to the U.S. Department of Education.
The first reported vandalism of the 7-year-old statue of Meredith has raised questions about whether the incident might be protected as free speech if deemed to be no more than a vague threat.
University Chancellor Dan Jones said the ideas expressed by the vandals had no place at the university. But others have disagreed, saying the university should not necessarily punish free expression.
Follow LATimes National on Facebook
ALSO:
Detroit bankruptcy plan cuts pensions, payments to creditors
Cold temperatures, roof collapses mark winter's latest icy turn
Second North Carolina coal ash spill plugged, but concerns remain
Must-read stories from the L.A. Times
Get the day's top news with our Today's Headlines newsletter, sent every weekday morning.
You may occasionally receive promotional content from the Los Angeles Times.