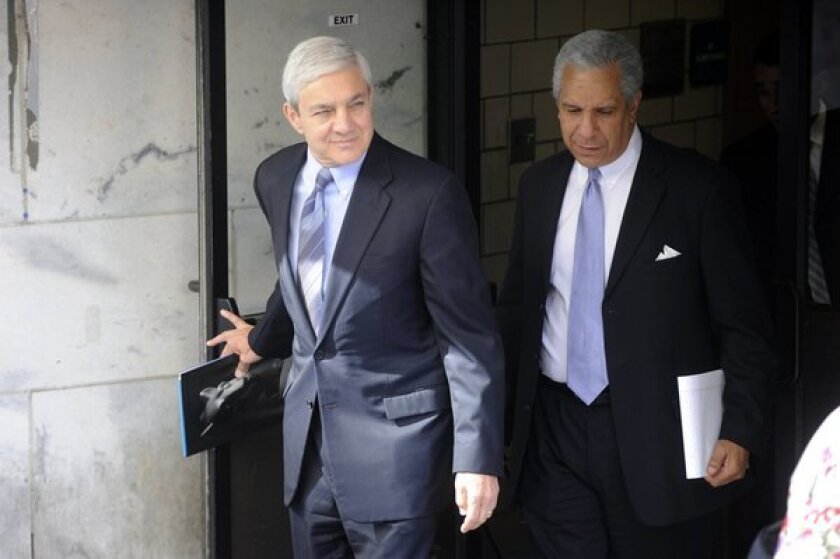 Penn State's former president and two other top school officials were ordered by a Pennsylvania judge Tuesday to stand trial on charges that they covered up the Jerry Sandusky child sexual abuse.
After two days of preliminary hearings, Harrisburg District Judge William Wenner ordered a criminal trial to be held for the university's former president, Graham Spanier, its former vice president, Gary Schultz, and its former athletic director, Tim Curley, a court official told the Los Angeles Times.
Sandusky, 69, a former assistant football coach, is serving a 30- to 60-year prison sentence for his conviction in June 2012 on 45 counts of sexual abuse involving 10 boys. The boys were involved with a charity, the Second Mile, founded by Sandusky in 1977.
A prominent witness, former assistant football coach Mike McQueary, testified Monday that he had seen Sandusky abuse a child in the school's locker room showers in 2001. He said he reported what he'd seen to Schultz and Curley, in addition to Penn State football coach Joe Paterno. Police were never notified.
The administrators have denied that they were told Sandusky's actions were abusive, and say they believed he was engaging in the sort of horseplay typical in athletic settings.
Spanier, Schultz, and Curley are charged with perjury, obstruction of justice, and endangering the welfare of children for their failure to report the shower incident to authorities.
Spanier was fired within weeks of Sandusky's arrest and Paterno was forced out as well. The iconic football coach died shortly thereafter of cancer at 85.
Meanwhile, Sandusky's victims have filed civil suits against the school, which has set aside $60 million to cover those costs.
Spanier's lawyers also have served legal notice that they intend to file defamation charges against Louis Freeh, a former director of the Federal Bureau of Investigation. Freeh was the author of a report ordered by the university that blamed top university officials, including Paterno, for failing to act on allegations against Sandusky.
Times staff writer Michael Muskal contributed to this report.
ALSO:
A tamer Flossie leaves Hawaii after stormy day
'Real Housewives' stars released on $500,000 bond each
Bradley Manning could still get decades in prison in WikiLeaks case
Twitter: @benjmueller
---