Reno hospital shooter claimed to have 'adverse symptoms' from surgery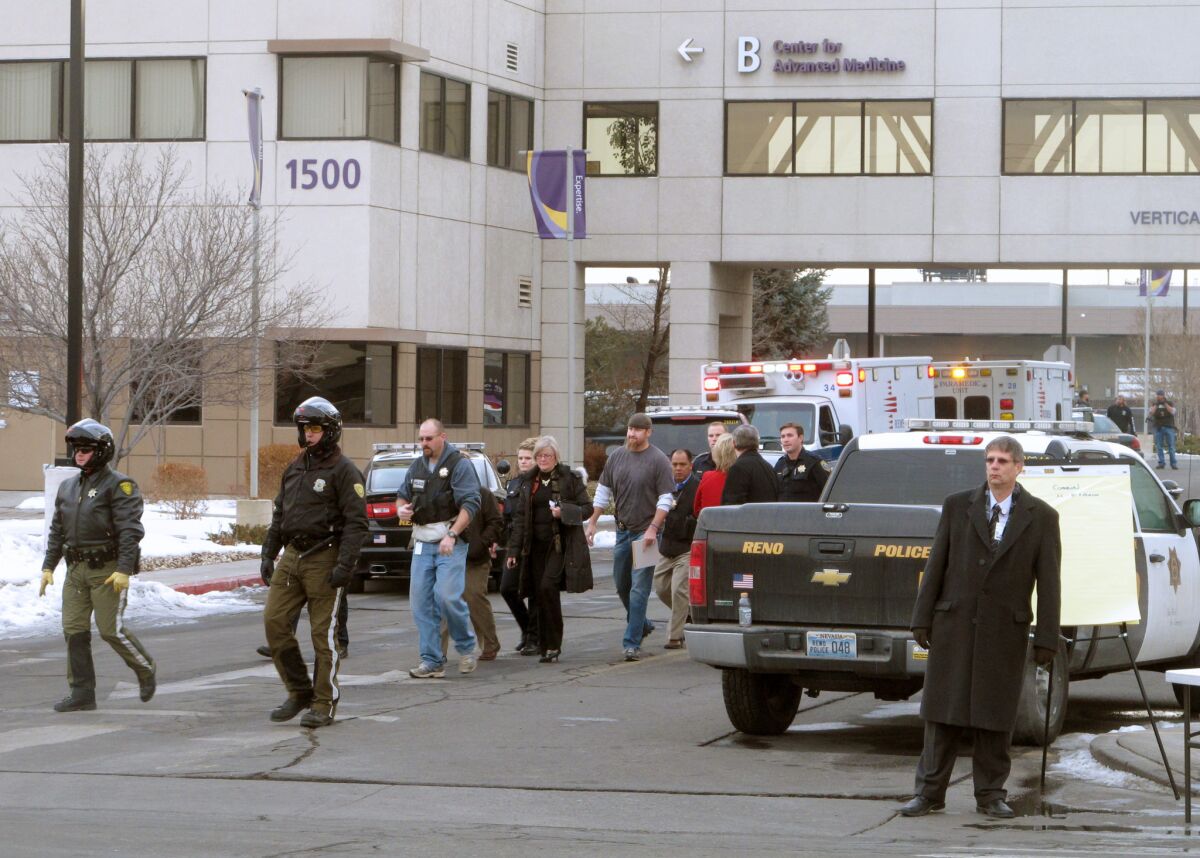 <i>This post has been corrected, as indicated below.</i>
A gunman who killed one doctor and critically wounded another and a bystander on a Reno hospital campus left a typed letter and suicide notes at his California home indicating that he targeted a urology clinic after having "adverse symptoms" from surgery, Reno police said Thursday.
Officials identified the shooter, who took his own life, as Alan Oliver Frazier, 51, of Lake Almanor, Calif. Officers also found firearms at his home, Reno Police Lt. William Rulla said at a news conference.
"Inside, we located a typed letter indicating the suspect's intention to commit this horrific act. We also located other firearms within the residence as well as notes indicating that the suspect's actions during this incident were to be his final actions," Rulla said.
Frazier opened fire Tuesday afternoon inside the Urology Nevada clinic, which is on the grounds of Renown Regional Medical Center but unaffiliated with it.
"We may never know the suspect's exact motive or reason for his actions, but there is an indication that his focus was on physicians at this specific office," Rulla said.
Frazier claimed he had "adverse symptoms" from surgery in 2010, Rulla said, but did not say where he had the surgery or who performed it. Officials were looking into Frazier's medical records to determine the nature of his surgery and claims.
Rulla said interviews with witnesses and victims indicated that Frazier entered the clinic's main office about 2 p.m. and told front desk employees he was looking for physicians, not patrons.
"The suspect then walked into the interior of the office, toward the examination rooms, where he encountered our first victim, Dr. Christine Lajeunesse. He then shot her point-blank in the arm and torso, where she immediately fell to the floor," Rulla said.
In the hallway, he encountered Dr. Charles Gholdoian, a 46-year-old urologist. Frazier shot at him and missed, instead hitting Shawntae Spears, 20, in the torso. She was accompanying a patient.
Frazier's third shot struck Gholdoian in the torso, killing him.
"The suspect then walked into the office area where he attempted to break into a locked room," Rulla said. "There is indication that his fourth shot was through a smoked glass door, possibly in an attempt to gain access."
After walking to the main lobby area, the gunman fired a fifth and final time: a shot to his head.
Officers arrived about two minutes after the initial emergency call, Rulla said.
Frazier's primary firearm was a pistol-grip 12-gauge shotgun, Rulla said, but he also carried a two-shot derringer pistol and a fully loaded .40-caliber handgun, which authorities said he did not fire.
Investigators also were searching Frazier's pickup truck, which was at the scene.
Frazier's last known job was at Mount Lassen Power, where he worked as a power plant control room operator, Rulla said. He apparently had no criminal record.
His ex-fiancee, Stephanie Wright-West, told the Associated Press on Thursday that Frazier had a history of mental illness. Wright-West said they lived together in the mid-1990s for about six months.
The surviving victims remained hospitalized, Renown spokeswoman Angela Rambo said.
An update on Lajeunesse's condition was not released Thursday, but authorities have said she was critically wounded. Spears initially was in critical condition, but Rambo said she had been upgraded to fair.
A interfaith group of clergy planned a candlelight vigil Thursday night in Pickett Park, across from the medical center, according to the Spanish Springs Presbyterian Church's Facebook page.
Accounts have been set up at Wells Fargo bank branches for donors to help victims and their families.
[For the record, 7:12 p.m. Dec. 19: An earlier version of this post implied that the gunman shot three doctors. Actually, he shot two doctors and a woman who was accompanying a patient. An earlier version of this post erroneously said the third victim was a patient. Also, Urology Nevada is on the campus of Renown Regional Medical Center but is not affiliated with it.]
ALSO:
Arizona appeals citation and fines in Yarnell Hill firefighter deaths
Some Colorado students return to campus for belongings, counseling
Rep. Waxman raises questions about future of Los Angeles Times
Twitter: @saba_h
---
Must-read stories from the L.A. Times
Get the day's top news with our Today's Headlines newsletter, sent every weekday morning.
You may occasionally receive promotional content from the Los Angeles Times.