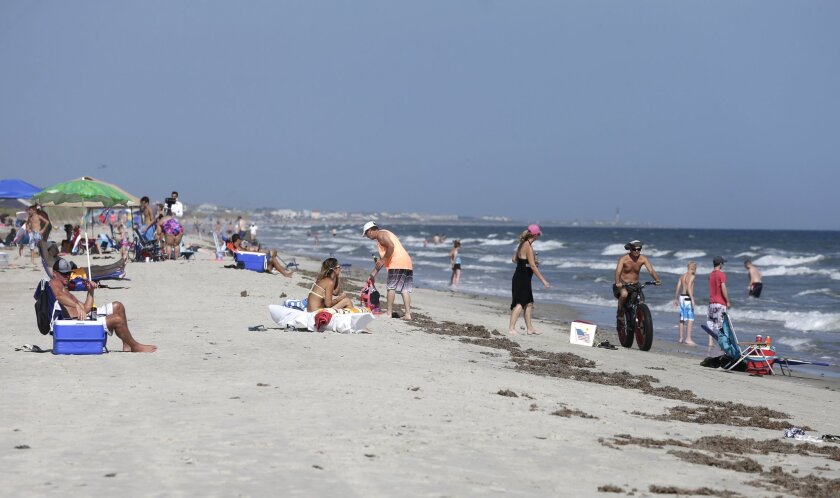 A shark bit a man swimming off the North Carolina coast Wednesday, marking the state's seventh shark attack in recent weeks and raising the question: Why does this keep happening?
Wednesday's attack took place off North Carolina's Ocracoke Island, according to the National Park Service. A 68-year-old man was swimming about 30 feet offshore in waist-deep water when he was attacked, the park service said. It said he received injuries to his left lower torso and hip, lower left leg and both hands.
George Burgess, director of the Florida Program for Shark Research, said the string of attacks off North Carolina was the result of "a perfect storm of conditions, not all of which we know yet."
Contributing factors are believed to include hot weather that is raising the water temperature, the presence of more ocean prey in the area and a localized drought, he said. The drought means the water is not getting diluted. Sharks like warm, salty water the most, he said.
"This is going to go away," Burgess said. "We're not under siege from sharks."
For perspective, Burgess said, there have been 24 shark bites in the U.S. so far this year, 11 of which have occurred off Florida.
Worldwide, three people were killed in shark attacks last year, and six have been killed so far this year, he said. On average, shark attacks kill six people annually. There has been only one such U.S. death this year, in Hawaii.
The spate of shark attacks off North Carolina comes as more vacationers are in the water, Burgess noted.
He said sharks have migrated to the area and are looking for food. They are attracted by sea turtles -- which are nesting this time of year and are a favorite of bull and tiger sharks -- and by the robust population of menhaden fish, he said.
"Lots of people, lots of sharks and lots of food in the water -- it's a formula for shark attacks," Burgess said.
Chris Plante, assistant curator at the Aquarium of the Pacific in Long Beach, said sharks are not seeking to prey on people. Sharks often tend to be closer to swimmers than people may realize, but there are relatively few attacks -- "99.9% of the time, nothing happens," he said.
Increased documentation of the incidents may also make people believe attacks are more prevalent, he said. "Everyone has a camera these days."
The man attacked Wednesday was in stable condition and alert while being taken to a hospital, said Justin Gibbs, director of Hyde County Emergency Services in North Carolina.
The latest three North Carolina shark attacks have victimized swimmers off the Outer Banks.
A 17-year-old boy was bitten Saturday near the town of Waves, north of Okracoke Island; he received injuries to his calf, buttocks and both hands, according to the National Park Service.
A 47-year-old man encountered a shark Friday near Avon, between Waves and Okracoke; he received injuries to his right leg and lower back, the park service said.
At the time the swimmers were attacked, none of the three were swimming alone, according to the park service.
Earlier shark attacks in North Carolina include two that occurred June 14 off Oak Island. A girl lost part of her arm and suffered a leg injury, and a 16-year-old boy lost an arm.
---