Officials protest Texas plan to execute Mexican citizen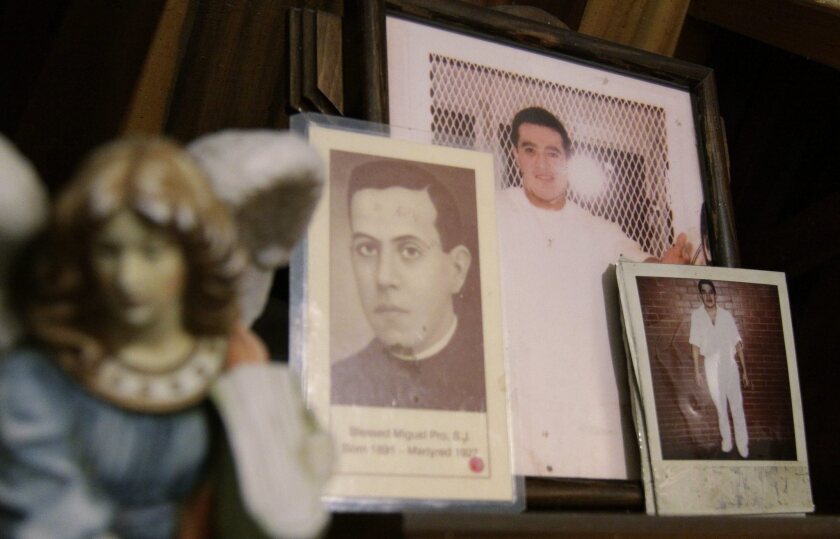 <i>This post has been corrected. See the note below for details.</i>
HOUSTON — A Mexican national facing execution in Texas this week has drawn support from Mexican officials, a former Texas governor and U.S. Secretary of State John F. Kerry, who appealed to Gov. Rick Perry and state courts for a reprieve — so far, unsuccessfully.
Edgar Tamayo, 46, a Mexican citizen, is scheduled to be put to death Wednesday for fatally shooting Houston Police Officer Guy Gaddis in 1994.
Gaddis, 24, had been flagged down near a nightclub by a man who accused Tamayo of robbing him. The officer arrested Tamayo, handcuffed him and put him in the back of his patrol car. The officer was driving away when Tamayo drew a pistol he had concealed and shot Gaddis three times in the back of the head.
Tamayo's attorneys have appeals pending. A hearing has been scheduled for Tuesday morning in the U.S. District Court for the Western District of Texas in Austin to consider their challenges to the state clemency process.
On Sunday, Mexico's foreign ministry released a statement objecting to the execution.
"If Edgar Tamayo's execution were to go ahead without his trial being reviewed and his sentence reconsidered ... it would be a clear violation of the United States' international obligations," the statement said in Spanish. "The Mexican government opposes the death penalty and is determined to use all available recourses to protect those nationals in danger of receiving such a sentence."
The 32 states with capital punishment have executed 28 foreign nationals since 1976, according to the Washington, D.C.-based Death Penalty Information Center, which opposes capital punishment.
"Mexico typically intervenes in these cases, capital cases, even before the trials occur so they often don't result in a death sentence anymore. It might well have made a difference in Tamayo's case," said the center's executive director, Richard Dieter.
Tamayo, a laborer from Morelos, Mexico, was in the U.S. illegally at the time of his arrest. Advocates argue that he was not informed of his right to diplomatic assistance under an international treaty known as the Vienna Convention on Consular Relations.
Ten years ago, the United Nations' International Court of Justice, also known as the World Court, ordered the United States to reconsider the convictions of 51 Mexicans, including Tamayo, who had been sent to death row without being informed of their consular rights.
Two of the 51 have since been executed, both in Texas.
José E. Medellín, 33, was put to death in 2008 for the 1993 rape and murder of two teenage girls in Houston.
Before his execution, President George W. Bush ordered Texas and other states to review the Mexican nationals' convictions. But the state's then-solicitor general, Ted Cruz — who is now a Republican senator — persuaded the Supreme Court to rule that the president had no authority to order state courts to honor the World Court's decision.
At the time, Tamayo and nine other Mexican nationals were on Texas' death row.
Three years later one of them, Humberto Leal, 38, was executed for the 1994 rape and beating of a 16-year-old San Antonio girl.
Mexican officials have tried to stop Tamayo's execution. Morelos Gov. Graco Ramírez, several Mexican legislators, Mexican Foreign Secretary Jose Antonio Meade, Eduardo Medina Mora, the ambassador to Washington, and National Human Rights Commission President Raul Plascencia have all petitioned the U.S. on Tamayo's behalf.
Last week, former Texas governor and Atty. Gen. Mark White joined the effort.
"As it stands now, Tamayo will become the first person executed without any review of his Vienna Convention claim," White wrote in the Austin American-Statesman. "I personally support capital punishment. But this case is not about whether we support or oppose the death penalty. It's about fairness and having the courts hear all the key facts. In Tamayo's case, a court review could have made a real difference."
Last fall, Kerry wrote a letter to Perry and Texas Atty. Gen. Greg Abbott urging them to reconsider Tamayo's execution because it could make it more difficult to help Americans in legal trouble abroad.
"I have no reason to doubt the facts of Mr. Tamayo's conviction, and as a former prosecutor, I have no sympathy for anyone who would murder a police officer," Kerry wrote in September. But he added that he was concerned the state's handling of the case could affect how Americans are treated overseas.
Kerry shared a letter sent to him by Mora, the Mexican ambassador, who wrote that "this issue has become and could continue to be a significant irritant in the relations between our two countries."
Perry and other Texas officials have argued that the state is not bound by the World Court's decision.
Perry spokeswoman Lucy Nashed said Monday that the governor stands by that position.
"It doesn't matter where you're from — if you commit a despicable crime like this in Texas, you are subject to our state laws, including a fair trial by jury and the ultimate penalty," Nashed said.
Tamayo's attorneys insist that without consular assistance, he never received a fair trial.
Unlike Leal and Medellin, Tamayo came to the U.S. as an adolescent, spoke little English, was developmentally disabled and mentally ill, said one of his attorneys, Sandra Babcock.
"He's just the type of person the protections of the Vienna Convention were designed to help," said Babcock, clinical director of the Center for International Human Rights at Northwestern University School of Law.
Babcock has filed requests for the courts to review evidence of Tamayo's mental status and "the harm that flowed from the violation of his clemency rights." So far, the courts have refused to review the evidence because it was submitted too late by Tamayo's attorney, she said.
"No one can deny the tragedy of Officer Gaddis's killing. But it would be doubly tragic if the state were to execute Mr. Tamayo without providing him at least a fair process," she said.
A Houston police spokesman declined to comment Monday.
Texas police have made a show of support in the past for the execution of cop killers. When the leader of the fugitive gang known as the "Texas 7" was put to death two years ago for killing a suburban Dallas police officer in 2000, police lined up outside the prison during the execution. Afterward, they stood behind a state spokesman as he announced the death.
It is unclear whether the state's use of new lethal injection drugs could become a factor in Tamayo's case, as they have elsewhere.
The use of new lethal injection drugs drew scrutiny last week after witnesses reported that condemned Ohio prisoner Dennis McGuire took more than 15 minutes to die last Thursday, appearing to gasp and snort after he was injected with a new combination of lethal drugs: midazolam, a sedative, and hydromorphone, a painkiller similar to morphine.
Ohio and other states have been searching for new supplies of lethal injection drugs due to shortages as manufacturers facing international protests against capital punishment restricted supplies.
Rather than switch drugs as Ohio did, Texas and other states have turned to compounding pharmacies, which make drugs without federal scrutiny.
Texas, which has executed 508 prisoners since lethal injection started in 1982, more than any other state, began using a compounding pharmacy last year to renew its supply of pentobarbital, an anesthetic. A legal challenge to the compounded drugs failed.
Tamayo's attorneys have asked prison officials what drugs will be used in his execution.
On Monday, Jason Clark, a spokesman for the Texas Department of Criminal Justice, said, "The agency will use compounded pentobarbital previously purchased from a Texas pharmacy to carry out the scheduled execution of Edgar Tamayo."
Marie Levin, one of Tamayo's attorneys, said that the lawsuit filed over the state's use of the compounded drug revealed Texas had also obtained supplies of the alternate drugs used in Ohio.
Clark declined to comment about "what drugs we have in our possession."
[For the record 8:32 a.m. PST Jan. 21: An earlier version of this post misidentified former Texas Gov. Mark White as Bill White.]
ALSO:
Polar Vortex's little brother to bring big freeze to East
Cheating on tests common at nuclear sites, ex-officers say
Man gets OfficeMax mail addressed 'Daughter killed in car crash'
---
Must-read stories from the L.A. Times
Get all the day's most vital news with our Today's Headlines newsletter, sent every weekday morning.
You may occasionally receive promotional content from the Los Angeles Times.