Texas cleans up after overnight storms, flooding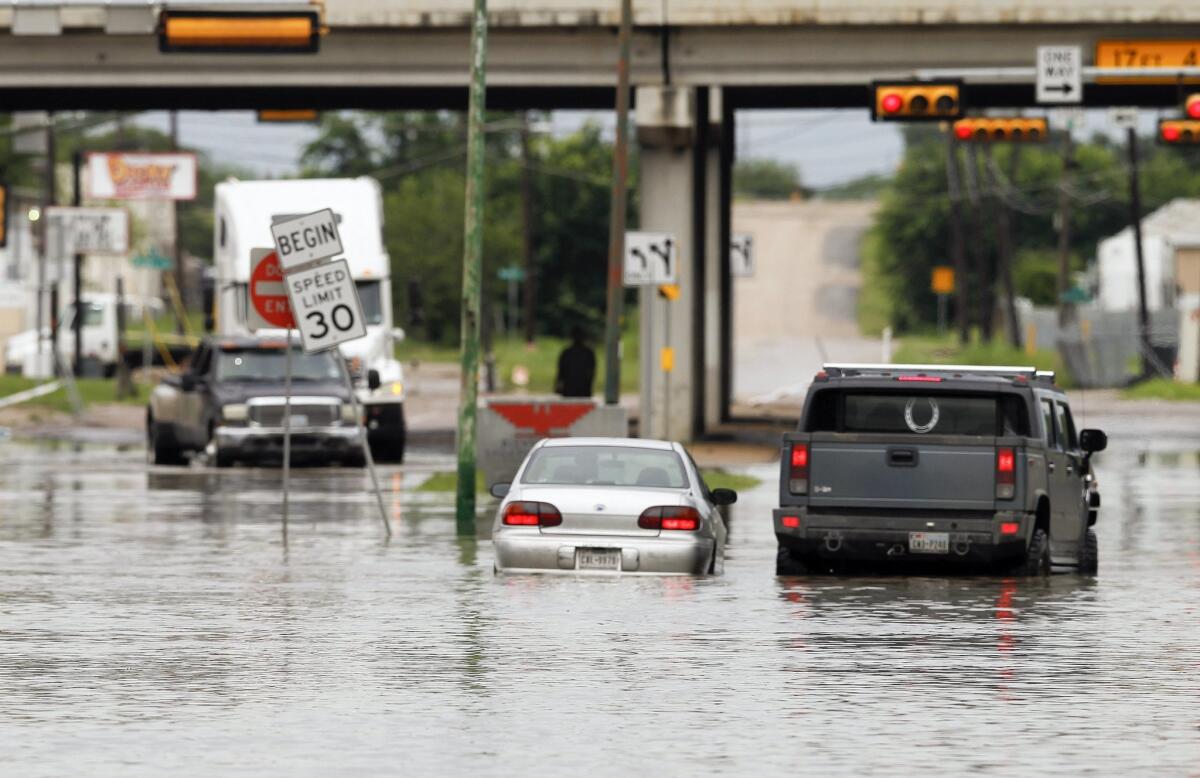 Reporting from Houston —
Jeff Dyson figured his riverfront neighborhood was prepared for the second round of major storms that hit Texas this weekend, but then the water started rising.
It kept rising, right up to the base of some of the elevated homes.
"It was two inches from getting in there," said Dyson, 44. "We didn't think it would get that close."
His Banana Bend community 20 miles east of Houston remained flooded Sunday, washed out by the neighboring San Jacinto River, but water never breached the homes, he said.
"It was the worst I've seen it," said Dyson, who has lived in the area for eight years.
Texas and seven other states in the nation's Southwest, Deep South and lower Midwest were under flood warnings Sunday evening as major rains swept east through the region.
Up to four inches of rain soaked the Houston area overnight, drenching neighborhoods already inundated by storms that dropped nearly a foot of rain on the area Memorial Day weekend. It had already been the wettest month on record in Texas, basically ending the state's five-year drought.
By Sunday morning, a cold front had moved in. Although scattered showers were still possible, forecasters said drier weather had settled over the region for the coming week, giving swollen rivers time to drain.
Late Saturday, an 8-year-old girl was killed in a storm-related traffic crash in Dallas. Officials in Houston found a man's body floating in Brays Bayou on Saturday afternoon, but said it was not immediately clear whether his death was flood-related.
Highway Patrol troopers in Oklahoma fatally shot one of two men they were trying to rescue after the pair's pickup trucks became stranded in high water south of Tulsa late Friday, according to Oklahoma Highway Patrol Capt. Paul Timmons.
"These guys were in the water; troopers got to the scene trying to get them out of the water because the water was rising rapidly," Timmons said. "The two did eventually come to the troopers and we still are investigating what happened when they got to where the troopers were."
The troopers killed Nehemiah Fischer, 35, who was armed with a handgun, Timmons said. They arrested the other man, Fischer's brother, Brandon, who was charged with assault and public intoxication, he added.
That brings the death toll from storms in Texas and Oklahoma since the holiday weekend to at least 36, with a dozen people still missing as of Sunday.
Kent Prochazka, a meteorologist with the National Oceanic and Atmospheric Administration outside Houston, said storms moved into the Gulf of Mexico overnight as a cold front blanketed the region, bringing with it a swath of cool, dry air.
"It will give us a chance to dry out and not add any more water to the rivers," Prochazka said, noting that river levels were already falling before the storm and that the effect of a few inches of additional rain was "minimal."
"The fact that we handled 10 to 12 inches of rain in such a short period of time is a testament to the improvements they've made in that flood-control system" around Houston, he said. "Back when I started working in the '90s, if we had that type of event it would have been double, triple the flooding."
He said emergency managers also did well to warn people to stay put during the worst flooding late last Monday, including hundreds stranded at a downtown Houston Rockets playoff game (officials also allowed fans at an Astros game Saturday to wait out the storm at Minute Maid Park).
"That was a good call. We have definitely learned from our past mistakes and made some improvements," Prochazka said.
In Dallas, officials said Sunday night that the 18 inches of rain this month made it the wettest May in city history. Homes in the city are not generally threatened, but emergency officials said at a televised news conference that they've had problems with drivers going around or moving barricades blocking flooded roadways.
Since Friday, emergency responders have made nearly 70 swiftwater rescues, said Jason Evans, a spokesman for Dallas Fire-Rescue.
In Fort Bend County south of Houston, several rural communities along the Brazos River were still evacuated Sunday as the river approached its crest at 49.55 feet, but residents were expected to return in the coming days as the water drains, said Jeff Braun, the county's emergency management coordinator.
"We had some street flooding and some additional road closures and water getting closer to houses. But fortunately the storm finally blew through, so this morning all our jurisdictions are stable," Braun said. "Water in some places may be there for two or three days as it slowly recedes. There's dry weather coming in with a northern front and lasts for about a week and that will be a good respite."
He credited the suburban county's 100 miles of levees with protecting its major roads and cities.
"This was the biggest rain since most of those went in. This was a good test and a passing grade with flying colors," Braun said, adding that with the exception of some minor street flooding, "everything's dry inside the levees."
Sunday was a cleanup day for many in the Houston area who were stripping soggy drywall, piling debris and positioning fans to dry out scores of flooded homes.
Dyson surveyed flooding in Banana Bend from his GO-DEVIL shallow draft boat, concluding the waters had receded about a foot overnight. The main road was still flooded, but a muddy trail nearby had dried out enough to get trucks through, he said. Later in the day, he planned to start hauling equipment back in that he had moved to a storage lot on higher ground nearby.
It will take a few days for the water to recede and reveal damage on the ground, Dyson said.
"It's going to be a major cleanup. It's going to be two weeks before this place is right," he said.
Banding together to weather the storm has become a tradition in Banana Bend.
"Everybody pulls together in the neighborhood," Dyson said. "We'll get equipment in here and clean up the debris."
As they cleaned up under sunny skies, Dyson had other plans for late Sunday that involved ribs, brisket and another Texas tradition for celebrating victories over the elements.
"We're going to have a barbecue," he said.
Follow @mollyhf on Twitter for news out on the Texas flood.
Sign up for Essential California for the L.A. Times biggest news, features and recommendations in your inbox six days a week.
You may occasionally receive promotional content from the Los Angeles Times.