'Outlandish bonus culture' at VA comes under attack in Congress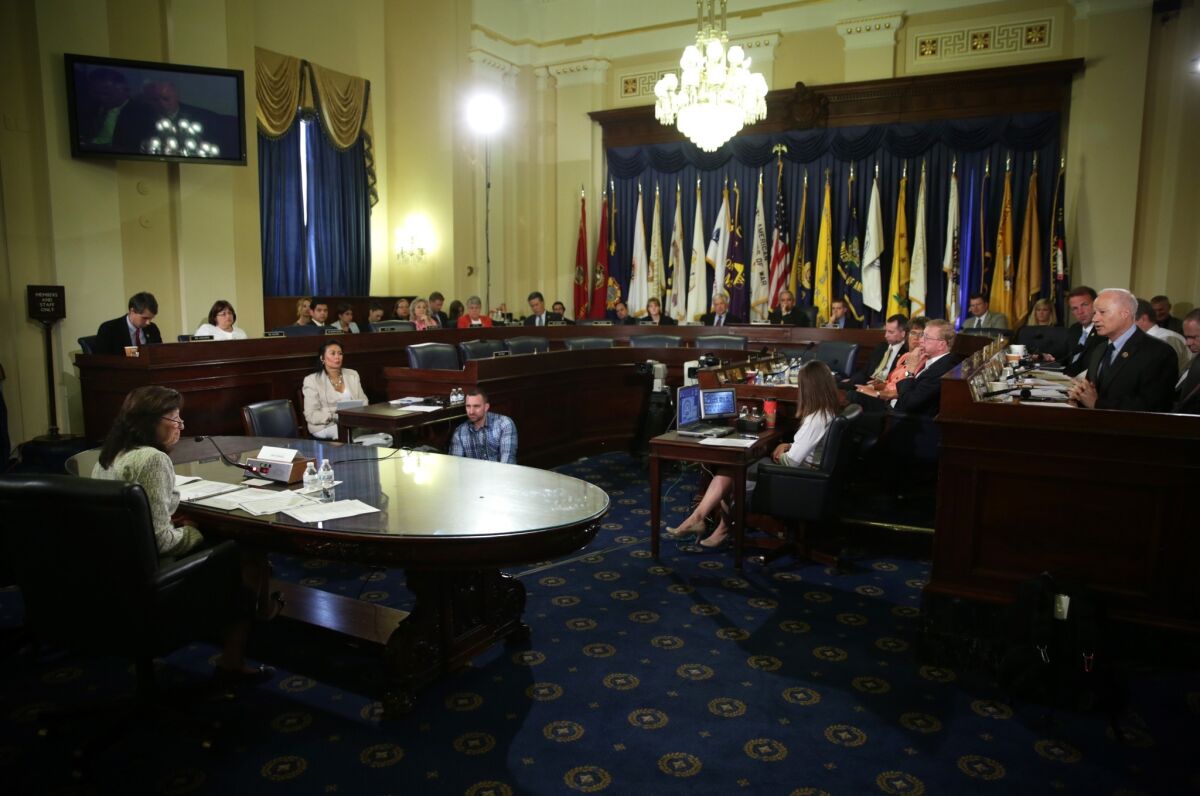 Reporting from Washington —
An "outlandish bonus culture" pervades the Department of Veterans Affairs, with no senior manager receiving less than a fully satisfactory performance review last year despite problems, including long waits for patient care and cost overruns for construction projects, the chairman of the House Veterans' Affairs Committee said at a Capitol Hill hearing Friday.
The VA paid out more than $2.8 million in "performance awards" in the last fiscal year to executives, some of whom are now under scrutiny for misrepresenting veterans' wait times for healthcare.
"This is scandalous, even criminal," said Rep. Jeff Miller (R-Fla.), the committee chairman. The "quest for monetary gain" led to manipulation of records to conceal long waits for care, he said.
Congressional negotiators are considering banning VA bonuses through fiscal 2016 as they work to reconcile differences in House and Senate bills that would, among other things, allow veterans facing long waits at VA facilities to see private doctors and expand the VA's secretary's authority to fire staff for poor performance. The VA's acting secretary, Sloan Gibson, has moved to suspend bonuses to VA healthcare executives this year.
Throughout the VA, nearly $400 million was paid in bonuses in fiscal 2011.
Fueling congressional outrage was a since-rescinded $8,495 bonus for fiscal 2013 to the director of the Phoenix VA, which has been at the epicenter of the VA healthcare scandal.
Not a single one of 470 senior VA executives received a "less than fully satisfactory" rating from FY 2010 through 2013, according to Miller.
"Knowing what we know now about the fraudulent actions being taken at facilities all across this country that have harmed our veterans, do you think that the department's assessment that 100% of senior managers at VA have been fully successful in the past four years is in line with reality?" Miller asked Gina Farrisee, the VA's assistant secretary for human resources and administration.
"If we knew what we knew today at that time, it is unlikely that their performance would reflect what it reflected at the time the reports were written," she responded.
Lawmakers from both parties expressed outrage upon hearing that the performance ratings cannot be changed "even if there's information that was hidden from the raters," as Miller put it. He indicated that the issue may become a subject of VA reform legislation. The Phoenix VA director's bonus was canceled because it had been awarded as a result of an administrative error, officials have said.
Farrisee defended bonuses as important to recruiting and retaining the best talent.
"We are competing in tough public and private labor markets for skilled personnel," she said. But, she added, "we must do a better job at holding our employees and our leaders accountable."
Rep. Phil Roe (R-Tenn.) suggested the VA was treating its executives under scrutiny for mismanagement far differently than another federal agency, the IRS, treats ordinary taxpayers.
"If you falsely put your claim out with the IRS and claim deductions you don't have, let me tell you what's going to happen to you. You're going to get penalized. You're going to pay the taxes. And you might go to jail," Roe said.
Twitter: @richardsimon11
---
Must-read stories from the L.A. Times
Get the day's top news with our Today's Headlines newsletter, sent every weekday morning.
You may occasionally receive promotional content from the Los Angeles Times.