Mystery man at Seattle campus faces federal weapons charges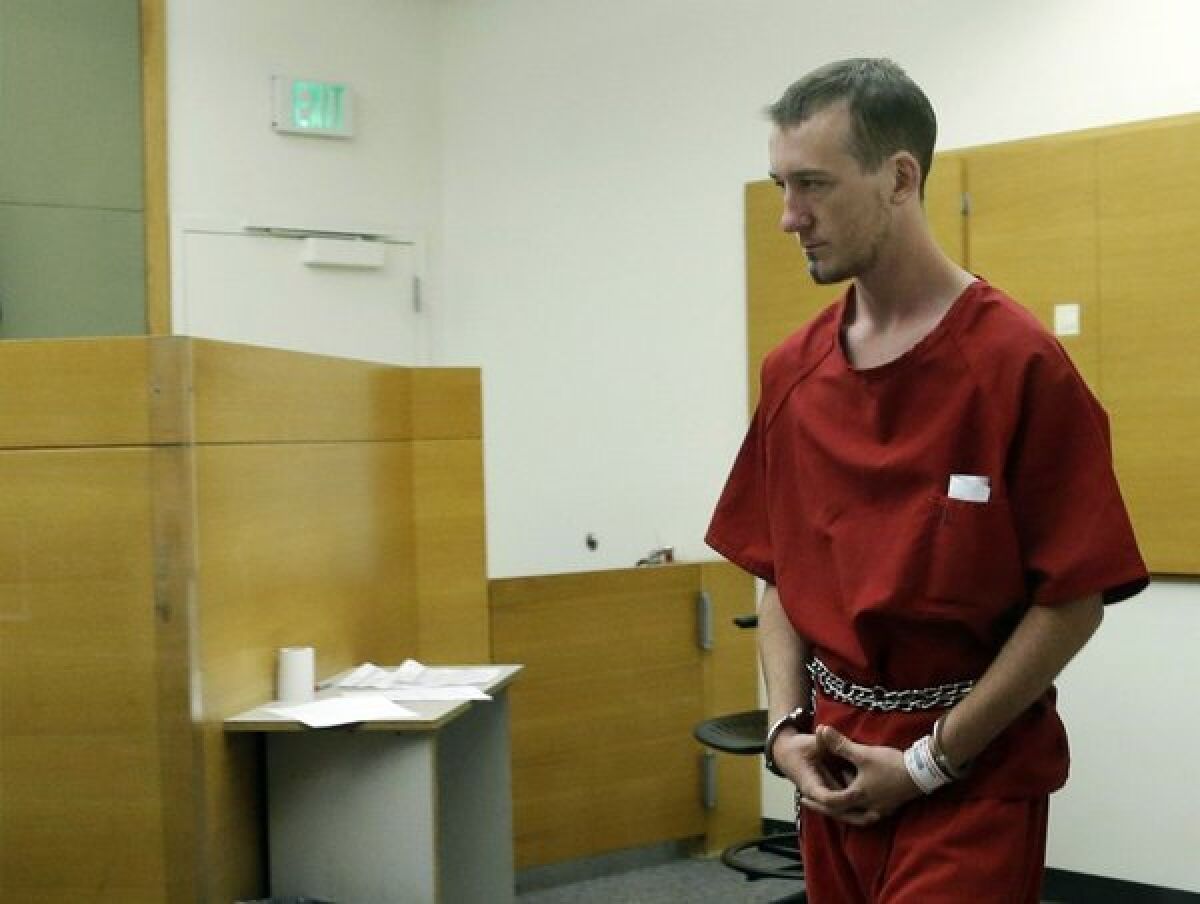 University of Washington cops first noticed Justin Miles Jasper when he sat up in the bed of his truck, which was parked at the Seattle campus on the night of July 2. He was shirtless and in a sleeping bag.
Police did not learn until the next day that the truck was stolen and that Jasper was armed, according to court documents.
Jasper, 22, made an initial appearance in federal court Thursday to answer an indictment in which he is charged with possessing Molotov cocktails, stolen weapons and body armor, which police say they found in the truck. What Jasper intended to do in Seattle remained unclear. He was remanded to custody and, if convicted, faces a sentence of at least 10 years in prison.
Jasper's roommate, a long-haul trucker in Montana from whom Jasper allegedly took the truck, told the Seattle Times that Jasper described himself as an anarchist and had left for Seattle to "argue with some legislators about some issues he was upset at."
Police said they discovered DVDs and documents of Jasper discussing uprisings in Syria and Brazil. In one video, Jasper introduced himself as "apolitical [and an] atheist," according to a probable-cause statement from university police. One video showed him burning $1 and $5 bills to mark Independence Day.
"How many people are supporting, in one way or another, the Brazilian revolution? ... That's what I want to know," Jasper said in one DVD, according to police. In another writing cited by police, Jasper wrote, "The Syrian Revolution is being hijacked by Western vultures!"
In Brazil, an eruption of anti-poverty and anti-corruption protests last month has forced the government to consider reforms. In the two-year Syrian civil war, which has claimed an estimated 100,000 lives, the U.S. and other Western nations are supporting the opposition to President Bashar Assad.
Police excerpts of Jasper's writings don't make his views any clearer -- particularly in the context of stolen guns, firebombs and military-grade body armor at a college.
Officers caught up to Jasper again on July 3, when an alert for the stolen truck arrived.
After his arrest, Jasper initially told officers the truck was a misunderstanding, that his roommate had allowed him to use it. According to police documents, the roommate, Erik Henderson, told police later that Jasper had been living with him in Butte, Mont., for about a month and was only to use the truck in emergencies.
Henderson told police, however, he didn't want to assist in the prosecution of Jasper, whom he'd met at a truck stop in Idaho 2 1/2 months ago, according to court documents. Henderson said he didn't have time to get off work to come to court.
"He did not have my permission to take that truck, my guns or my vest," Henderson told the Seattle Times. "I'm a trusting person."
After Jasper's arrest, officers escorted him to the truck to retrieve three of his computer flash drives. At that point, officers say, they discovered the Molotov cocktails.
"I asked Jasper what he was doing with the Molotov cocktails," Det. William Bergin of the University of Washington Police Department wrote in his probable-cause statement. "Jasper did not answer my question but stated that he noticed my stance had changed. I had shifted my body into a ready stance position. I asked Jasper to put himself in my shoes and ask himself what a person would be doing with six Molotov cocktails. Jasper replied that I was painting a very sad picture."
The weapons were a 12-gauge double-barrel shotgun and a bolt-action Mauser 1895 rifle with a scope. Henderson told police the weapons had been taken from his home, as well as the body armor and knives also found in the truck, according to the probable-cause statement.
Ian Goodhew, deputy chief of staff for the King County prosecutor's office, told the Los Angeles Times that the county had only charged Jasper to keep him in custody while federal officials prepared an indictment, which arrived Wednesday.
The county charges have since been dropped to make way for the federal indictment, which charged Jasper with five counts: transportation of a stolen vehicle; possession of a stolen vehicle; possession of stolen firearms; possession of destructive devices; and possession of explosives during the commission of a felony, according to the FBI's Seattle division.
In a statement, the FBI noted that four of the counts carried a maximum of 10 years in prison. But possession of explosives during the commission of a felony -- stealing the truck and taking it out of Montana -- carries a mandatory minimum 10-year sentence.
ALSO:
Prosecution argues its murder case against George Zimmerman

DNA 'familiar match' ties DeSalvo to 1964 Boston Strangler case
Judge's unique sentence: Woman told to write about being a lady
---
Must-read stories from the L.A. Times
Get the day's top news with our Today's Headlines newsletter, sent every weekday morning.
You may occasionally receive promotional content from the Los Angeles Times.