Jody Lee Hunt, suspect in West Virginia shooting rampage, is found dead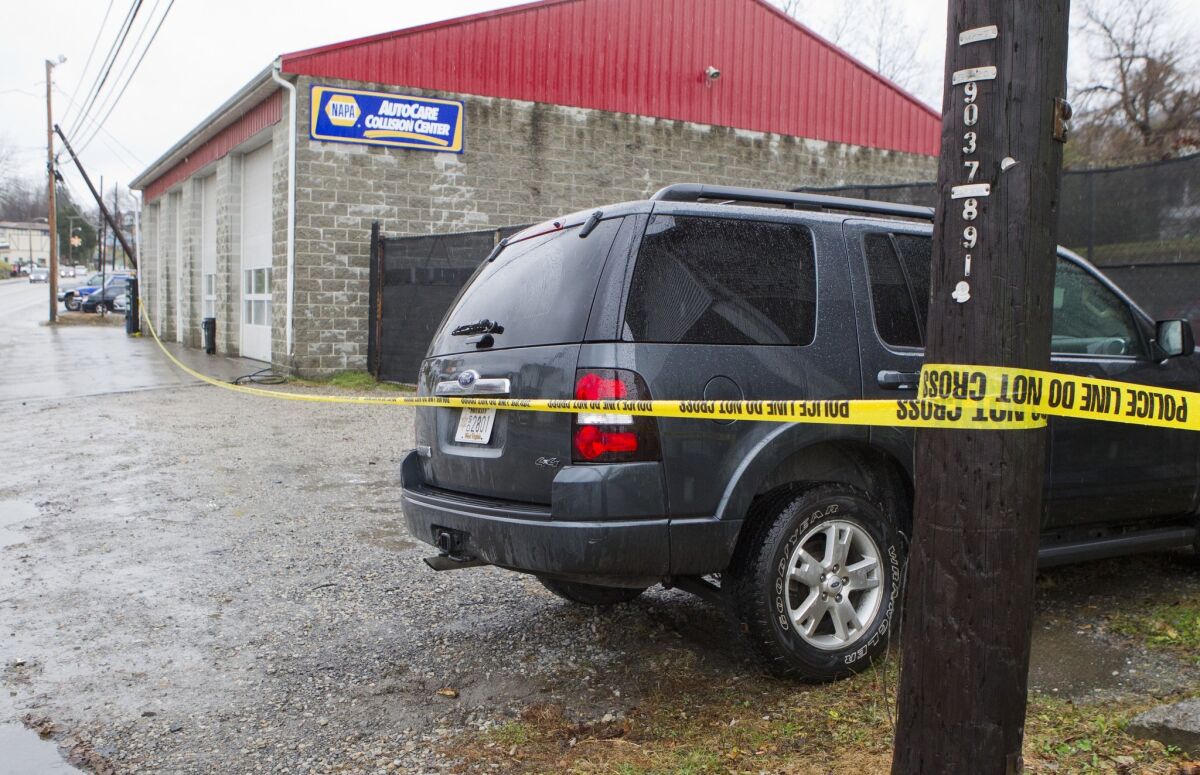 A man suspected of fatally shooting four people in West Virginia has been found and is dead, officials said Monday evening, ending a manhunt that lasted all day.
Jody Lee Hunt, 39, of Westover, W.Va., was suspected of killing four people at three locations in the northern part of the state Monday morning. Authorities said the shootings occurred between 8 a.m. and 10 a.m.
"The suspect in today's shootings has been located and declared deceased," the Monongalia County Homeland Security Emergency Management Agency said late Monday on behalf of the West Virginia State Police.
Hunt was found in a rural area of the county with an apparently self-inflicted gunshot wound to the head, the county Sheriff's Department said Monday night.
Police in Westover said they received an emergency call Monday morning and responded to a tow truck business, where they found a male victim who had been shot. According to records from the West Virginia secretary of state's office, Hunt ran a business called J&J Towing and Repair, just a couple of blocks from the tow truck business where the man was found.
At another location, police found the bodies of Michael Frum, 28, and Sharon Berkshire, 39. They were at a home on Sunset Beach Road in Morgantown and both had been shot, Lt. Mike Baylous of the state police said. Baylous says police aren't sure what the relationship between Frum and Berkshire was, but that the two victims did know each other.
Another victim was found at a home on Sweet Pea Lane, also in the Morgantown area, said Mike Wolfe of the Monongalia County Emergency Management Agency. On Monday night, the Sheriff's Department identified the victim as Jody Taylor and said he was taken to a hospital, where he died.
According to the Associated Press, court records in Monongalia County show that Berkshire had filed a domestic violence case against Hunt last month.
Hunt was sentenced to 10 years in prison for felony kidnapping and use of a firearm in 1999, Virginia criminal records show.
During their search, police said Hunt was armed and dangerous and was believed to be driving a black 2011 Ford F-150 with a blacked-out license plate and a cover over the bed. Several schools in Monongalia County were placed on lockdown as a precaution, Westover police Sgt. Matthew Starsick said, but none of the schools were believed to be targets or related to the deaths in any way.
Times staff writer Lauren Raab contributed to this report.
For more breaking news, follow me @cmaiduc.

Must-read stories from the L.A. Times
Get the day's top news with our Today's Headlines newsletter, sent every weekday morning.
You may occasionally receive promotional content from the Los Angeles Times.