North Carolina governor signs repeal of controversial 'bathroom bill'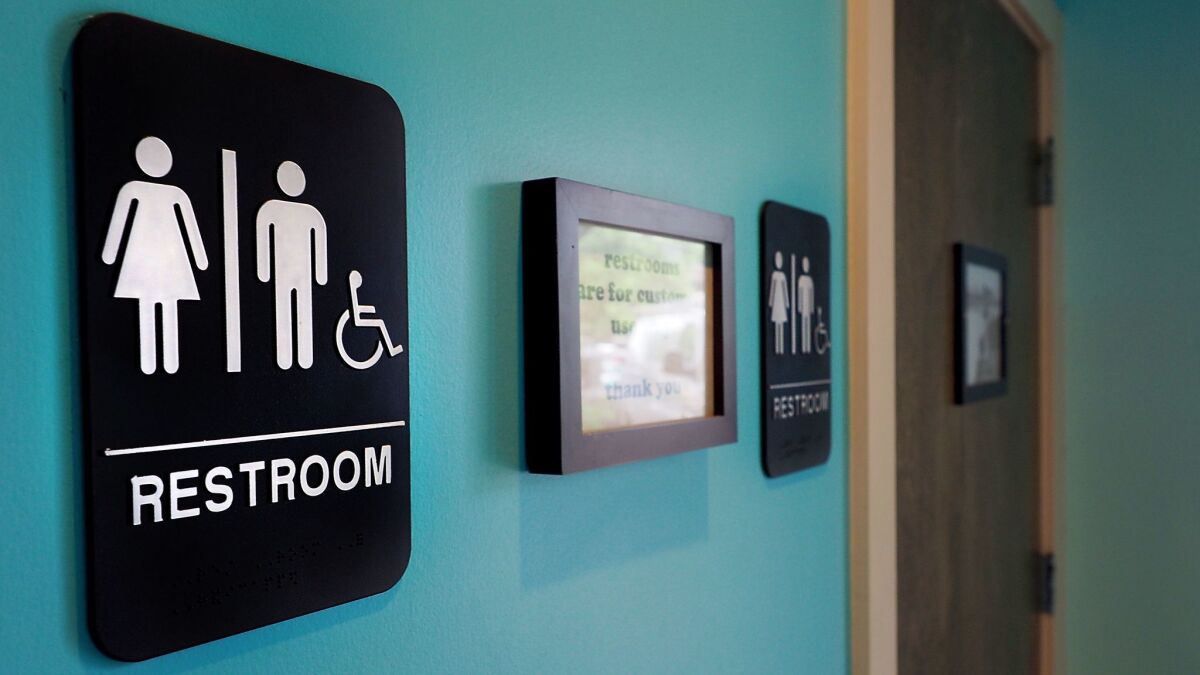 North Carolina Gov. Roy Cooper signed a bill Thursday repealing the state's contentious law that limited transgender bathroom access, shortly after both houses of the General Assembly voted to approve it.
The repeal bill was the result of a compromise between Cooper and Republican legislative leaders after a bitter yearlong standoff over lesbian, gay, bisexual and transgender rights that involved boycotts by artists and sports leagues, resulting in severe economic losses.
"We are a welcoming state. Our people are welcoming. HB 2 was not," Cooper said in a statement, referring to the so-called bathroom bill. "This law I'm signing today is not just about North Carolina's reputation — or jobs and sports. It's about working to end discrimination."
"Today's law not only provides for LGBT protections, but opens the door for more," he said. "Now, transgender kids aren't subject to a horrible requirement and embarrassment that could put them in even more danger of being bullied or preyed on."
The new bill had drawn sharp criticism from some lawmakers, while others indicated that it was a solid compromise that would bring back sporting events and create jobs.
"If you're a transgender individual, this bill is better than HB 2," said Rep. Darren Jackson, a Democrat.
Opponents said the move amounted to selling out to the NCAA, which a week ago indicated North Carolina would not be considered as a host for championships through 2022 absent any change of the law. It's unclear whether the repeal will affect the association's stance.
Cooper said in a statement Wednesday that the bill is "not a perfect deal," but it repeals the controversial law and "begins to repair our reputation."
The bill passed the Senate in a vote of 32 to 16, and later passed the House, 70 to 48.
The new law blocks local jurisdictions from approving nondiscrimination laws until Dec. 1, 2020, and requires state lawmakers to be involved in multiple-occupancy bathroom regulations.
Both conservative and liberal community groups criticized the new legislation.
"Today, the leaders of our state have let the people of North Carolina down," Tami Fitzgerald, executive director of the conservative NC Values Coalition, said in a statement. "The truth remains, no basketball game, corporation, or entertainment event is worth even one little girl losing her privacy and dignity to a boy in the locker room, or being harmed or frightened in a bathroom."
Gay rights advocates said the change fell short of protecting the LGBT community. Some called it a "backroom" deal made to avoid losing out on bids for NCAA championship games.
"This bill does nothing to repeal HB 2," Chad Griffin, president of the Human Rights Campaign, said in a statement. "Instead, it institutes a statewide prohibition on equality by banning non-discrimination protections across North Carolina and fuels the flames of anti-transgender hate."
The standoff over LGBT rights began early last year when Charlotte, the state's largest city, approved an ordinance that expanded nondiscrimination protections to include sexual orientation and gender identity and allowed people to choose restrooms according to the gender with which they identify.
In response, Republicans rushed through HB 2, a state law ordering schools and public agencies to require multiple-occupancy restrooms to be used by people based on the sex listed on their birth certificate.
Sports leagues, musicians and corporations refused to host events in North Carolina, staining the state's reputation.
Charlotte officials estimated the city lost nearly $100 million when the NBA moved its 2017 All-Star Game to New Orleans.
The Associated Press contributed to this report.
ALSO
Newport Beach improperly approved Banning Ranch project, state Supreme Court rules
Putin: 'Read my lips,' there was no Russian meddling in U.S. vote
Spacewalking astronauts lose a piece of shield needed for International Space Station
---
UPDATES:
2:55 p.m.: This article was updated to include the governor signing the bill to repeal the so-called "bathroom bill" and add comments from lawmakers and activists.
11:40 a.m.: This article was updated to include vote counts by state lawmakers.
10:44 a.m.: This article was updated with news that that state lawmakers voted to approve the repeal.
10:05 a.m.: This article was updated throughout with staff reporting.
This article was originally published at 8:50 a.m.
---
Must-read stories from the L.A. Times
Get the day's top news with our Today's Headlines newsletter, sent every weekday morning.
You may occasionally receive promotional content from the Los Angeles Times.