North Carolina man who challenged black family's use of pool loses job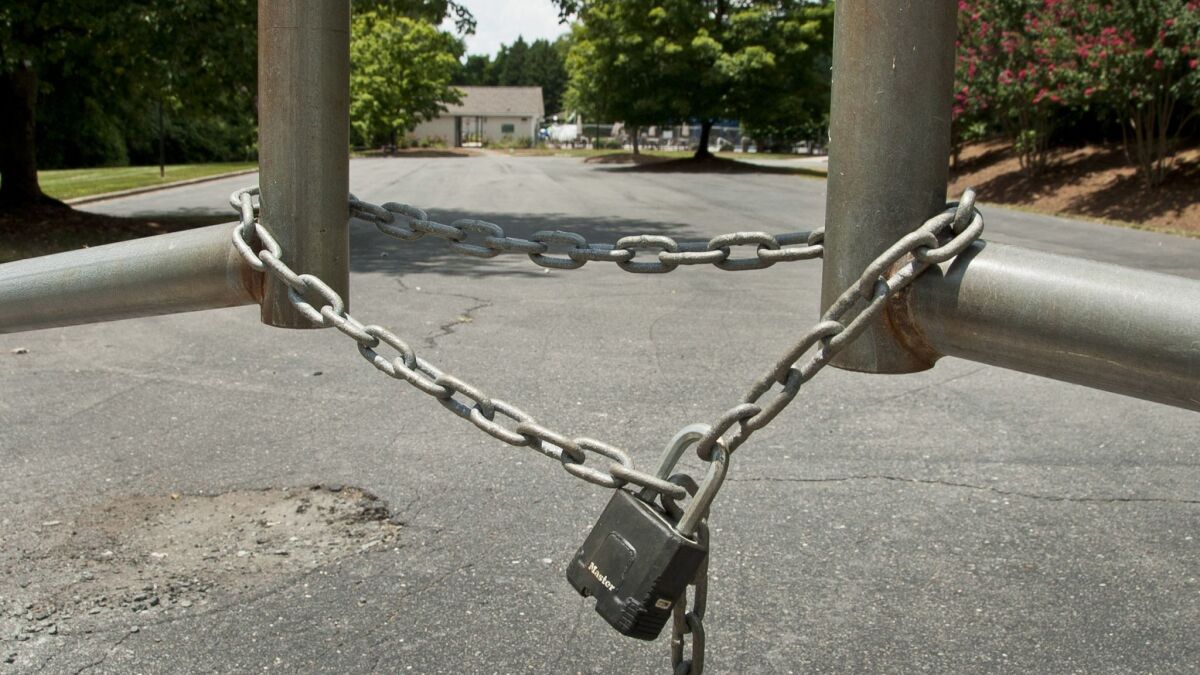 A white man who challenged a black family's use of a gated pool in a North Carolina neighborhood not only has resigned from the homeowner's association board, he also has lost his job.
Sonoco announced Friday that Adam Bloom no longer is employed by the packaging and industrial products company, saying it doesn't condone discrimination of any kind, even if it happens outside its workplace.
A video posted on the Facebook page of Jasmine Edwards on July 4, seen more than 4 million times, shows what happened after Bloom questioned whether she was allowed to be at the pool in the Winston-Salem neighborhood. He also called police.
Bloom, Edwards and the responding officers all speak in measured tones in the video. She accuses Bloom of singling out her and her young son as African Americans by asking to see her ID. Bloom, who served as chairman of the Glenridge community's private pool, responds that he asks pool users to see their identification "a couple times" each week.
Officers then determined that Edwards, who lives in the neighborhood, did in fact have keycard access to the gated pool.
An officer then apologized to her. When Edwards asked Bloom for an apology, he walked away.
On Facebook, Edwards accused Bloom of racial profiling: "This is a classic case of racial profiling in my half a million $$ neighborhood pool. This happened to me and my baby today. What a shame!!"
The social media backlash was fierce, and soon targeted Bloom's employer. In a Twitter post, South Carolina-based Sonoco apologized to Edwards and said the situation doesn't reflect company values.
"We are aware of a terrible incident involving the actions of one of our employees outside the workplace," the statement said, adding that the "employee is no longer employed by the company in any respect."
Company spokesman Brian Risinger confirmed that Bloom's separation was "effective immediately." Risinger said Bloom was a business development manager who had been with Sonoco for about five years.
An attorney for Bloom said his client has taken his wife and children away from their home in the city, about 100 miles west of Raleigh, to a safe location after receiving death threats. Lawyer John Vermitsky issued a statement Friday saying his client feels terrible and didn't intend to discriminate against the woman.
Bloom was performing his duties as pool chairman after another woman approached him questioning whether Edwards had the right to be poolside, Vermitsky said.
The lawyer said there was some confusion about the address Edwards gave the other woman, so Bloom asked to see her ID. Then Bloom, "not wanting a confrontation to escalate," called police to resolve the situation, according to the statement.
In seven years as chairman of the pool, Bloom occasionally has had to ask people of all ages and races to leave for violating rules, according to the statement.
"No one deserves to be judged solely based on an isolated incident, taken out of context," Vermitsky said.
Police Chief Catrina Thompson warned that her officers "will not be used as pawns to further someone's dislike for anyone."
The Glenridge Homeowners Association said in an email that Bloom resigned as pool chairman and board member.
Association officials regret the situation "at our community pool that left neighbors feeling racially profiled," the email said. "In confronting and calling the police on one of our neighbors, the pool chair escalated a situation in a way that does not reflect the inclusive values Glenridge seeks to uphold."
---
Must-read stories from the L.A. Times
Get the day's top news with our Today's Headlines newsletter, sent every weekday morning.
You may occasionally receive promotional content from the Los Angeles Times.