Pentagon chief calls his use of personal email for official business 'a mistake'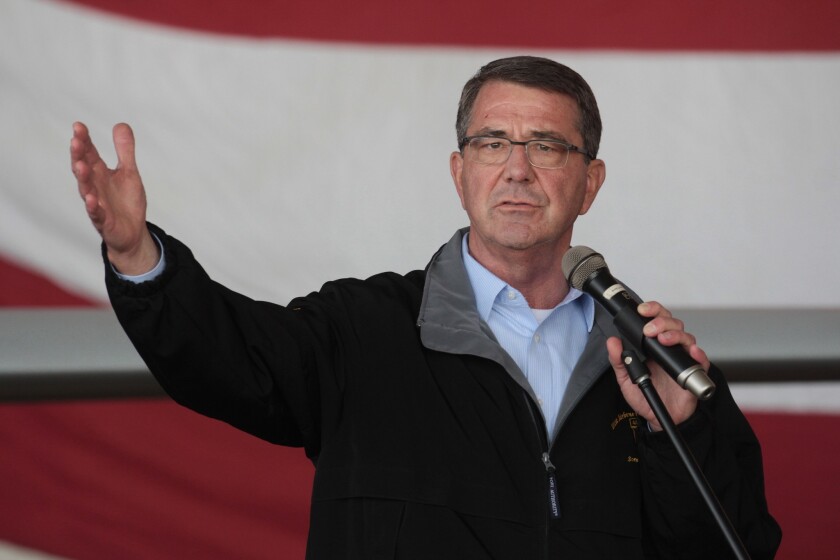 Reporting from Irbil, Iraq
Defense Secretary Ashton Carter acknowledged Thursday that he had improperly used a private email account on his iPhone to conduct some official business at the Pentagon until a few months ago, but insisted he did not put classified information at risk.
"This was a mistake," Carter said here Thursday. "Particularly someone in my position and knowing the sensitivities with this issue, should have known better."
Hillary Clinton's use of a private email server for official business when she served as secretary of State during President Obama's first term has sparked an FBI investigation, congressional hearings and trouble for her 2016 presidential campaign.
Sen. John McCain (R-Ariz), chairman of the Senate Armed Services Committee, called it "hard to believe" that Carter followed the same practice, given the widespread criticism of Clinton when her use of private email accounts came to light in March, a month after Carter was confirmed as Defense secretary.
"With all the public attention surrounding the improper use of personal email by other administration officials, it is hard to believe that Secretary Carter would exercise the same error in judgment," McCain said in a statement.
McCain said his committee would conduct a review "to ensure that sensitive information was not compromised" by the Pentagon chief.
On a visit to U.S. troops in this northern Iraqi city, Carter said he had sent work-related emails from a personal account on his iPhone. He said he did not stop until "a few months ago."
Carter said the messages were "administrative" in nature and did not include classified material. He said copies were backed up on Defense Department computers.
Hackers and foreign intelligence services routinely target email accounts of senior government officials, especially those using unsecured servers, and have successfully stolen vast amounts of data. The Pentagon has made cybersecurity a top priority.
The Pentagon had acknowledged Carter's use of private email earlier Thursday after the New York Times reported that the Pentagon had released 72 work-related emails that Carter had sent or received from his private account.
The 72 emails, which were released under a Freedom of Information Act request, included routine exchanges about speeches, legislation, meetings and TV appearances. They were between Carter and his chief of staff at the time, Eric Fanning, who is now the acting Army secretary.
"After reviewing his email practices earlier this year, the [Defense] secretary believes that his previous, occasional use of personal email for work-related business, even for routine administrative issues and backed up to his official account, was a mistake," Pentagon spokesman Peter Cook said in a statement.
"As a result, he stopped such use of his personal email and further limited his use of email altogether," Cook added.
He said Carter "has a secure communications team that handles his classified information and provides it to him as necessary. Memoranda are provided to him in hard copy. He takes his responsibilities with regard to classified material very seriously."
It wasn't immediately clear if Carter's use of his private email account for official business violated Pentagon policies or other federal regulations. It also wasn't clear how many unsecured emails he sent before he stopped the practice.
Carter is visiting several U.S. allies in the Middle East this week to meet with government leaders, military commanders and troops involved in the fight against Islamic State.
Follow @wjhenn for military and defense info.
---
Must-read stories from the L.A. Times
Get all the day's most vital news with our Today's Headlines newsletter, sent every weekday morning.
You may occasionally receive promotional content from the Los Angeles Times.