Justice Ruth Bader Ginsburg is cancer-free after surgery, Supreme Court says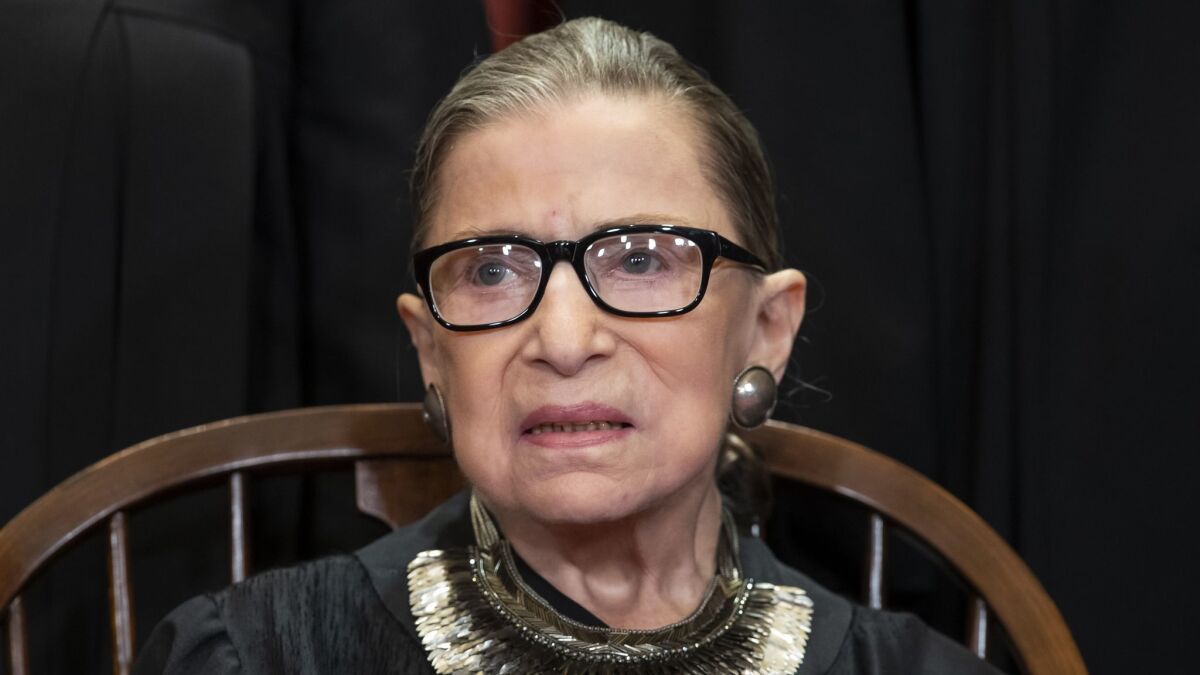 Reporting from Washington —
The Supreme Court said Friday that Justice Ruth Bader Ginsburg's recovery from lung cancer surgery is on track and that post-surgery tests found "no evidence of remaining disease."
The reassuring report on the 85-year-old justice is in line with the statements issued after her surgery on Dec. 21. Her doctors said then that a lobe with two malignant nodules had been removed from her lung but that they saw no evidence of further disease and no further treatment was planned.
Kathy Arberg, the court's spokeswoman, said the same in a statement on Friday. "Post-surgery evaluation indicates no evidence of remaining disease, and no further treatment is required," she said.
At the time of her surgery, medical experts said the normal recovery time would be four to six weeks. But when Ginsburg did not appear at the court Monday for oral arguments, her absence triggered some speculation that her condition might be more dire than reported.
Friday's update appeared intended to counter speculation that further tests had raised concerns about her recovery.
The court is scheduled to hear another round of arguments next week, and then go on a mid-winter recess for several weeks.
"Justice Ginsburg will continue to work from home next week and will participate in the consideration and decision of the cases on the basis of the briefs and the transcripts of oral arguments," the court said.
In the past, justices recovering from illness or surgery have on occasion participated in decisions even if they could not be in the court to hear the oral argument.
Until this month, however, Ginsburg had a record of never missing an oral argument despite having undergone surgery on several occasions.
Twitter: @DavidGSavage
---
Must-read stories from the L.A. Times
Get the day's top news with our Today's Headlines newsletter, sent every weekday morning.
You may occasionally receive promotional content from the Los Angeles Times.