'Epidemic of death' alleged as U.S. stops sending migrants to Texas processing center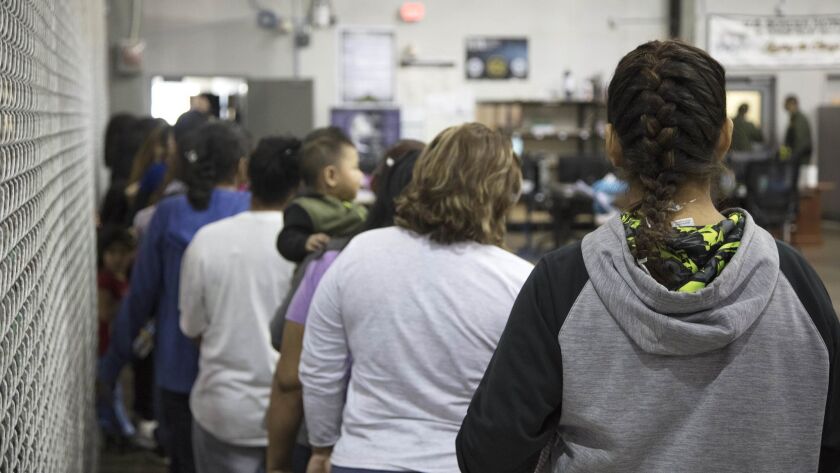 Reporting from Houston —
U.S. Customs and Border Protection temporarily stopped sending migrants to a massive processing center in south Texas this week after the death of a 16-year-old who fell ill there and a flu outbreak.
The teenager, Carlos Gregorio Hernandez Vasquez, was the fifth Guatemalan migrant youth to die after arriving at the border since December, prompting members of Congress to call for a federal investigation.
"We are deeply concerned that the overcrowded conditions at Border Patrol holding facilities are placing detained migrants at risk," Democratic Whip Richard J. Durbin (D-Ill.) and two dozen fellow senators (including California's Dianne Feinstein and Kamala Harris) wrote to the International Committee of the Red Cross and the Department of Homeland Security's inspector general on Wednesday, demanding they investigate immigration detention facilities on the border holding youths and families.
"This is an epidemic of death," Rep. Joaquin Castro (D-Texas), said late Tuesday in calling for an investigation as chairman of the Congressional Hispanic Caucus. "Nobody had died for 10 years. And in the last six months, you've had five deaths."
On Wednesday, the Department of Health and Human Services said another migrant child — a 10-year-old girl from El Salvador with a history of congenital heart defects — died in a hospital in federal custody in September. She had been in the country at least six months and had been hospitalized much of that time following complications from a surgery.
The deaths come amid a record increase in migrant families and children crossing the border, particularly in south Texas. Federal agents detained 109,144 migrants last month at the southern border (including ports of entry) — the highest monthly total since 2007. The Border Patrol has responded by erecting large tents and plans to build at least two more in the Rio Grande Valley to help house 8,000 migrants in custody. Last week, officials said they were also flying migrants from there to Del Rio, Texas, and to San Diego to relieve crowding.
After the 16-year-old's death, the Border Patrol announced that it was temporarily suspending the intake of new arrivals at the McAllen processing center where he was held, known among migrants as la perrera, or "the doghouse." Inside, a mix of adults, families and unaccompanied children are held in cells and open-air, chain-link-fenced pens at the former warehouse. During a media tour last month, sick parents and children could be seen resting on mats behind a partition. Designed for 1,500, it's routinely overcrowded and housed 2,500 this week, some in an overflow tent, a Border Patrol official said during a background briefing Wednesday.
Border Patrol doesn't routinely test migrants for flu when they arrive at the center, but they did after the 16-year-old died, and 32 tested positive, the official said. All were isolated at two other nearby facilities. Additional staff were sent to clean the center as well as half a dozen other Rio Grande Valley Border Patrol stations and checkpoints, and Border Patrol resumed admitting migrants to the center late Wednesday.
During a congressional hearing Wednesday, acting Homeland Security Secretary Kevin McAleenan appealed for more resources to handle the surge of migrant families.
Rep. Lauren Underwood (D-Ill.), a registered nurse serving on the House Homeland Security Committee, questioned what McAleenan's agency was doing to prevent further migrant child deaths.
"This is more than a question of resources. Congress has been more than willing to provide resources and to work with you, Mr. Secretary, to address the security and humanitarian concerns," Underwood said. "This is intentional. It's a policy choice being made by this administration and it's cruel and inhumane."
The ranking Republican on the committee, Mike Rogers of Alabama, objected, and the committee voted 9 to 7 to strike Underwood's statement.
In a heated exchange before the committee vote, Underwood insisted McAleenan should be held accountable, noting, "Yesterday another child died under his leadership."
Rogers shot back: "Because we can't get the resources to help them. That's what he's trying to get: the money to stop this."
Border Patrol has released only general information about how the 16-year-old died this week and steps taken to prevent further deaths.
Officials have said Carlos was detained without his parents near Hidalgo, Texas, on May 13 and held in the McAllen processing center until Sunday. That morning, Carlos told agents he was not feeling well and a nurse diagnosed him with the flu. He was treated with Tamiflu and moved to a Border Patrol station about 15 miles away in Weslaco, where he could be isolated from other migrants. The next morning, he was found dead during a routine welfare check.
It's unclear why Carlos was held by Border Patrol for almost a week. By law, migrant youths who arrive at the border without an adult are supposed to be transferred within 72 hours to shelters operated by the Department of Health and Human Services.
Reached by Telemundo this week in Guatemala, Carlos' mother wanted to know why he was held for more than 72 hours. Carlos' father said the boy — nicknamed Goyito — played soccer and piano and had traveled north to support his disabled brother.
"I hope the law will help me investigate why my son died, because he left safe and sound," Bartolome Hernandez said.
Youths who arrive at the border unaccompanied by adults are initially screened for "visible and obvious health issues" by Homeland Security staff and must be considered "fit to travel" before they are moved to an HHS-funded shelter, officials said.
RELATED: Border Patrol says detention centers are full — and starts releasing migrants »
Mark Weber, a Health and Human Services spokesman, would not comment on Carlos' case, but said most migrant youths are transferred to his department within the 72-hour window, and none are being turned away because of space constraints. The department had 13,200 youths in custody this week and 14,048 shelter beds nationwide for migrant youths as of March.
"While the current historical refugee influx has caused bed capacity to tighten, HHS has not rejected any referrals due to a lack of bed capacity," Weber said. "The minority of cases exceeding 72 hours have generally involved exceptional circumstances, such as health issues unique to the [unaccompanied minor], or the placement of a sibling group to ensure they remain together."
Migrant advocates demanded that more be done to improve the time and conditions under which migrants are held by the Border Patrol. Last week, the American Civil Liberties Union of Texas and the ACLU Border Rights Center filed a complaint with the Homeland Security Department's inspector general alleging "dangerous and abusive" conditions in Rio Grande Valley holding areas based on interviews with 120 migrants, some of whom described being held for days with children in dirt pens without medical screening.
"We've demanded that the Trump administration change its inhumane detention practices to prevent tragic deaths from happening," said Astrid Dominguez, director for the ACLU Border Rights Center, adding that the Border Patrol needs to hire child welfare and medical professionals, "to humanely receive and process all arriving families."
Built in 2014 to house large groups of unaccompanied minors that had been crowding smaller stations' holding areas, the McAllen center has long drawn criticism from migrant advocates and lawmakers, who consider it inhumane and unhealthy. But Border Patrol plans to open a similar, $192-million processing center in El Paso this summer in response to a local surge in migrant family arrivals.
FOR MORE: U.S. Customs and Border Patrol 2019 migrants statistics »
---
Must-read stories from the L.A. Times
Get the day's top news with our Today's Headlines newsletter, sent every weekday morning.
You may occasionally receive promotional content from the Los Angeles Times.