Texas poised to pass open-carry handgun law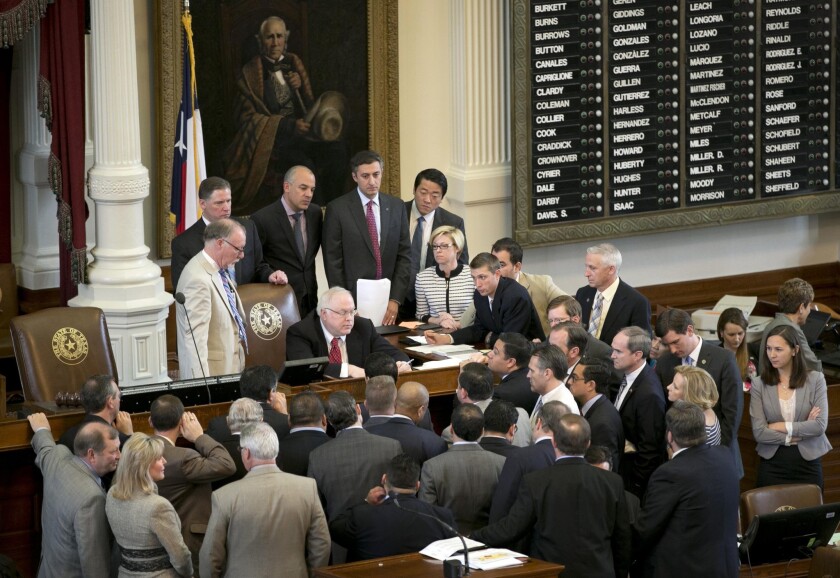 Reporting from Houston —
Texas is on the verge of passing legislation that would allow handgun owners to openly carry firearms.
The House approved a proposal Monday by a vote of 101 to 42 that would allow those with concealed carry licenses to openly carry handguns in a shoulder or hip holster as of January 2016. It's already legal in Texas to openly carry rifles or shotguns without a license.
"It's not everything we were asking for, but you go above and beyond and accept what you can get as progress," said C.J. Grisham, president and founder of Open Carry Texas, a nearly 38,000-member group that helped draft one of several open-carry proposals this year.
Speaking with the Los Angeles Times on Tuesday, Grisham called the law that's expected to pass, "a step in the right direction."
The legislation has already been approved by the state's Republican-dominated Senate. It will now go to a conference committee to iron out minor differences between the bills before being sent to new Republican Gov. Greg Abbott. After taking office in January, Abbott vowed in his state of the state address to "expand liberty in Texas by signing a law that makes Texas the 45th state to allow open carry."
Thirty states allow the open carrying of a handgun without a license or permit, although in some cases the gun must be unloaded.
Texas, California, Florida, Illinois, New York, South Carolina and the District of Columbia prohibit the open carrying of handguns in public places. Massachusetts, Minnesota and New Jersey prohibit the open carrying of a long gun, but not a handgun.
The Lone Star State barred the open carrying of handguns 125 years ago, after the Civil War, as a way to disarm Confederate sympathizers.
Now home to more than 825,000 gun owners licensed to carry concealed handguns, Texas remains one of six states without open-carry handgun laws.
That has led to impassioned, gun-toting protests at the Capitol, restaurants, stores and other public places -- most recently on Saturday by Grisham's group at a Home Depot parking lot in Dallas, the home district of a Democratic lawmaker who opposes open carry.
The open-carry legislation that is now expected to pass was not what many advocates such as Grisham wanted. They had fought for, and Grisham's group even helped draft, legislation that would not require those carrying guns openly to be licensed. But that legislation failed.
But gun-rights advocates did succeed in amending the legislation to prevent law enforcement from stopping gun owners for openly carrying. And they successfully fended off Democratic opponents' efforts to amend the legislation to allow major cities in Texas to opt out.
As a result, Texas is likely to become home to the largest cities in the country with open carry -- a dangerous experiment, opponents said.
"There's a difference between keeping your rifle in the back of your truck on the ranch and walking around Houston openly armed. We had hoped legislators would see that," said Claire Larson, a spokeswoman for the Texas Chapter of Moms Demand Action for Gun Sense in America.
"They're gambling with Texas and the safety of Texans," Larson told The Times.
She cited a poll by the Texas Police Chiefs Assn. this year that found 75% of its members opposed open carry.
"Law enforcement doesn't want it, Texans don't want it," Larson said, adding that the amendment barring police from inquiring about the license of someone openly carrying a firearm, "crippled law enforcement's ability to ensure the legislation is enforced."
More than two dozen gun-related bills have been filed in Texas this legislative session. Open carry was among the most popular and contentious, followed by legislation that would allow guns to be carried on college campuses statewide; they would not be allowed to carry openly on campus under that proposed law. A campus proposal has already passed the state Senate, and the legislative session doesn't end until June.
"We want to make sure campus carry doesn't pass. We want to make sure our kids are safe," Larson said. "We really hope lawmakers will not listen to the vocal minority who have asked for this type of legislation."
But gun-rights supporters, energized by the success of open carry, are determined to see campus carry pass this year, too.
They plan more open carry rallies in districts where legislators oppose the proposal and campus carry, mostly Democratic districts in urban areas and along the southern border.
"Campus carry may be a little more difficult than open carry was [to pass], just because of all of the emotions surrounding school shootings," Grisham said.
He emphasized that Texans are responsible gun owners and argued having them on campus would boost public safety.
"At Newtown, Virginia Tech, any of these school shootings, the students and faculty had zero chance of defending themselves. At least with campus carry, they will have a chance of saving lives," he said.
For news from Texas and across the country follow @mollyhf on Twitter.
---
Must-read stories from the L.A. Times
Get all the day's most vital news with our Today's Headlines newsletter, sent every weekday morning.
You may occasionally receive promotional content from the Los Angeles Times.