At least 13 killed by storms and flooding in South and Midwest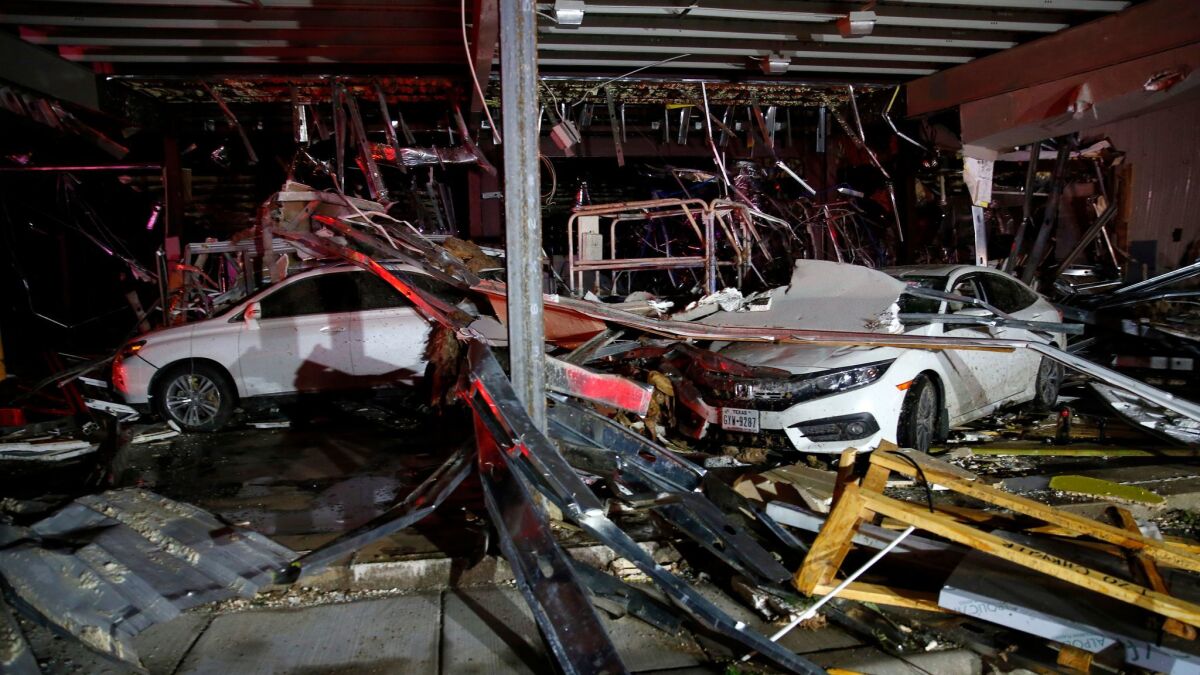 Reporting from CANTON, Texas —
At least 13 people were killed in weekend storms that brought tornadoes and flooding to the South and Midwest and also dumped a rare late-season blizzard in western Kansas.
The victims included four people killed when tornadoes hit several small towns in East Texas, and three killed by flooding and winds in Arkansas, where officials said two more people were missing.
Flooding closed part of Interstate 44 near Hazelgreen, Mo., and officials expected it would be at least a day before the highway reopened.
Interstate 70 in western Kansas was closed because crews were waiting for snow falling at 3 to 4 inches an hour and being blown by 35 mph winds to subside.
A 2-year-old girl in Tennessee died after being struck by a heavy metal soccer goal post blown over by high winds, the Metro Nashville Police Department posted on its Twitter page Sunday evening.
Melanie Espinoza Rodriguez was taken to a hospital where she was pronounced dead, according to a second post from the department.
Middle Tennessee was hit by a strong line of storms that knocked down trees and power lines earlier Sunday.
A volunteer fire department chief was killed shortly before 4 a.m. Sunday while working during the storms in north-central Arkansas, state police said.
Cove Creek/Pearson Fire Chief Doug Decker was struck by a vehicle while checking water levels on Highway 25 near Quitman, about 40 miles north of Little Rock, Trooper Liz Chapman said. His death is considered storm-related, she said.
Rescuers in northwest Arkansas continued Sunday to look for an 18-month-old girl and a 4-year-old boy who were in a vehicle that was swept off a bridge by floodwaters in Hindsville, the Madison County Sheriff's Office said.
Also in northwest Arkansas, a 10-year-old girl drowned in Springdale and the body of a woman who disappeared riding an inner tube Saturday was found in a creek in Eureka Springs.
In the eastern part of the state, a 65-year-old woman was struck and killed in her DeWitt home by a falling tree, officials said.
In Texas, search teams were going door to door Sunday after the tornadoes the day before flattened homes, uprooted trees and flipped several pickup trucks at a Dodge dealership in Canton.
"It is heartbreaking and upsetting to say the least," Canton Mayor Lou Ann Everett told reporters at a news conference Sunday morning.
The storms cut a path of destruction 35 miles long and 15 miles wide in Van Zandt County, Everett said. The largely rural area is about 50 miles east of Dallas.
The National Weather Service found evidence of four tornadoes with one twister possibly on the ground for 50 miles.
The first reports of tornadoes came about 4:45 p.m. Saturday, but emergency crews were hampered by continuing severe weather, said Judge Don Kirkpatrick, the chief executive for Van Zandt County.
"We'd be out there working and get a report of another tornado on the ground," he said.
The storms rolled through Louisiana, Mississippi and Alabama on Sunday, with strong winds causing isolated pockets of damage.
In Durant, in central Mississippi, on person died in the storms. The Mississippi Emergency Management Agency didn't give details.
Later Sunday, the agency reported the death of a child from Rankin County, 20 miles east of Jackson, who died from electric shock in flood waters. It did not release more details.
Alexa Haik went to bed Saturday night expecting just rain, but heard the sirens Sunday morning and turned on the television to see the tornado warning. She rounded up her pets and hid in a hallway with her family, then was stunned to emerge to trees down in her neighborhood in Clinton, Miss., about 20 miles west of Jackson.
A trip up the road showed how isolated the worst of the storms were.
"I really thought when we got out of our neighborhood, there would be damage everywhere. But our little subdivision was the only one hit," Haik said.
Near Clever, in southwestern Missouri, a man tried to save his 72-year-old wife from floodwaters that swept away their vehicle Saturday. Her body was found when the water receded, the Missouri State Highway Patrol said.
A second death from the weekend flooding was announced Sunday by Missouri Gov. Eric Greitens. But he did not release any details about the victim or the circumstances of the death.
ALSO
Protest over climate change, and Trump's rejection of issue, stoke rallies
A method to their magic: Craps champions swear it's more mystique than math at the tables in Vegas
Anadarko Petroleum shuts down 3,000 wells in Colorado after a deadly house explosion
---
UPDATES:
7:30 p.m.: This article has been updated with the volunteer fire department chief's death being added to the storm's toll.
6:25 p.m.: This article has been updated with the death toll rising to at least 12.
1:35 p.m.: This article has been updated with authorities saying at least seven people have been killed in the storms.
8:14 a.m.: This article has been updated with authorities saying as many as five people are dead.
1:50 a.m.: Updated with severe weather in Missouri and Oklahoma.
This article was first published at 1:05 a.m.
---
Must-read stories from the L.A. Times
Get the day's top news with our Today's Headlines newsletter, sent every weekday morning.
You may occasionally receive promotional content from the Los Angeles Times.