Virginia lawmaker backs off fast-tracking impeachment bill against embattled lieutenant governor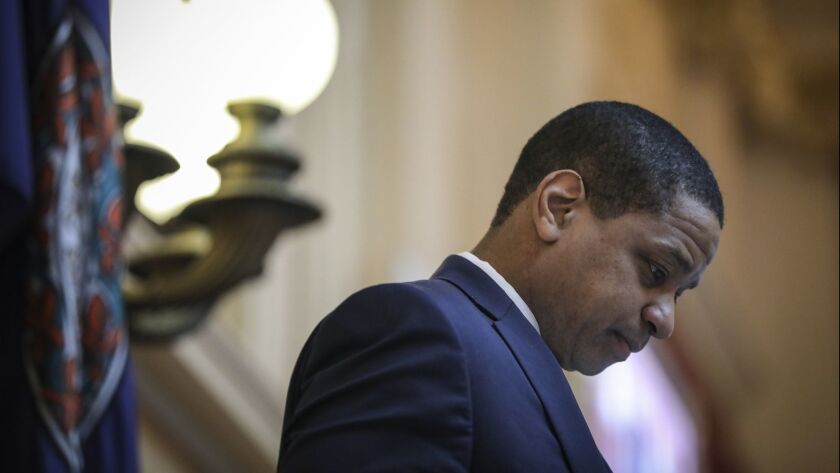 Reporting from RICHMOND, Va. —
A Virginia lawmaker on Monday backed off his plans to swiftly introduce an impeachment bill seeking the ouster of the state's leading black elected official as Democrats struggled to address revelations of past racist behavior and allegations of sexual assault roiling its highest levels of office.
The effort to impeach Democratic Lt. Gov. Justin Fairfax was prompted by the emergence of two women who accused him of sexual assault in the 2000s. Fairfax has vehemently denied the claims and called for authorities, including the FBI, to investigate.
Democratic Del. Patrick Hope tweeted early Monday that he got "an enormous amount of sincere and thoughtful feedback" from colleagues after circulating a draft of his impeachment bill, and that he sees that "additional conversations ... need to take place before anything is filed."
There's been little sign of broad appetite for impeachment, with lawmakers set to finish this year's session by the month's end. But the Legislature is swirling with questions about lines of succession and the political fallout for Democrats should their governor, lieutenant governor or attorney general leave office, willingly or not.
Gov. Ralph Northam and Atty. Gen. Mark Herring are still trying to regain their political standing after awkwardly acknowledging that they each once wore blackface as young men in the 1980s. Calls for Northam's resignation raised the prospect of Fairfax taking over, which prompted his accusers to come forward.
All three scandals involve events that happened long before these leaders took office, but they've become a full-blown crisis for Democrats. The party counts on the support of black voters and has taken an almost zero-tolerance approach to sexual misconduct in the #MeToo era. A housecleaning could be costly: If all three Democrats resign, Republican state House Speaker Kirk Cox would become Virginia's governor.
Northam, a pediatric neurologist, said that he considered quitting, but has decided he's "not going anywhere" because the state "needs someone that can heal" it.
Northam said on CBS' "Face the Nation" that it's been a difficult week since a photo in his 1984 medical school yearbook surfaced, showing a person wearing blackface next to another person in a Ku Klux Klan hood and robe. Northam initially said he was in the photo, then denied it the next day, while acknowledging he did wear blackface to a dance party that same year.
---
Must-read stories from the L.A. Times
Get all the day's most vital news with our Today's Headlines newsletter, sent every weekday morning.
You may occasionally receive promotional content from the Los Angeles Times.