GOP contender Ben Carson says he would have attacked Oregon shooter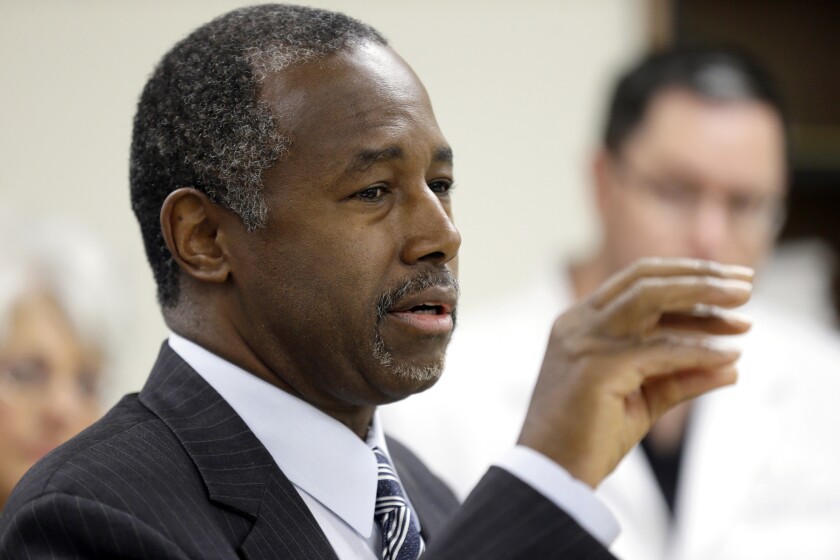 Reporting from WASHINGTON —
Republican presidential contender Ben Carson says he would have sacrificed his life to help stop last week's deadly rampage in Oregon. But he's joined the rest of the GOP's 2016 class in refusing to support new measures to stop mass shootings.
In his new book, "A More Perfect Union," the retired neurosurgeon also insists that Americans must have access to assault rifles and "armor-penetrating ammunition" to defend themselves from "an overly aggressive government."
And in a Monday night post on Facebook, he wrote, "I saw plenty of gun violence as a child. Both of my cousins were killed on the streets. As a doctor, I spent many a night pulling bullets out of bodies. There is no doubt that this senseless violence is breathtaking — but I never saw a body with bullet holes that was more devastating than taking the right to arm ourselves away."
Carson's comments provide fresh evidence of the growing divide between Republicans and Democrats on gun violence and the potential for the issue to loom large in the 2016 presidential contest.
Leading Democrat Hillary Rodham Clinton rolled out several proposals to address gun violence this week, including using executive action as president to expand background check requirements.
Republicans have accused Democrats of trying to politicize last week's rampage at Umpqua Community College in Roseburg, where a gunman killed nine people and wounded nine others before killing himself.
On Tuesday, Carson said he probably would not visit Roseburg if he were president, because that would inject politics into a tragedy. President Obama plans to visit Friday.
But speaking on Fox News' "Fox and Friends," Carson said he would have taken action to stop the shooter if he had been at the scene.
"I would not just stand there and let him shoot me," Carson said. "I would say, 'Hey, guys, everybody attack him! He may shoot me but he can't get us all.'"
In his book, Carson wrote that "people have a right to any type of weapon that they can legally obtain in order to protect themselves. They would be at a great disadvantage if they were attacked by an overly aggressive government and all they had to defend themselves with were minor firearms."
None of the Republican candidates is publicly supporting expanded background checks, despite polls that suggest overwhelming majorities of voters in both parties would back such a change. The National Rifle Assn., a powerful lobby on Capitol Hill and around the country, opposes an expansion of background checks or any new gun control measures.
SIGN UP for the free Essential Politics newsletter >>
ALSO
Super PACs stretch the rules that prohibit coordination with presidential campaigns
Obama seeks backing from both parties for Pacific Rim trade deal
Even if Kevin McCarthy wins his battle for House speaker, he could look weaker
---
For reporting and exclusive analysis from bureau chief John Myers, get our California Politics newsletter.
You may occasionally receive promotional content from the Los Angeles Times.