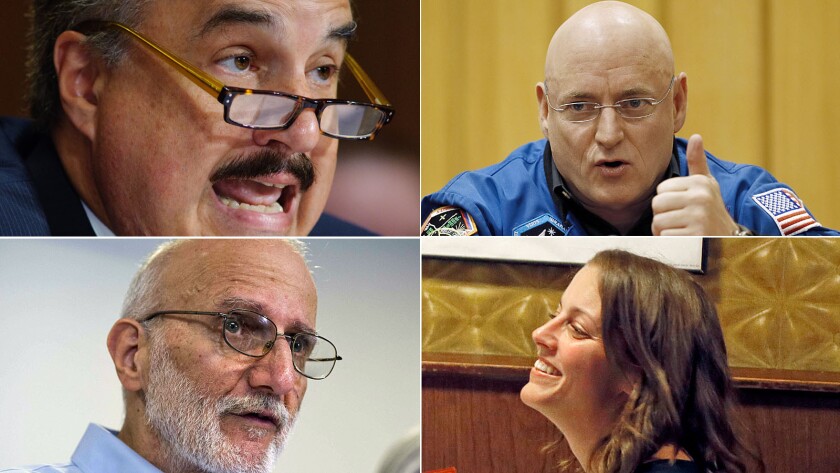 Nearly two dozen people from across the country have been selected to sit in First Lady Michelle Obama's box for President Obama's State of the Union address Tuesday. Many of the individuals have benefited from the president's initiatives, including the Affordable Care Act and his steps to address the nation's immigration system.
Here's a glance at some who will be in attendance:
Background:
Malik Bryant (Chicago)
In December, 13-year-old Malik wrote a letter to Santa Claus asking for safety. Malik, a seventh grader, was among 8,500 students from Chicago public schools who wrote letters to Santa through a program run by Direct-Effect Charities.
His letter was rerouted to the White House and President Obama responded, reinforcing to Malik that safety is important to him as well.
Chelsey Davis (Knoxville, Tenn.)
A student at Pellissippi State Community College in Knoxville, Davis met President Obama earlier this month when he traveled to Tennessee to deliver a speech focused on college affordability.
Davis currently serves on the student activities board at her college and as a new student orientation leader. She also participates in Knoxville Food Policy Council meetings and tutors elementary and middle school children in reading and math.
William Elder Jr. (Englewood, Colo.)
At the age of 8, Elder was diagnosed with cystic fibrosis, a genetic disorder that affects the lungs. Through a medication that targets the underlying cause of the disease for a small subset of patients, Elder is now 27 and living a healthy life.
In a statement, the Obama administration called Elder "a testament to the promise of precision medicine."
LeDaya Epps (Compton)
Epps was raised in the foster care system, and after graduating from high school, she had difficulty finding a job.
After she completed a union apprenticeship in construction, Epps is now a part of the crew building the new Crenshaw/LAX light rail line with Walsh/Shea Corridor Constructors.
Rebekah Erler (Minneapolis)
Last year Erler, 36, wrote President Obama a letter outlining some of the struggles her family has had to deal with in recent years. The family relocated to Minneapolis from Seattle after the housing crash, because her husband was continuously struggling to find jobs as a construction worker.
When Obama traveled to Minnesota last year, the two had lunch and she told the president of how she took out student loans to attend community college and is now an accountant.
The Obama administration called Erler's story one that is "representative of the experiences of millions of resilient Americans."
Victor Fugate (Kansas City, Mo.)
When Fugate first wrote a letter to President Obama three years ago, he expressed how he went from being an unemployed new father continuing his education to obtaining a degree and working to help low-income patients to obtain medical care.
Last summer, as Obama toured the United States touting some of the country's economic gains, Fugate and the president had lunch in Kansas City.
In a recent letter to Obama, Fugate wrote "as a Christian and a health care worker, people automatically assume that we can only be Republicans," he wrote. "I believe, regardless of the political party, we can all do something to help our citizens to have a chance at a job, have food in their stomachs, and to have access to great education/health care."
Retired Army Staff Sgt. Jason Gibson (Westerville, Ohio)
While a patient at Walter Reed Medical Center in Washington, D.C., in 2012, Gibson met President Obama as he recovered from injuries sustained while serving in Afghanistan. Gibson, who lost both of his legs after 21 surgeries, has remained in touch with the president since their meeting three years ago.
As part of his recovery process, Gibson has started surfing and skiing and has competed in several marathons. Gibson and his wife, Kara, had their first child in November.
Alan Gross (Washington, D.C.)
In the weeks since he was released from a Cuban prison, Gross and his wife, Judy, have remained out of the public spotlight. On the same day Gross was released -- after being imprisoned for five years -- the Obama administration announced that the United States was changing its relationship with Cuba.
When announcing the policy shift, Obama said he was "under no illusion" about continued repression in Cuba. But he added: "Neither the American nor the Cuban people are well-served by a rigid policy that is rooted in events that took place before most of us were born."
Gross recently said he was grateful to be back home.
"I am incredibly blessed -- finally -- to have the freedom to resume a positive and constructive life," he said.
Nicole Hernandez Hammer (Southeast Florida)
An immigrant from Guatemala, Hernandez Hammer studies the potential effects of climate change in her work as a sea level researcher. In some of Hernandez Hammer's work, she has studied how cities and regions most vulnerable to the effects of climate change also have large concentrations of Latinos, according to the White House.
Hernandez Hammer works with Moms Clean Air Force, a national organization that works to combat air pollution.
Scott Kelly (Houston)
An astronaut who has gone on several space explorations, Kelly is set to travel to the International Space Station this spring for a year-long mission. One element of Kelly's mission will be to help scientists gain insight into how the human body responds to long durations in space.
Kelly is the identical twin brother of fellow astronaut Mark Kelly, whose wife, former U.S. Rep. Gabby Giffords, was wounded in a mass shooting in Arizona in 2011.
He was selected to become an astronaut in 1996 and has logged more than 180 days in space.
Anthony Mendez (Bronx, N.Y.)
Growing up in a drug-infested part of the Bronx, Mendez suffered through seeing friends murdered and his family being evicted from their home. Despite his difficult upbringing, Mendez was the first to graduate high school in his family.
While First Lady Michelle Obama was in New York last year, he had a chance to meet with her and expressed how seriously he takes his education. This year he's a freshman at the University of Hartford, where he plans to major in political science.
Larry J. Merlo (East Greenwich, R.I.)
As the CEO of CVS Health, Merlo oversees 7,800 retail pharmacies across the country. In 2014, he announced CVS would become the first major retail pharmacy to eliminate tobacco sales in all of its stores.
"Ending the sale of cigarettes and tobacco products at CVS pharmacy is the right thing for us to do for our customers and our company to help people on their path to better health," Merlo said in a statement at the time. "Put simply, the sale of tobacco products is inconsistent with our purpose."
Katrice Mubiru (Woodland Hills)
In 2012, Mubiru, a teacher in the Los Angeles Unified School District, sent a letter to President Obama calling for more support from his administration in K-12, adult and career technical education. She introduced Obama when he visited Los Angeles last summer to speak at Los Angeles Trade-Technical College.
Mubiru is a native of Los Angeles who graduated from Cal State Long Beach.
Astrid Muhammad (Charlotte, N.C.)
Two years ago, Muhammad was diagnosed with a brain tumor, though she did not have health insurance -- a situation that delayed her from receiving treatment.
According to a statement from the White House, Muhammad, a wife and mother of two children, enrolled in a health insurance marketplace created under the Affordable Care Act.
Muhammad, the White House said, has written Obama to thank him for the national healthcare law.
Kathy Pham (Washington, D.C.)
Through her work at Google, IBM and Harris Healthcare Solutions, Pham has designed healthcare software, studied disease trends with data analytics and built data software for hospitals.
In a statement, the White House said her current work at the U.S. Digital Service has helped patients both near and far.
Los Angeles Police Capt. Phillip C. Tingirides (Irvine)
A veteran of the Los Angeles Police Department, Tingirides has spearheaded a program known as Community Safety Partnership that looks to forge a bond between police and residents in Watts.
In its nod to the work of Tingirides, the White House notes there has been a 50% reduction in violent crime, thanks in part to the partnership program.
Tingirides' wife, Sgt. Emada Tingirides, also serves in the LAPD and works in the partnership program.
Catherine Pugh (Baltimore)
As a small business owner, Pugh also serves as the Maryland Senate majority leader.
Pugh was a staunch supporter of raising the minimum wage in Maryland, where it is now $10.10. The minimum wage increase was also championed by Gov. Martin O'Malley.
Pugh has served in public office since 1999.
FOR THE RECORD: Jan. 20, 9:50 a.m.: An earlier version of this information referred to Martin O'Malley as the former governor of Maryland. He leaves office on Jan. 21.
Carolyn Reed (Denver)
Reed was among a group of Coloradans who wrote to President Obama over the last year and were able to have dinner with him in July.
She owns Silver Mine Subs in Denver and has attributed a loan from the Small Business Administration as a prime reason she was able to get her dream company off the ground.
Recently she increased the minimum wage for her employees to $10.10 per hour.
Dr. Pranav Shetty (Washington, D.C.)
Shetty is the global emergency health coordinator for International Medical Corps. Last year, he traveled to West Africa to establish Ebola treatment units.
He arrived back in the United States in late December after spending much of the year in West Africa.
Shetty plans to return to West Africa later this week to help establish International Medical Corps' first Ebola treatment center in Guinea, according to the White House.
Prophet Walker (Carson)
After serving a six-year prison sentence, Walker is a founding member of the Anti-Recidivism Coalition. In his work, he has sought to strengthen the bond between inner-city residents and police officers.
Some of Walker's work has been in collaboration with the Community Safety Partnership created by the Los Angeles Police Department.
Prophet attended Loyola Marymount University's engineering school and works as a construction engineer.
Tiairris Woodward (Warren, Mich.)
Woodward has worked at Chrysler since 2010 on the company's assembly line.
In the five years since Woodward, 43, began working there, she has started taking classes and is working toward a bachelor's degree.
Ana Zamora (Dallas)
Zamora was brought into the United States illegally as a child. She wrote a letter to President Obama in September calling for steps toward immigration reform.
Zamora has qualified for the Obama administration's Deferred Action Childhood Arrivals program, which allows young people in her situation to live and work in the United States.
"The United States is my country. It is where I grew up, took my first steps, learned to read, write, play, graduated from high school, and will graduate from college," Zamora wrote to Obama, according to a statement from the White House.
---