Cory Booker's Twitter flirtations revealed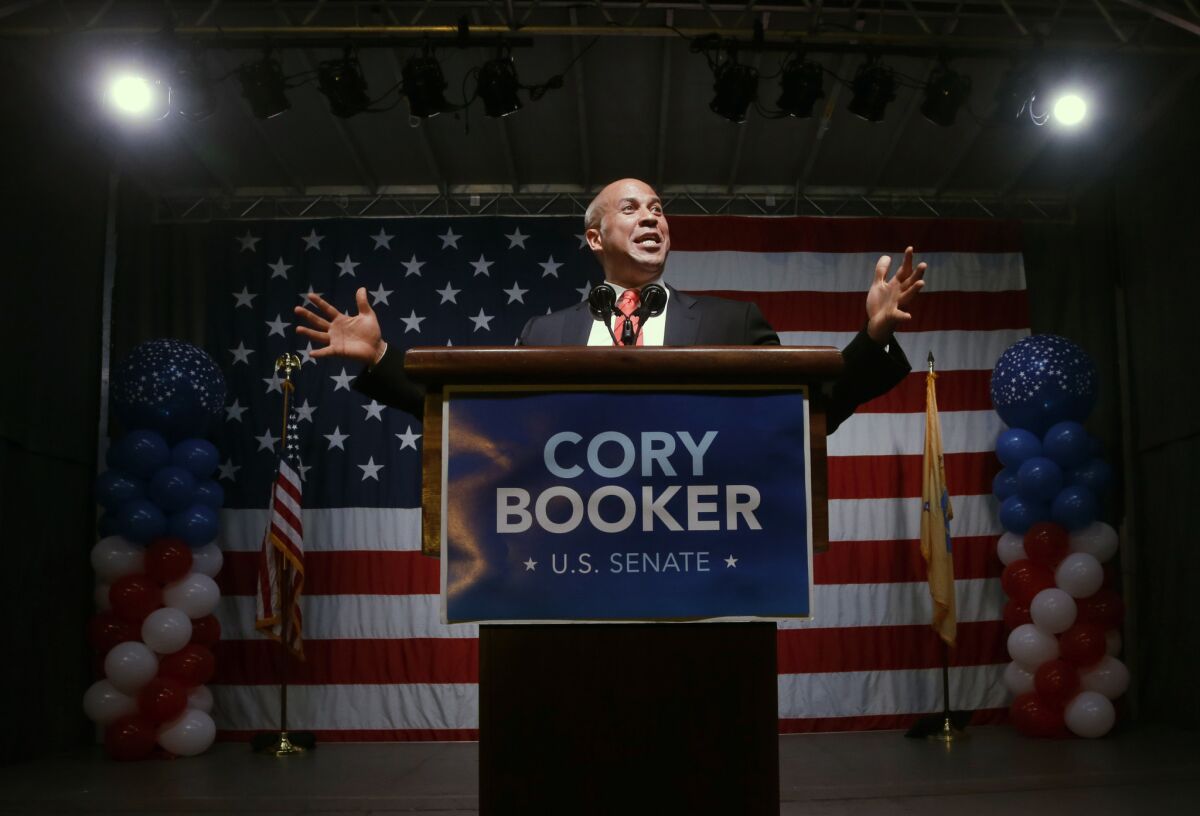 <i>This post has been updated. See below for details.</i>
New Jersey Senate candidate Cory Booker uses Twitter more than the typical politician.
He tweets cheesy maxims; replies publicly to just about everyone who mentions his name, and relentlessly catalogs his schedule of ribbon cuttings, football games and speeches.
He also apparently exchanges direct messages with single women, including a tattoo-covered stripper from Oregon who works in a vegan strip club, a detail that's gotten the New York media world excited after a few long weeks during which no local politicians did anything even remotely scandalous.
The 44-year-old Booker and 26-year-old stripper, Lynsie Lee, who both appeared in the indy movie about Twitter called "Follow Friday," apparently messaged each other a few times about attending the premiere of the film. It was an unremarkable exchange; both have dozens of posts a week, often messaging others. He thanks people for support and drowns followers in "inspirational" slogans. She longs for a soul mate and posts pictures of her breasts.
But then a Booker follower wrote him a joke about becoming president, and Lee replied that she had dibs on being first lady.
Then the Twitter account for the "Follow Friday" film, FF_TheFilm, joked with Lee that another of Booker's Twitter lady friends, Calla Bonanno, might get jealous.
"Dibs is dibs," Lee wrote.
"We DM on the reg," Bonanno wrote, implying she and Booker privately wrote the DMs (direct messages) to each other frequently.
As a response, Lee posted a somewhat innocuous exchange between herself and Booker in which he tells to her, "And the East Coast loves you, and by the East Coast, I mean me."
@hellocalla @ff_thefilm oh really pic.twitter.com/DBmTLfJNTH— Lynsie Lee (@LynsieLee) March 10, 2013
The whole exchange was first cataloged jokingly but somewhat breathlessly on BuzzFeed, a news site that features stories in list form, including "19 Dogs that Really Need A Hug Right Now." The story was then picked up by the New York Times, the Daily News, and dozens of other media outlets, including a local Las Vegas television station.
The story likely got such big play because Booker is the high-profile mayor of Newark with national ambitions who is coy about his personal life, but an over-sharer in just about everything else.
He won't directly answer questions about whether or not he is gay, saying it shouldn't matter to voters, and told the Washington Post last month that he hadn't yet found a life partner, to his dismay.
Booker's Senate campaign has taken the matter in stride, telling the media that the mayor talks to people from all walks of life, and that the most surprising part of the story is that there is a vegan strip club in Oregon.
[Updated, 11:23 p.m. PDT, Sept. 26: The statement from his campaign said:
"The only mildly surprising thing about this story is the news that there's a vegan strip club in Portland. The mayor has used Twitter over the years to efficiently direct city resources, learn about problems during disasters and communicate with people from all walks of life -- in Newark and across the country. In a time when many Americans feel estranged from their political leaders, the mayor is going to remain accessible and responsive."]
Lee has reveled in her 15 minutes of fame, posting frequent tweets about the number of media outlets that have called her about her messages, and joking about her moment in the spotlight.
"I don't want 15min of fame, not this way. I want it through my nudes duh ;)," she wrote, adding a little while later that anyone coming to see her strip in the next few days should bring their wallets, since she'll be "prime meat" for the next few days.
"Moral of the story, people can love each other platonically. no matter their job title," she concluded on Twitter.
New Yorkers, after a year in which two disgraced politicians, Anthony Weiner and Eliot Spitzer, ran for local office and lost, appear to be growing sick of hearing about the scandalous and not-so-scandalous private lives of their elected officials.
"He is not married and entitled to a personal life, the tweets seem innocent. I don't care!" wrote one commenter, DisgustedWithStupidity, on the Daily News' website.
Follow Politics Now on Twitter and Facebook
Twitter: @alansemuels
---
Must-read stories from the L.A. Times
Get the day's top news with our Today's Headlines newsletter, sent every weekday morning.
You may occasionally receive promotional content from the Los Angeles Times.