In Hawaii, Democratic battles loom for U.S. Senate, governor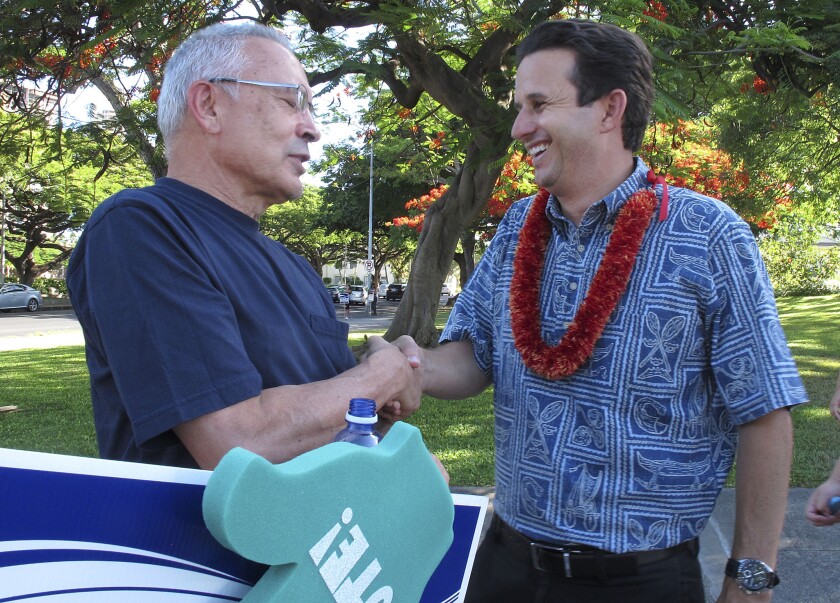 Intraparty quarrels among Republicans have littered the political landscape this election cycle, but a battle among Democrats is set to take center stage Saturday in Hawaii, as Sen. Brian Schatz looks to stave off a formidable challenge from Rep. Colleen Hanabusa.
The contest, rife with ethnic and generational contrasts, comes two years after Democratic Gov. Neil Abercrombie appointed Schatz -- then his lieutenant governor -- to the seat held for nearly five decades by the widely beloved Daniel K. Inouye, who died in December 2012.
Among Inouye's deathbed wishes: that Abercrombie appoint Hanabusa, Inouye's protégé, to the Senate seat.
Instead, Abercrombie chose his No. 2, and the controversy lingers. When the governor expressed doubts in an April interview with The Times about Inouye's deathbed request, a firestorm ensued. Four days later, Abercrombie apologized to the senator's widow and others, but maintained that Inouye had told him the choice was his.
Abercrombie himself is locked in a competitive gubernatorial primary on Saturday against state Sen. David Ige.
"There's a real undercurrent in this race that's tied to that single decision," said Neal Milner, a professor emeritus of political science at the University of Hawaii. "Among most Democratic circles here there was a strong assumption that Hanabusa would be appointed to the seat. But that wasn't the case, and there has to be some bitterness felt."
Inouye's legacy and influence as Hawaii's longtime standard-bearer in Washington, where he secured billions of dollars in federal money as chairman of the Senate Appropriations Committee, has hovered over the race.
Schatz often touts the nearly $16.7 million in federal funding he helped secure for the state's East-West Center, which is based in Honoloulu and serves as a cross-cultural educational facility.
As a member of the House Armed Services Committee, Hanabusa secured about $400 million in defense funds for the state with this year's passage of the National Defense Authorization Act. On her campaign website, Hanabusa boasts that since she entered Congress in 2011, she's helped direct "more than $1 billion in defense spending to Hawaii."
"Hawaiians care deeply about what's going on in Washington and specifically what their representatives are doing," Milner said. "With Inouye, there was never really a concern, because he had seniority and could secure federal money for the state."
Issues surrounding seniority came to the forefront in 2012 when Abercrombie selected Schatz to fill the Senate seat, in part because of Schatz's youth. The governor said he wanted to "ensure Hawaii remains strong in the long run, rebuilding the seniority" of the state's congressional delegation.
Hanabusa, 63, has assailed Abercrombie for those comments and, in a recent debate, called out Schatz for making age an issue. She noted that a memo Schatz's campaign sent late last year to supporters and potential donors mentioned that the 41-year-old incumbent has the "promise of serving many years in the U.S. Senate and accumulating all-important seniority for the constituents of Hawaii."
On the campaign trail, Schatz has consistently said age is not an issue.
The ethnic breakdown of voters in Hawaii, where Asians make up the largest segment of the population, is also likely to play role in Saturday's results, said California-based pollster Ben Tulchin.
"You have Schatz, who is Caucasian, and Hanabusa, who is Japanese American. ... Stark ethnic contrasts between the two candidates, but will it be a factor in how voters cast ballots? That remains a big unknown," Tulchin said.
Tulchin noted that other factors, such as two hurricanes approaching Hawaii -- one Thursday night, the other a few days later -- could depress turnout. Early voting began in July, however.
For the most part, polling in the race has been mixed. A recent survey from Civil Beat, a left-leaning local public affairs reporting site, had Schatz leading Hanabusa by about 8 percentage points, while a recent poll from the Honolulu Star-Advertiser had Hanabusa up 8 percentage points.
As for the governor's race, a recent Hawaii News Now/Star Advertiser Hawaii Poll had the challenger, Ige, up by double digits. But polling is difficult and often unreliable in Hawaii, which has one of the worst turnout rates in the country.
The winners of Saturday's primary in the reliably blue state are likely to win in November.
Hanabusa has raked in support from several state lawmakers as well as former Sen. Daniel Akaka, who served alongside Inouye for more than two decades. Inouye's widow is also backing Hanabusa.
Schatz has touted the support of President Obama -- who in the final days of the campaign can be heard in automated calls, urging voters to back Schatz and Abercrombie. Senate Majority Leader Harry Reid (D-Nev.) is also backing Schatz.
"When it comes down to it, I don't think anyone -- including the campaigns -- have a real idea about how this race will end up," Milner said.
Twitter: @kurtisalee
---
Must-read stories from the L.A. Times
Get the day's top news with our Today's Headlines newsletter, sent every weekday morning.
You may occasionally receive promotional content from the Los Angeles Times.