Homeland Security chief Janet Napolitano bids farewell
Secretary of Homeland Security Janet Napolitano announced her resignation in July 2013, intending to serve as president of the University of California system. She had served at her post since 2009, and previously was governor of Arizona from 2003 to 2009.
(Alex Wong / Getty Images)
Secretary of State Hillary Clinton, the highest-profile departure from the White House, left shortly after President Obama's second inauguration. Clinton's final months were occupied by illness and controversy over her handling of the response to the 2012 terrorist attack in Benghazi, but her popularity remains high as anticipation builds for a 2016 presidential run.
(Matt Rourke / Associated Press)
The spirited (and notoriously profane) Rahm Emanuel left Congress to serve as Obama's first chief of staff in 2009, and lasted more than a year until becoming mayor of Chicago in 2011.
(Charles Rex Arbogast / Associated Press)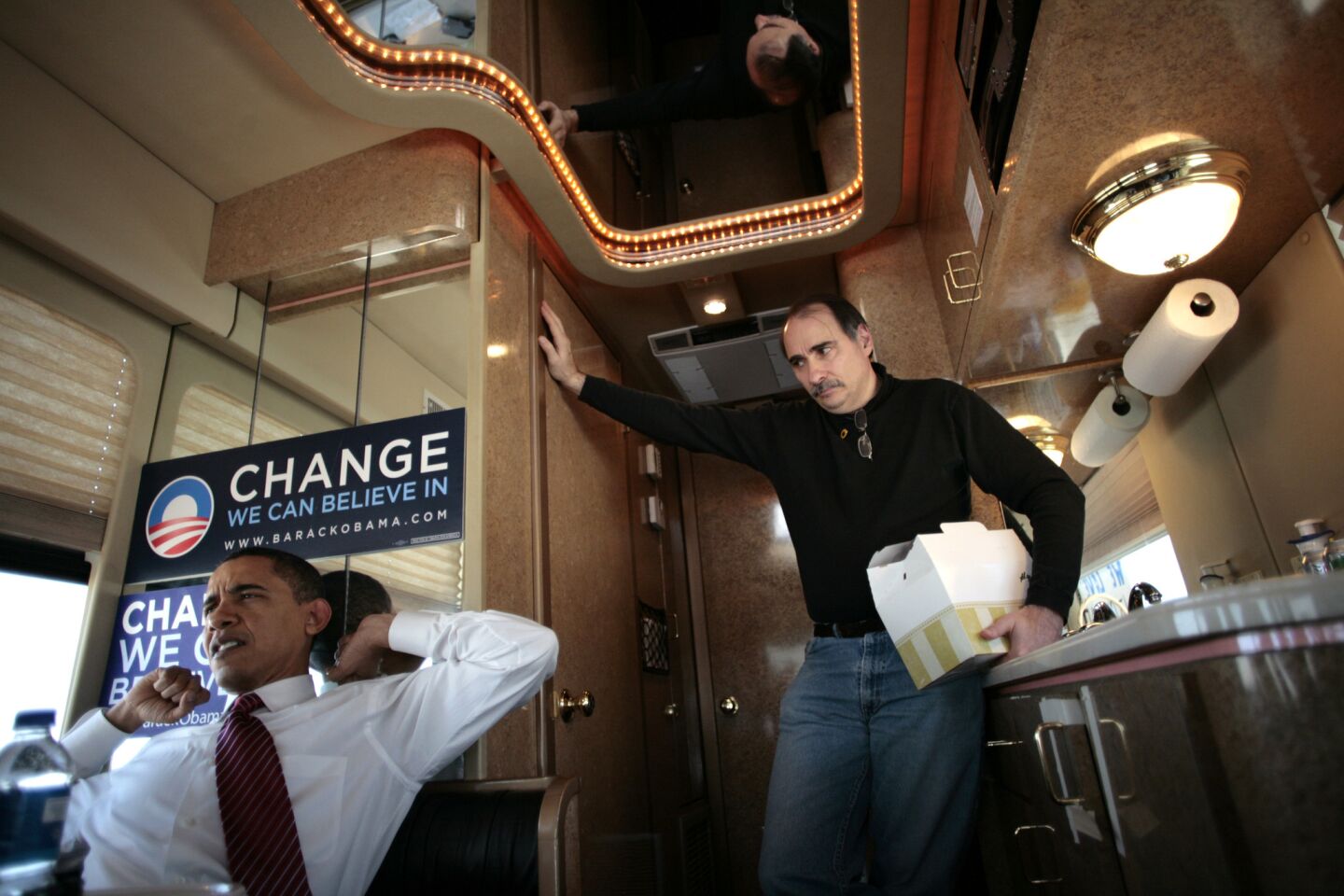 One of President Obama's longest-serving advisors, David Axelrod worked at the Chicago Tribune until entering politics. The two had known each other since 1992, and Axelrod eventually served as Obama's chief campaign advisor in 2008. After the election, he served as Obama's senior advisor until 2011, when he left to work on the 2012 campaign. Axelrod announced the reelection campaign would be his last, and has since focused on his work to find a cure for epilepsy, along with a gig as a political analyst for NBC and MSNBC.
(Zbigniew Bzdak / Chicago Tribune)
President Obama retained Robert Gates as his secretary of Defense after Gates had served under President George W. Bush since 2006. Gates stepped down in 2011. An architect of the troop surge strategy in the Iraq War, Gates later oversaw the beginning of the Obama-era withdraw from the country. A Presidential Medal of Freedom recipient, Gates is now the 24th Chancellor of The College of William and Mary and serves on the Starbucks board of directors.
(Claudio Reyes / EPA)
Robert Gibbs wore a number of hats during his time with President Obama, serving as communications director for Obama during his time in the Senate and his 2008 campaign. After the 2008 victory, he became the White House press secretary until 2011, when he shifted to being an advisor. Gibbs is now a contributor on MSNBC, and is a co-founder of the communications practice The Incite Agency with fellow former Obama team members Ben LaBolt and Adam Fetcher.
(Ron Edmonds / Associated Press)
Leon Panetta held not one, but two posts in the Obama administration, initially becoming director of the CIA from 2009 to 2011, and then replacing outgoing Secretary of Defense Robert Gates until 2013. Panetta has returned to his home in California, directs the Panetta Institute for Public Policy and is on the board of Blue Shield of California.
(Manuel Balce Ceneta / Associated Press)
Former Rep. Hilda Solis, (D-Calif.), was President Obama's Labor secretary from 2009 until 2013 and the first Latina in the cabinet. Solis has since expressed interest in running for a seat in the Los Angeles County Board of Supervisors in 2014.
(Ron Edmonds / Associated Press)
Former Colorado Sen. Ken Salazar joined the Obama administration at the beginning of 2009, and departed from his post earlier in 2013. Salazar recently became a partner in WilmerHale, an international law firm that notably worked for BP after the Deepwater Horizon disaster.
(Rob Schumacher / Associated Press)
Physicist Steven Chu served as secretary of Energy from 2009 to 2013, persistently advocating for research into alternative fuels and becoming the first cabinet member with a Nobel Prize. Chu is returning to Stanford as a professor of physics and molecular and cellular physiology.
(Michael Reynolds / EPA)
Former Treasury Secretary until President Clinton, Lawrence Summers was the director of the White House U.S. National Economic Council in the wake of the so-called Great Recession. Summers left the White House in 2010, voicing concerns over increased government spending and returning to his post as a professor at Harvard University's Kennedy School of Government. Summers is also an advisor for venture capital firm Andreessen Horowitz, and a columnist for the Financial Times.
(Mark Lennihan / Associated Press)
Janet Napolitano has a message for the next head of the Department of Homeland Security: "You will need a large bottle of Advil."
In a farewell speech Tuesday, Napolitano gave a wide-ranging defense of her 4½f years as head of one of the government's youngest and most unwieldy departments.
"Some have said that being the secretary of DHS is the most thankless job in Washington," Napolitano said at the National Press Club in the capital. "That's not true. No doubt it is a very big and complex job. It is literally a 24/7 job," she said. "Yet, as my successor will soon learn, it is also one of the most rewarding jobs there is. What you do here matters to the lives of people all across our great nation, and your decisions affect them in direct, tangible ways."
PHOTOS: 2013's memorable political moments
Cobbled together from 22 disparate agencies and departments after the Sept. 11, 2001, terrorist attacks, under Napolitano's watch the 240,000-person department responded to disasters as diverse as the H1N1 flu pandemic, the Deepwater Horizon oil spill, Hurricane Sandy, and devastating tornadoes that touched down in Joplin, Mo., Tuscaloosa, Ala., and Moore, Okla.
Napolitano presided over a near-doubling of border patrol agents and a drop in illegal border crossings to the lowest level in decades. She ramped up the deportation of convicted criminals and allowed immigrants brought to the country illegally as children to apply for provisional legal status and work permits.
The nation experienced one major terrorist strike during her tenure, when two pressure cooker bombs exploded April 15 at the finish line of the Boston Marathon, killing three people and injuring more than 260. Napolitano said the attack was a "despicable act of violence directed at a peaceful sporting event."
But she said that the emergency response to the marathon attack "saved lives" and was the product of years of training and federal investment in improving how local law enforcement and first responders react to disasters.
Napolitano said that the most important take-away from her time there was that the department must be "flexible and agile" and learn from mistakes.
"Being flexible and agile means acknowledging that we may not be able to stop all threats all the time," Napolitano said, "but we can -- and must -- be prepared to address them quickly when they happen, minimize their consequences, draw pragmatic lessons, and emerge stronger and better."
Two other terrorist plots that unfolded on her watch involved bombs that failed to explode -- and could have been deadly. A Nigerian man was able to board a Northwest Airlines flight to Detroit on Christmas Day 2009 with a bomb in his underwear, and a recently naturalized Pakistani American man attempted to set off a large car bomb in Times Square in May 2010.
PHOTOS: Team Obama, where are they now?
After the Detroit case, Napolitano was criticized for saying "the system worked." Napolitano apologized later, and pushed for increased passenger screening and more sharing of terrorism data on foreigners applying for visas.
After an Al Qaeda cell in Yemen hid explosives in printer cartridges shipped to the U.S. in 2010, Napolitano worked with other countries to increase screening of air cargo, she said.
President Obama has not named a replacement for Napolitano. The current director of U.S. Citizenship and Immigration Services, Alejandro Mayorkas, was expected to step in as acting director, but his nomination for deputy secretary has been delayed by a DHS inspector general's office investigation into whether he wrongly helped a business secure visas for foreign investors.
Officials said New York Police Commissioner Raymond Kelley, retired Coast Guard Adm. Thad Allen and former Washington Gov. Chris Gregoire, have been considered for the post, among others.
Follow Politics Now on Twitter and Facebook
Twitter: @ByBrianBennett
---
Must-read stories from the L.A. Times
Get the day's top news with our Today's Headlines newsletter, sent every weekday morning.
You may occasionally receive promotional content from the Los Angeles Times.