McConnell threatens to delay vote on attorney general nominee Loretta Lynch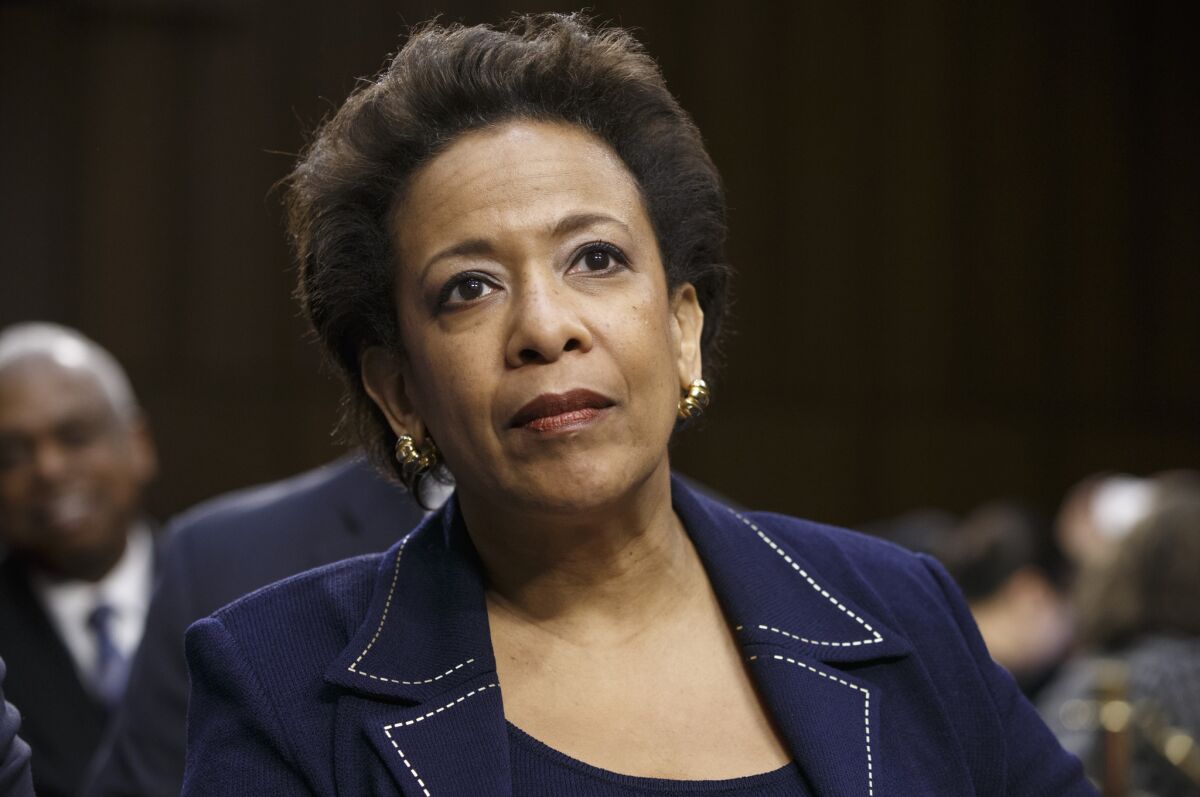 Reporting from Washington —
The top Republican in the Senate said Sunday he will delay a vote on President Obama's choice for attorney general until the Senate resolves an unrelated dispute over abortion.
The nomination of Loretta Lynch, currently the U.S. attorney in Brooklyn, has cleared the Senate Judiciary Committee and was tentatively slated for a vote this week after languishing for more than four months.
But the delay now seems likely to continue. In an interview on CNN's "State of the Union," Majority Leader Mitch McConnell (R-Ky.) said he would not bring the nomination to the Senate floor until the chamber passes a bill to assist victims of human trafficking. Democrats oppose that bill because it includes a controversial provision on abortion.
"I had hoped to turn to her next week. But if we can't finish the trafficking bill, she will be put off again," McConnell said.
Obama nominated Lynch in early November, and she has drawn mostly favorable reviews. Her nomination, however, has stalled because of a series of other disputes. Initially, several Republicans held up the nomination to signal opposition to Obama's immigration policies. Now the abortion fight threatens to delay the confirmation further.
The human trafficking bill would set up a special fund to assist victims. Both parties support that proposal. But Republicans put language in the bill barring any use of the money for abortions. Democrats voted for the trafficking bill three months ago in the Judiciary Committee, but later noticed the abortion provision and now want it removed.
McConnell acknowledged that the impasse "will have an impact on the timing of considering the new attorney general."
Senate Democrats said it was wrong to hold up Lynch, who would be the first African American woman to be attorney general.
Sen. Patrick Leahy of Vermont, ranking Democrat on the Judiciary Committee, said Lynch had "an impeccable record for prosecuting terrorists and criminals."
"Senate Republicans appear intent on making history for all the wrong reasons," Leahy said in a statement. No other nominee for attorney general in the last three decades has waited as long for a confirmation vote, he said.
The third-ranking Democrat, Sen. Chuck Schumer of New York, called for Republicans to "stop dragging their feet" on the nomination.
"For months and months, Republicans have failed to move forward with her nomination using any excuse they can, except for any credible objection to her nomination itself," Schumer said in a statement. "Loretta Lynch, and the American people, don't deserve this. At a time when terrorists from ISIS to Al-Shabaab threaten the United States, the nominee to be attorney general deserves an up or down vote."
Several Republicans have said they will vote for Lynch once the nomination comes to the floor -- enough for her to be confirmed, although passage might require Vice President Joe Biden to cast a tie-breaking vote. Atty. Gen. Eric H. Holder Jr. has said he will continue in the job until his successor is confirmed.
For more on the Justice Department, follow @RickSerranoLAT on Twitter.
---
Life is stressful. Our weekly mental wellness newsletter can help.
You may occasionally receive promotional content from the Los Angeles Times.