Live
GOP debate: Donald Trump fends off attacks on Trump University, immigrant hires
Donald Trump takes on Marco Rubio and Ted Cruz onstage while addressing Mitt Romney's critique, too.
Donald Trump flips back: He's still opposed to high-skilled immigration visas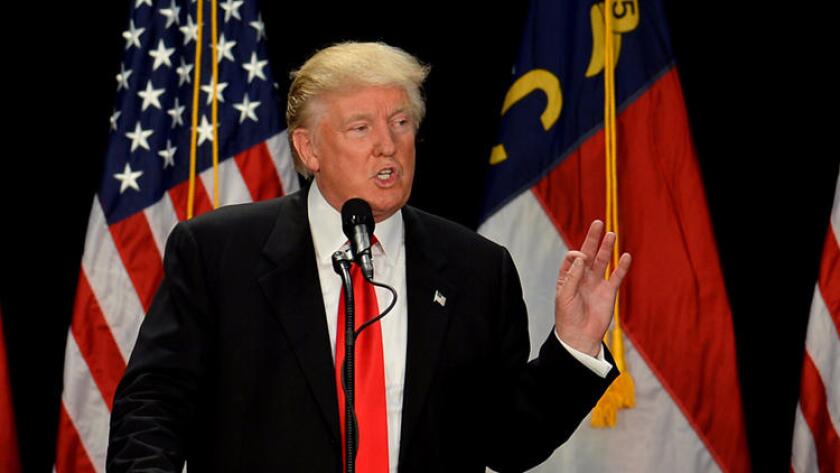 Donald Trump suggested during Thursday's debate that he was "softening" his opposition to high-skilled immigration.
It was a flip from an earlier position.
And then, after the debate, he clarified his view - and ended up back where he started.
In a statement late Thursday, Trump said he would "end forever" the visa program for high-skilled workers.
The program is important for Silicon Valley and other high-tech industries, but the H-1B visa system has come under scrutiny as companies downsize and replace American workers with immigrants.
Here's Trump's post-debate statement:
"Megyn Kelly asked about highly skilled immigration. The H-1B program is neither high-skilled nor immigration: these are temporary foreign workers, imported from abroad, for the explicit purpose of substituting for American workers at lower pay. I remain totally committed to eliminating rampant, widespread H-1B abuse and ending outrageous practices such as those that occurred at Disney in Florida when Americans were forced to train their foreign replacements," Trump said.
"I will end forever the use of the H-1B as a cheap labor program, and institute an absolute requirement to hire American workers first for every visa and immigration program. No exceptions."
Here's the full exchange with debate moderator Megyn Kelly:
KELLY: Mr. Trump, your campaign website to this day argues that more visas for highly skilled workers would, quote, "decimate American workers." However, at the CNBC debate, you spoke enthusiastically in favor of these visas. So, which is it?
TRUMP: I'm changing. I'm changing. We need highly skilled people in this country, and if we can't do it, we'll get them in. But, and we do need in Silicon Valley, we absolutely have to have.
So, we do need highly skilled, and one of the biggest problems we have is people go to the best colleges. They'll go to Harvard, they'll go to Stanford, they'll go to Wharton, as soon as they're finished they'll get shoved out. They want to stay in this country. They want to stay here desperately, they're not able to stay here. For that purpose, we absolutely have to be able to keep the brain power in this country.
KELLY: So you abandoning the position on your website ...
TRUMP: ... I'm changing it, and I'm softening the position because we have to have talented people in this country.