Republican donors' anti-Trump efforts ramp up, with an eye toward Florida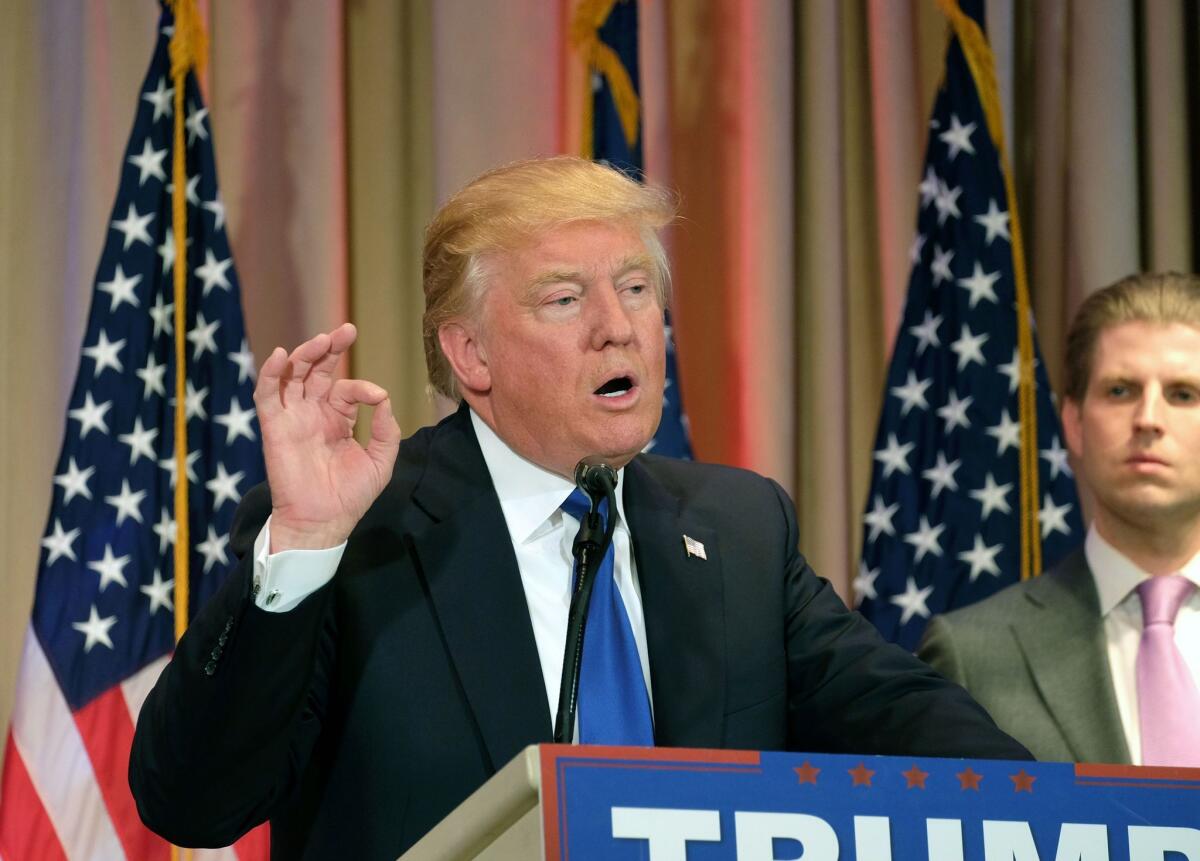 As voters in a large swath of the nation were delivering victories to Donald Trump in seven states this week, some of the wealthiest GOP donors gathered on a conference call with one goal: to stop the businessman from becoming the standard-bearer for the Republican Party.
That effort, to unite behind an anti-Trump super PAC, is the latest in a growing movement among establishment Republicans to rally around an alternative to the GOP front-runner.
"Donald Trump is unfit to be president. He is a dishonest demagogue who plays to our worst fears. Trump would take America on a dangerous journey," Hewlett-Packard Enterprise Chief Executive Meg Whitman said over the weekend. Whitman, who ran unsuccessfully for California governor six years ago, was among the Republican donors on the Tuesday call, first reported by the New York Times.
But with Trump leading the delegate count over a fractured GOP field after coming off a dominating seven wins on Super Tuesday, some Republicans worry that it is too little, too late.
"The horses are out of the barn," said Craig Robinson, founder of the influential Iowa Republican blog. "We saw it [Tuesday] night – he's showing strength across the board, and I think a lot of that is because of the narrative that people are now accepting him. People have come to terms with his candidacy."
Robinson added that he was concerned by the notion of party elites trying to hand-pick a nominee over the will of the voters, saying it would set a dangerous precedent.
Other top Republican advisors concede that the effort would have had a greater likelihood of success if it started sooner, but they say they still have a chance to deny Trump delegates and force a nomination fight at the GOP convention.
"People's perceptions on Donald Trump have been shaped by pretty much by Donald Trump over the last eight months. Now, in the space of a few weeks, we're trying to reverse that. That is a significant challenge," said GOP operative Kevin Madden.
Still, "the worse thing to do is to do nothing, so the fact there is an effort and it is focused on exposing Donald Trump and his vulnerabilities in an effort to get a real conservative and save the party is important enough for a lot of folks," he said.
GOP consultant Rob Stutzman, who was backing Jeb Bush and is now a bundler for Marco Rubio, noted that Trump won three states on Tuesday by 3 points or fewer.
"It would have been very helpful to have a real effort up on the air prior to [Tuesday] night," he said.
Katie Packer, who is running the anti-Trump Our Principles PAC, which was the focus of the donor call, said fundraising was slow until donors actually perceived Trump as a threat.
"We would have liked to launch this effort in October. We didn't have the interest or the resources," said Packer, who was Mitt Romney's deputy campaign manager in 2012. "Most educated people look at Donald Trump and see him for what he is – a big carnival barker and con man. It's inconceivable to people that everybody doesn't see him that way."
Donors, she said, "started to wake up in January."
The group has spent nearly $4.4 million, according to Federal Election Commission records. About $2 million of that was spent in Iowa on a multifaceted effort focused on his business record and the notion that he is not a true conservative. Packer said the group's tracking there showed that its messages hurt Trump.
Packer said the group launched two seven-figure ad buys on Friday and Wednesday. Florida is the top focus, but the group is also running ads on national cable TV and in Illinois, and may also advertise in North Carolina and Michigan.
Another group, American Future Fund, a conservative nonprofit that does not have to disclose its donors, is spending more than $1.7 million in Florida airing ads accusing Trump University of scamming its students. The Club for Growth, an anti-tax group, announced Wednesday that it is spending $1.5 million on television and digital ads in Florida questioning Trump's business record.
"What we have is a lot of groups coming together saying, 'We have to stop Donald Trump; that has to be priority one," Packer said. "For the first time in the campaign, there's an aggressive concerted effort going after Trump and the basic premise of his candidacy."
All signs point to this battle coming to a head in Florida, which is a must-win for Rubio on March 15 because it is his home state. His campaign and a super PAC backing his bid have significant resources, and the senator plans to campaign there intensely for the next two weeks.
But Trump, who on election night Tuesday noted he leadsRubio in Florida polls by as many as 20 points, said he anticipates a brawl in the state and is ready.
"I know that a lot of groups and special interests and lobbyists who want to have their little senator do exactly as they want, they're going to put $20 [million] or $25 million into it over the next two weeks, and frankly that's fine," Trump told reporters Tuesday at his Mar-a-Lago estate in Palm Beach, Fla. "If he wins they'll have total control, but he's not going anywhere anyway."
Times staff researcher Maloy Moore and Times staff writer Joseph Tanfani contributed to this report.
For the latest 2016 campaign news, follow @LATSeema on Twitter.
ALSO
This wasn't the way Chris Christie wanted to make headlines
Editorial: Donald Trump is not fit to be president of the United States
Clinton wins by easing Democratic split; Trump wins by exploiting GOP divisions
Get our Essential Politics newsletter
The latest news, analysis and insights from our politics team.
You may occasionally receive promotional content from the Los Angeles Times.